In-depth on Quentin Grimes' official visit to Kentucky and Cal's pitch
Five-star guard Quentin Grimes finished his official visit to Kentucky over the weekend and the Cats could be a serious landing spot.
Despite UK potentially having a crowded backcourt for the 2018-2019 season, Grimes' Basketball University Program Director Rhossi Carron said John Calipari will be a major player in Grimes' recruitment.
Grimes has officially visited Texas and UK. He will check out Marquette and Kansas later this month.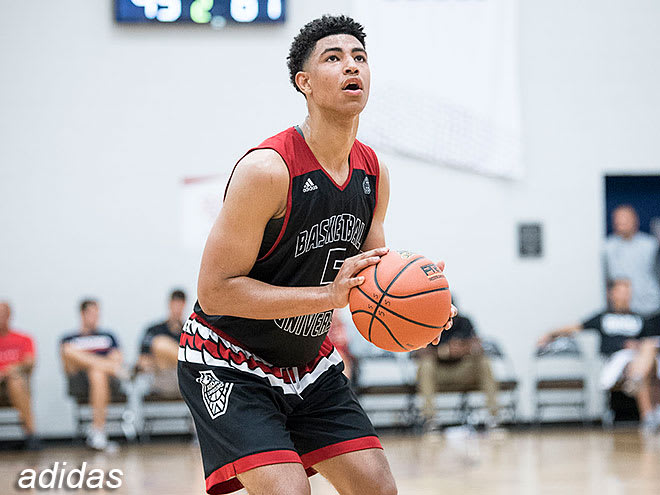 Cats Illustrated: How did the visit go?
Rhossi Carron: It was a really good visit. Really positive. I thought he learned a lot. He got an in-depth view of what Kentucky basketball is and what they do and how they go about helping guys develop and how they go about fusing the level of talent they have together. I think he felt really good about it.
I think the family had a really good experience. They had gone up before for an unofficial visit last year but they didn't really get to see a whole lot this last time. They just had a chance to sit and talk with Coach Cal last time. But this time they had a chance to see the campus and see the facilities and they had a chance to watch the guys watch out and watch a practice. So I thought overall they felt really good about the whole visit.
Cats Illustrated: With Kentucky, one thing that's tough to project is always who will be there. What kind of role is that playing, just not knowing who will be on next year's team?
Rhossi Carron: I think, you know, for anybody who's being recruited by a school it gives you some sense of comfort just to know the guys you're going to be playing with. Kentucky has such a unique situation because they typically have guys that leave after one year. I think this group is a little tougher because some of those guys might be pros but they might not be one and done pros. So some of that is still up in the air. I do think for Q, he's confident enough in his ability that regardless of who's there he feels like he'll have an opportunity to go in and play and have success and play with other good guys.
Cats Illustrated: Does Quentin feel like he's one of UK's top priorities?

Rhossi Carron: I think so. I think he feels he's one of their top guys. You can look at the guys they typically recruit and they typically recruit guys that they feel like can be NBA players. They've been clear with him that they feel like he's an NBA prospect and if he continues to develop he has a shot to be a one-and-done player.
Cats Illustrated: What is his reaction hearing Calipari or Bill Self say he's an NBA player?
Rhossi Carron: I think it's important because that's his goal for himself. Head coaches of the four schools recruiting him have been adamant and been very clear that he can go to any schools and if he does what he's supposed to do he will end up in the position he wants to be in down the road. All four of them have the same message. They believe he's an NBA player and they want to be a part of that process to help him achieve his goal.
Cats Illustrated: Is it a positive or a negative that Immanuel Quickley has committed?
Rhossi Carron: The way the game is going, positionless basketball, I watched Chris Paul and James Harden play together. A guy like Q, he can rebound the ball, he can initiate and be the point guard. If Quickley has the ball and he pitches it ahead to Q, Q is still the point guard. It doesn't change who Quickley is and I don't think it impacts Q at all.
I think the good thing about both of those guys is they both have positional size. Both of those guys can guard ones, twos and probably threes in college. They can both dribble, shoot and pass. I don't look at it as a negative. I look at it as if Q makes a play and hits Quickley, Quickley can make an open shot and he's really good at it and vice-versa. If Quickley has the ball he can pick-and-roll with Q on the weak side, he can swing to Q and Q can hit the shot. They both can create, they can both guard multiple positions. I don't see any negatives in it, I think it's only positives.
Cats Illustrated: How much a part of Cal's sell is that positionless mold and his track record with guys like that?
Rhossie Carron: Absolutely, it's a big part of it and one of the things that Cal's really emphasizing is he's coached other guys like Q. Devin Booker, Jamal Murray, and those guys who have come in and turned out to be real versatile guys who can play on or off the ball, can score and basically dribble, shoot and pass. I think that's one of his big selling points, like, 'This is not my first rodeo. I've seen guys like you. I've coached guys like you. So I know what it takes to help those guys make it.' So I think that's a unique selling point and I think it's something that resonates as it would with any other kid.
Cats Illustrated: What is most important for Grimes in his recruitment?
Rhossi Carron: Number one is relationship with the head coach. I think Quentin has been on the national level over the last two years. Coach Teddy Wheeler, his AAU coach with Basketball University had a lot to do with it. They have an unbelievable relationship. Coach Teddy has believed in him. He pushed him. He kinda helped him take the next step. He got out of his comfort zone with Coach Teddy and I think that has really helped him grow as a player. He's looking for that similar relationship, that similar bond and that similar coach that can believe in him, help and grow and continue to get better.
Cats Illustrated: Will Quentin monitor the roster situation at UK or does he plan on announcing in the fall?
Rhossi Carron: I think he will decide in the fall. If you're going to Kentucky you have to know that you're going to play with other good players. It may be seven five-star players. Seven or eight McDonald's All-Americans on the roster. I think that's just part of the deal. If you're considering them you have to know that's a possibility. I think at this point, with them being in his final list of schools it won't impact him either way. His skill set and versatility he will find a way to be on the court regardless of who is there.
Obviously you have to keep a close eye on it, and again, with high profile programs like Kentucky I think that you have such a unique situation. They may lose one guy. The rest of the guys may be back. But they could lose as many as five guys. Who knows? With Jarred (Vanderbilt) being hurt I'm sure that changes things, too. So, still watching that but I think he's confident in himself and we have enough confidence in him as a player that he can go in there regardless of who's there. I feel good about him and how he would do with any group that's there.
Cats Illustrated: A lot has been made about his relationship with Jarred Vanderbilt. Talk about that and how that might play a role in his recruitment.
Rhossi Carron: He has a good relationship with Jarred. And you know, Jarred has been someone who's been kind of a prominent figure in the basketball community here and one of the top guys in this city, and Q's kind of in that role now. So those guys have a good relationship and I'm sure he's doing his best to try to get him there. And he should. He should. Good players want to play together, especially when they're familiar with each other. He does have a good relationship with him. I know he'll give him a lot more insight into what goes on there as far as the training and the development and how the practices are and how hard they're being pushed. He's able to give Q some insight on that.
Cats Illustrated: Cal always tells people, "Kentucky's not for everybody," and you can take that to mean several things. But what does that mean for Quentin? Is he the guy who is just cut out for that stage and that intensity? Or is he trying to decide if that's what he wants?
Rhossi Carron: I think for him, and again all four of the schools that he's considering are very good options, and he couldn't go wrong picking any of those schools, but I think for him...and not just Kentucky. If he went to Texas they have other guys, a couple of them may be one and done and a couple other guys may not be but they have some guys on the roster who should be pros...So I don't think you can go wrong. But I think for him, he needs to be pushed. You know, when you play high school basketball and he's the best player by far, sometimes the practices are not very challenging. So, me personally, I would really like to see him in an environment where he has a guy in front of him every day in practice who's pushing him, challenging him, that's kind of pushing him forward to being a better player.
Cats Illustrated: His mom went to Kansas. Will that play a role in his decision? Will it be his decision or a family decision?
Rhossi Carron: It will be Quentin's decision with the family's input. Quentin's mom went to Kansas, but she made it clear with the coaching staffs that she only cares about the opportunity or situation that is absolutely best for her son. His development, being in a program that wins and ultimately helping him achieve his dreams.
If Kansas is the school that Quentin feels and the family agrees and that's it, then that's what it will be. If it's Kentucky, or Texas or Marquette, that's what it will be. But that has nothing to do with the final decision.