What kind of player will Hamidou Diallo really be?
While the exhibition season provided a precious few answers about this year's Kentucky basketball team, Hamidou Diallo remains a bit of a mystery to many.
What should we expect from the second-year Kentucky player, who enrolled early but will play in his first regular season game for the Cats this week?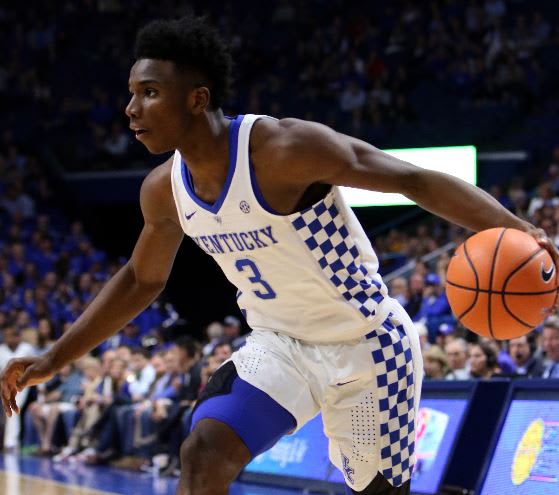 PLAYER PREVIEW SERIES
Related: How 'SGA' will make UK better
Related: Can Quade Green lead Kentucky to a championship?
What did you think about Diallo's performance in the exhibition games?
T.J. Walker, Basketball Recruiting Analyst: More so than other players Diallo was a bit underwhelming at times. Sure, he had some nice performances but it was the lulls in Diallo's games that were head scratching. It's a young team and it's silly to act like Diallo has worlds of experience, but he's been through months and months of John Calipari practices. He seemed just OK in the exhibition games.
Jeff Drummond, Managing Editor: The exhibition games were a mixed bag for Diallo. For starters, I think expectations were way too high because fans were dying to see him play last season, and then he tested the NBA waters. Athletically, he looked the part, but people were probably expecting more from a skill standpoint than what they saw against the likes of Thomas More, Morehead State and Centre College. Diallo did not shoot the ball well. Cal's biggest challenge will be convincing him to attack the basket before settling for the jumper.
Justin Rowland, Publisher: It was definitely up and down. More up and down than the play of some of the other guys we've already discussed. I would say that we saw a lot of the good and some of the bad, or the limitations at this stage, of Diallo's game. We saw enough to believe there will be nights when the things he does makes him one of the best players on the court, but perhaps not quite the skill level, in some areas, to duplicate that night in, night out.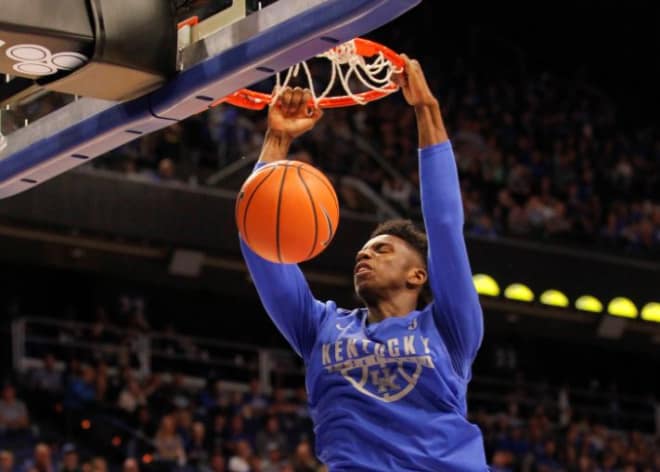 How do you think he helps Kentucky in the 2017-18 season and what role does he play on the team?
T.J. Walker, Basketball Recruiting Analyst: Diallo will still need to be a great defender for UK this upcoming season and we didn't see much of that in the exhibition games. Of course he was guarding much smaller players and that takes some getting used to, but he didn't live up tot he hype. Offensively he is going to be able to attack the rim and get to the line. His outside shot is ugly at this point, but if he can do the other things I listed that's OK.
Jeff Drummond, Managing Editor: A real mystery. The Cats really need his scoring punch but not if it comes at the expense of trying to prove he is an NBA-ready perimeter shooter. That's something Coach Cal is going to have to manage carefully this season. If he doesn't let some of the expected streaky shooting affect his defense, I think he could be one of the elite players in the country on that end of the floor. From my standpoint, he would benefit from the Cats utilizing more full-court press.
Justin Rowland, Publisher: I think on some other teams Diallo's role would be more clearly defined and really essential. Some other John Calipari teams at Kentucky haven't had a guy like Diallo in terms of defensive matchups and the kind of player he can guard, projecting him forward. He will draw some defensive matchups that will be important for him to handle well. Besides that, he takes some of this team's strengths - length, speed, athleticism, the ability to play above the rim - and makes the strength even more a hallmark.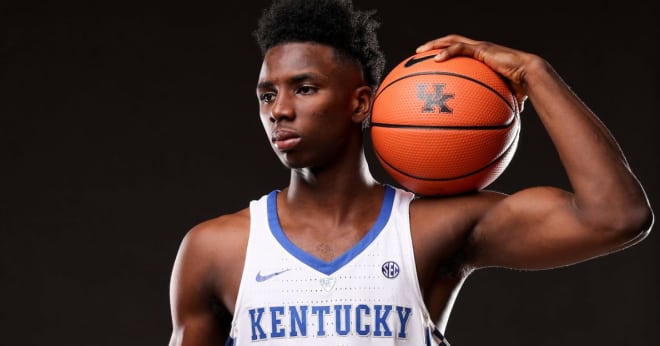 What do you believe is his ceiling and his floor?
T.J. Walker, Basketball Recruiting Analyst: Diallo could be a DeAndre Liggins like player for UK or he could be an Archie Goodwin like player. Goodwin always gets a bad rep at UK. He was a player that tried to create on a team that had no slashers, but he was careless with the ball and wild at times. Liggins was a defender first but was a sneaky good offensive player by the time he left UK. Diallo will leave UK after this season but his ticket to the NBA will be defense.
Jeff Drummond, Managing Editor: Diallo's got the potential to be one of the most memorable finishers at UK under Calipari. His bounce is legendary, and there will be no shortage of highlight-reel dunks from the Queens native this season. From a shooting standpoint, we're probably not going to see an Eric Bledsoe or Aaron Harrison or Jamal Murray type of 2. I would compare him more to a young version of Keith Bogans, a guy who could get really hot at times and slump at others. If he buys into being a complete player, like Bogans eventually did, the sky is the limit.
Justin Rowland, Publisher: I think his ceiling is someone who defends very well, scores a lot of points in transition and second chances by attacking the rim, and picks his shots very carefully and gradually improves his jumper with confidence over the course of the season. Not an All-American or All-SEC season, but a valuable player who helps Kentucky build a team with some of his off-the-chart stuff. The floor, well, that's a player who becomes more inefficient offensively and has difficulty being incorporated into what Kentucky wants to do on that end. But given Calipari's track record, the smart money would be on Diallo finding a positive niche and helping the team.