How 'SGA' will make UK better
Cats Illustrated's player preview series continues with the spotlight now shining on freshman guard Shai Gilgeous-Alexander.
The first-year Wildcat and Canadian was impressive in exhibition action and brings a unique skill set with rare attributes to the table.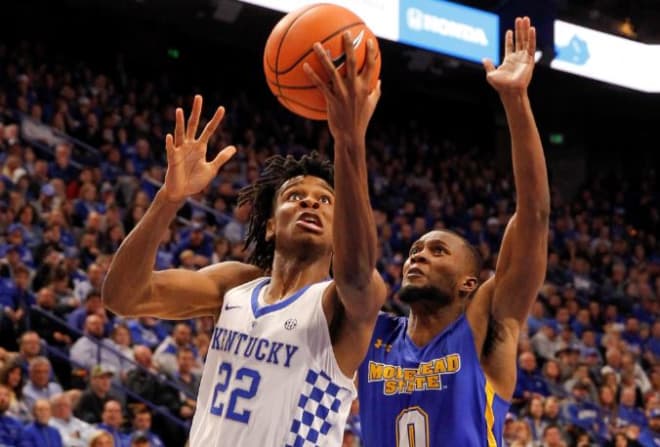 What did you think about Shai Gilgeous-Alexander's performance in the exhibition games we just watched?
T.J. Walker, Basketball Recruiting Analyst: Gilgeous-Alexander was impressive and maybe the most surprising Cat through three exhibition games. We all knew about his length and athleticism, but it seems to have already clicked to Gilgeous-Alexander. That's a scary thought. Defensively I was really impressed and he may be the Cats best defender, but also seemed to make huge strides offensively. His outside shot looked solid and he was able to get to the rim at will.
Jeff Drummond, Managing Editor: SGA, as he has come to be known by Big Blue Nation, was the most pleasant surprise of three exhibition games for me. I love energy guys. The long, athletic Canadian has it in abundance. He will be a big fan favorite due to his hustle and versatile skills.
Justin Rowland, Publisher: Based on his high school ranking - which wasn't bad or "low" by any measure, except relative to the impossibly high standard Calipari has set - it's hard to be anything but very excited by how he performed. We heard Kentucky players talk about how big things were in store for him, and he certainly came through. He showed himself to be a great complement to whoever is on the court with him and his energy was fantastic. That's something he can and will bring game in, game out, so knowing you've got such a valuable piece that you can count on is going to help a lot. He'll throw a lot of guys off and is far from a liability when Kentucky has the ball.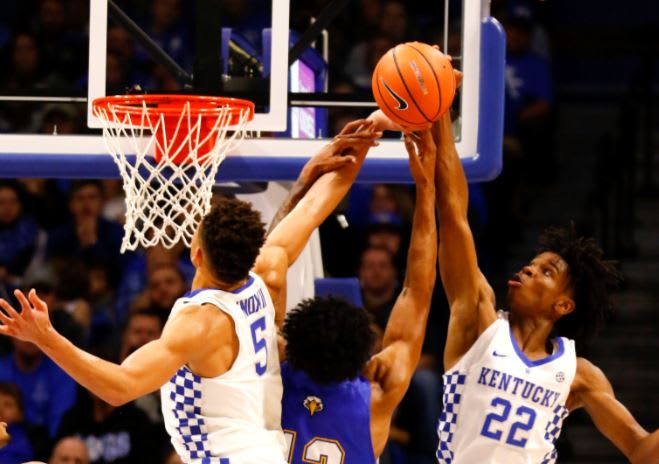 How do you think he helps Kentucky in the 2017-18 season and what role does he play on the team?
T.J. Walker, Basketball Recruiting Analyst: I was most surprised with how well Gilgeous-Alexander and Green played together. This is good news for both players because of asking which would step up and be the starter it's now clear both will be able to play together and thrive. Gilgeous-Alexander will be a defensive stopper but also a sneaky good offensive player. He may be the guy on offense the opposing defense puts their worst defender on and that would be a costly mistake.
Jeff Drummond, Managing Editor: I could see him being the Cats' defensive stopper. I lost track of how many deflections he had in the exhibition games, but it was absurd. I think he'll also pull down a nice number of rebounds for a guard. Simply put, he does all the little things that Calipari loves, and SGA will be rewarded mightily in the minutes column.
Justin Rowland, Publisher: Even if Gilgeous-Alexander comes off the bench, he's a key cog in this team. Throw him on the opposing team's best offensive player in the backcourt and he'll chase them around the court, hound them and wear them down. That length and versatility will come in handy every single game. Defensive stopper on the perimeter is definitely an appropriate description. I could also see him scoring a key 10-12 points in some games, as he won't be the focus of the opposition's defensive game planning.
What do you believe is his ceiling and his floor?
T.J. Walker, Basketball Recruiting Analyst: Gilgeous-Alexander could be one of the best defenders in the SEC and work his way into an NBA first round pick. He would need to be able to shoot the ball consistently for that to happen, but it's not a crazy notion like it was a year ago. His floor would be just a solid defense player and a liability offensively for the Cats, but that doesn't seem likely.
Jeff Drummond, Managing Editor: SGA reminds me a bit of a young DeAndre Liggins. Both came in as combo-type guards with impressive athleticism and high motors. I'm not sure if the youngster has the same amount of "dog" in him, as Coach Cal likes to say about guys like Liggins or Eric Bledsoe or Tyler Ulis, but he has the potential to change games without scoring a whole lot. I'm still not too sure about his offensive potential. He did some good things going to the basket and in transition in the exhibition games, but we didn't see him shoot much from the perimeter. That, much like it developed with Liggins, will determine how good he will ultimately be.
Justin Rowland, Publisher: Start with the floor, because he still has a ways to go offensively (but is better there than I expected), he'll be coming back and that's a very big deal for the longer-term future of Kentucky's basketball program. It's possible that he goes through a stretch when he struggles on offense. But in terms of ceiling, he's a guy who could be the difference in wins and losses in March because of the way he can guard and affect a game's pace. His floor is higher than I anticipated before the exhibition action, and his ceiling is a valuable bench commodity who gets starters minutes some nights. Just because he has some attributes that Calipari absolutely loves, the minutes are going to be there.