How Kentucky beat out Wisconsin for an elite legacy recruit
To the casual observer who pokes in on recruiting news once in a while it might not have seemed like a big deal when Springfield (Ohio) defensive back Moses Douglass committed to Kentucky.
He is the son of Moe Douglass, after all, and thus a Kentucky legacy. The Wildcats offered early, Vince Marrow has a good track record in Ohio, and the list of reasons making it seem like a slam dunk goes on.
But it wasn't a slam dunk.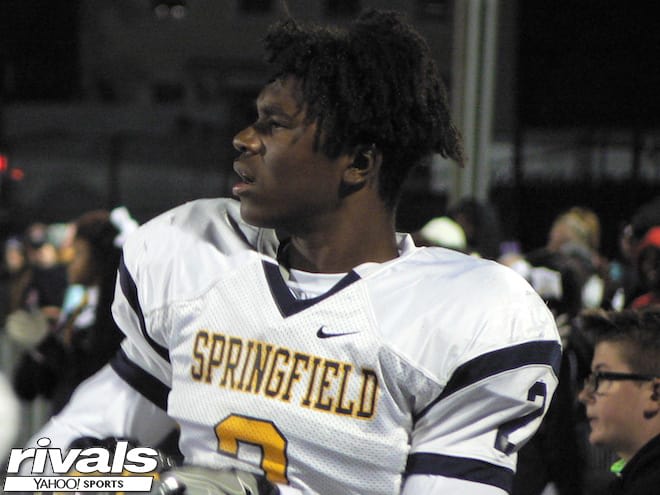 The elder Douglass, a former Wildcats who is now the head coach at Springfield, told Cats Illustrated this week that things started to turn in Kentucky's direction around the time of the program's second junior day of 2018.

"You know, I think the last time we had went down there for the junior day he said that was the best time he had had down there at UK," Douglass' father said.
But he wasn't ready to commit to Kentucky. He still wanted to visit a couple of other places. More than anything, he wanted his mother to visit Kentucky with him.
"Neither of us (his parents) had really wanted him to go to UK just because I had went there. I really thought he was going to go to Wisconsin and that's where I wanted him to go initially," Moe Douglass said. "But she went down there and saw the vision that Coach (Mark) Stoops had and she was like, '100-percent, if this is where you want to go I think it would be the best move for you."
Douglass had also taken recent trips to West Virginia, Minnesota and Iowa State. But going into that trip to UK with his parents, he seemed to know what he wanted to do. That trip served as confirmation for his mother, but Douglass had already become eager to make his choice.
RELATED: Big visit coming up for UK quarterback target Nik Scalzo
"We told him, 'You're special. You don't have to wait. If you know what you want, commit,'" Moe Douglass said. "And we're going to preach loyalty to our kids and being loyal to your word. So if you're going to stick to it then why not go ahead and do it now?"
Wisconsin was a very serious threat to land Douglass, his father confirmed. Just two years ago the Badgers landed one-time Kentucky wide receiver target Danny Davis from Springfield, and his successful first season in Madison seemed to reinforce some positive things about the Big Ten program.
"But it wasn't just Danny," Douglass said. "Just the fact that Coach Chryst and Coach Rudolph their offensive coordinator and Coach Leonard their defensive coordinator, they do a great job of developing players. And you know they're not going to be job hunting or looking for the next best thing. Coming in there, you're going to have consistency and they do a good job. And sometimes, for the kids who may feel like they've been slighted by Ohio State, sometimes going to the Big Ten West, you go to Wisconsin and you know you can play against them in the conference championship and get an opportunity to show them what they missed."
Stoops' pitch to Douglass' family coincided with Marrow doing a lot of work with Douglass leading up to the commitment. So what parts of the pitch resonated with the family?
"The fact that (Stoops) is doing some new things with the kids as far as job placement and doing some internships with the guys," Douglass said. "Moses will be able to come in and he'll be able to hit the ground running. He's coming in mid-year so he'll get an opportunity to know the system and get a jump on weights and stuff like that. And with him having such a high IQ as far as the game is concerned, just competing and trying to get on the field, be it the nickel or whatever the situation is. And he likes the academics and things like that."
Moe Douglass said Stoops, Matt House and Steven Clinkscale all talked about how the younger Douglass will have a great opportunity to get on the field quickly with UK losing so many defensive backs after this year.
"And being that it's from the head coach, who's a DB's guy, that's his background and he's got his fingerprints on the secondary a little more from last year towards the end of the year," Douglass said.