WKUs trick play beats Kentucky 32-31 in overtime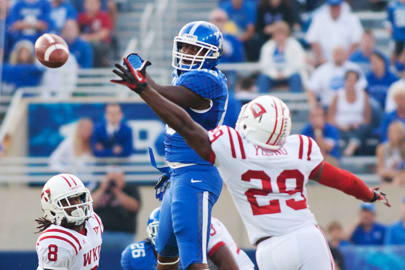 The chant was eerily similar. The familiar cadence rang out from some unseen place as
Joker Phillips
tried to talk about keeping his team together.
"T-O-P-S … Tops! Tops! Tops!"
The noise seeped into every crevice of Commonwealth Stadium. The Hilltoppers were celebrating their 32-31 win over Kentucky long after the Wildcats had left the field.
"It's a game you don't expect to lose," sophomore quarterback
Maxwell Smith
said.
Western Kentucky (2-1) converted on a trick play on a two-point conversion in the first overtime to beat UK (1-2) after a fourth quarter comeback gave the Wildcats a chance to salvage a win. Kentucky scored first in overtime, but Taggart had decided he was going to end the game if given a chance.
"I told our guys, 'If we score we're going for it all. We're playing to win,'" Taggart said. He had just the play in mind.
WKU quarterback
Kawaun Jakes
lined up under center on the left hash mark for the two-point conversion. He took the snap directly even without a running back behind him; there were four Hilltoppers lined up to the right.
Jakes took a quick drop and immediately passed backwards to tailback
Antonio Andrews
, who began the play three yards off the line of scrimmage.
"It's a bubble screen throwback," head coach
Joker Phillips
said. "We're in man-to-man coverage. The only guy you don't have accounted for is the quarterback."
Andrews feigned one step forward, like he was going to try for the end zone. Then he stopped and looked left. Andrews had shredded the UK defense all night, finishing with 125 rushing yards. But he wouldn't try and win the game with his legs.
"As soon as he threw the ball to the first guy, I knew what was coming down," defensive coordinator
Rick Minter
said. "It doesn't matter if I know. It's what our players know."
Andrews threw the ball back to Jakes. Kentucky linebacker
Alvin Dupree
leapt in the air for one last chance to knock the pass down, but the ball stretched over his fingertips. Jakes caught the pass eight yards away from the end zone with his entire offensive line in front of him. He ran in untouched from there.
Kentucky had fought back after trailing 17-0 early, but never led in regulation. It took a 22-yard pass from Smith to freshman receiver
Demarcus Sweat
with 24 seconds just to send the game to overtime. The Wildcats scored first, but Western Kentucky snatched the lead and the win on their next possession thanks to Taggart's decision to go for two.
It was WKU's first win ever over a team from a major conference. The Hilltoppers, who moved to Division I in 2008, also collected a $500,000 check for Saturday's game.
"I hate it for Coach Phillips and our team," Minter said. "At Kentucky, we do not need to lose to this program in-state. That's not putting them down, it's just a statement that is a true statement that UK does not need to find themselves guilty of losing two in-state games."
Andrews paced the Hilltopper offense, carrying the ball 34 times and adding three catches for 36 yards. Sophomore safety
Jonathan Dowling
intercepted Smith three times.
Kentucky's offense rebounded from a slow start, but never found a consistent rhythm. With their top two tailbacks missing, the Wildcats mustered just 41 rushing yards. Smith threw four interceptions, including three in the first half as the Hilltoppers built their lead. He finished the day 37-60 for 332 yards and two touchdowns, but that line belied his up-and-down night.
"I thought I really had an all right game other than the fact that I had four picks," Smith said. "But that's like saying I pitched well, but gave up four grand slams."
Smith was good enough to put the Wildcats back in it in the second half. Kentucky drove 77 yards in less than two minutes to tie the game in the closing seconds to send it to overtime.
That didn't bother Taggart. The WKU coach is now 4-0 in overtime, and he knew exactly what was coming.
"They had one more play than we did," senior
Aaron Boyd
said.
Injury report
Senior tailback
CoShik Williams
left the game with a hip strain and did not return. Senior cornerback
Cartier Rice
suffered a quadricep contusion, a recurring injury from this summer. Smith had a bruised shoulder, but finished the game.