Will Levis energizing Kentucky offense with arm and legs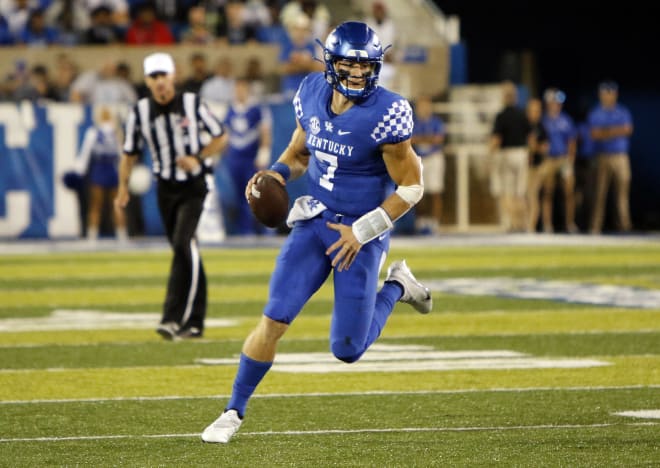 For all of the talk of Will Levis's big right arm energizing the new Kentucky offense coming into this season, it was the transfer quarterback's legs that showed up more often on his Penn State highlights.
On Saturday in a 35-28 win over Missouri, Levis showed why he should be considered a true dual-threat quarterback. In addition to his 179 yards passing and one touchdown through the air, the 6-foot-3, 222-pound Levis also ran for 38 gross yards and another touchdown on nine attempts (before factoring in two sacks for 18 yards) that helped keep the Tigers' defense off-balance throughout the night.
"It felt good using my legs today," Levis said during Saturday's postgame interviews. "I woke up feeling fast."
He wasn't just feeling fast. He was feeling aggressive, lowering his shoulder on a couple of occasions to pick up tough yards near the sticks.
On one of those carries, Levis ran through Missouri linebacker Blaze Alldredge, who was the Tigers' star defender with 10 tackles and four sacks the previous week, putting him flat on his back.
The play delivered a message and fired up both the fans at Kroger Field and his teammates.
"Woo, that turned me up right there," UK running back Kavosiey Smoke said. "I loved to see that because we ain't had no quarterback who would just, 'BAM,' bring it to you like a running back. Will gonna bring it. He's got a lot of heart... Hey, you linebackers gotta be ready."
"It juices up everybody," added UK offensive lineman Eli Cox. "When any of your teammates are fighting and scrapping for extra yards, it's a physical game, and you want to step forward and put in that extra effort that your teammate is putting in. So, really, it just brings everybody's energy level up and excited to play aggressive."
As a sophomore at Penn State in 2020, Levis rushed for 260 yards and three touchdowns. His running ability was not the main characteristic that attracted the UK staff to his profile in the transfer portal, but it was a nice bonus. The UK staff saw the Missouri game as a chance to utilize that skill a bit more than they did in Week 1.
"He knows that he can be a weapon running the football," said first-year UK offensive coordinator Liam Coen. "I think it showed up tonight a little bit.
"He's psycho. He's nuts in a lot of ways, which is great. You want that out of your quarterback. You want that guy to be the guy who everybody looks to, who brings energy and juice, which he does every single day in practice and every game so far."
The Cats need to balance that aggressiveness with making sure their star quarterback doesn't take unnecessary hits, according to Coen.
"It scares me a little bit, but he's a freak, so I don't worry too much because he's a competitor," he said. "I'd like him to be smart, but he's going to dive and he's not going to slide very often, which we need to try and practice a little bit."
Said UK head coach Mark Stoops: "He better learn to slide a little bit because we're going to play some more big boys here. But he's a tough kid. You can see he's put together. You know, he works out extremely hard and he's a tough guy. And he made some tough yards. And you know what, your team and fan base kind of rally around guys like that. You know, they got to get some tough yards when you need them."