Wildcat Chalk Talk: Stoops' recruiting hasn't been overrated
In this new Cats Illustrated editorial feature we'll tackling some of the pressing questions and issues in the world of UK sports.
The first question we'll tackle is a big one.
Has Mark Stoops' recruiting been overrated?
My resounding answer is no.
Why then, you might say, have Kentucky's recruiting classes failed to improve the product that everyone witnesses on the field? Why, going on Kentucky's fifth recruiting class under Stoops, has Kentucky failed to produce a winning record or any semblance of a program that's on the verge of turning the corner?
Some have said, especially recently, that the answer is simple: Kentucky's recruiting classes haven't matched the hype. The classes, this implication goes, have been overrated.
I think that's an understandable assumption but one that misses the mark.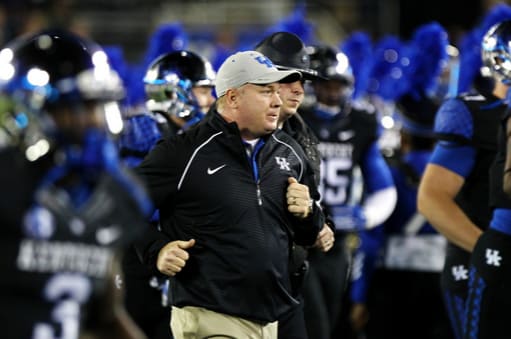 Mark Stoops' classes have been universally recognized as being ranked higher than those of his modern predecessors
By and large Rivals.com has been bullish on Mark Stoops' recruiting classes. Going into this class the network had ranked Stoops' classes higher than any other network year after year. The highest ranking the Cats have achieved is No. 17 (2014). Even Stoops' lower-ranked classes (2015 and now 2017) have been better, according to the rankings, than Rivals.com-era classes built by Guy Morriss, Rich Brooks and Joker Phillips.
But it's not just Rivals.com that has ranked Kentucky's classes higher under Stoops. Every major, minor, older and younger recruiting service has ranked Stoops' recruiting classes higher than those the program signed before Stoops. Remember, these industry and analyst-generated rankings have only been around on an in-depth, national scale since the start of the new millennium.
When one or two people claim that Kentucky's classes are better, that's one thing. When everyone's saying the classes are better, that carries a little bit more weight.
Not many Kentucky fans would buy into the assertion that there's an industry-wide conspiracy to inflate Kentucky's recruiting rankings. No sane person would be able to back up a claim like that. And it's not just one or two classes that we're talking about. Year after year Kentucky's classes under Stoops have been ranked higher by everyone than almost every modern class the program achieved before him.
Correlation is not causation
Do violent video games turn kids violent or do violent kids like violent video games? That's a question I'm not qualified to unpack, but we've got to admit that the question exists. On a bigger scale, that touches on a relevant issue here: Just because Kentucky's higher-ranked recruiting classes under Mark Stoops haven't produced better results does not mean that those higher-ranked recruiting classes (universally higher-ranked, remember) have been overrated.
Recruiting is a huge part of a college football program's success. But it's not the only factor that determine's a program's success.
There's also retention -- a program's ability to keep talented players in the program and away from the transfer market, junior colleges, jails, drug courts, the decision to give up football, and so on. It would be difficult to measure the retention rate of talented players in the Stoops era compared to programs across the SEC or nationally, but one thing is clear: Kentucky hasn't kept some of its more talented players in the program.
Premium link: Monday's basketball Insider Notes
Going into this year alone it appeared Kentucky would have Jason Hatcher and Regie Meant on the front seven. If we go back a little bit, the coaches probably thought they would have Lloyd Tubman. The impact these players would or wouldn't have made is a legitimate point of debate -- and it's a debate we'll never satisfactorily settle -- but their absence is noteworthy. They were a part of the recruiting hype and the rankings, and they aren't a part of the program now.
We can also point to players like offensive linemen Nick Richardson, Josh Krok and Jarrett LaRubbio, or a host of others, who aren't around to make the impact most people assumed they would make.
Attrition is a part of every college football program. Without ascribing a certain level of impact on Mark Stoops' success or lack thereof, we can say with certainty that retention affects performance just as does recruiting.
Player development is a huge factor that goes alongside and after recruiting. Landing a commitment from a 16-year old football player is one thing, and landing his signature on signing day when he's 17 is another.
But compare the average 16- or 17-year old high school football recruit with the average 21 or 22-year old redshirt junior or senior. The difference is often, almost always, night and day. Getting a player into a program is one thing. Developing him to reach the maximum potential he's really capable of attaining (or the one recruiting analysts have projected for him) is an entirely different matter.
Premium link: Read and discuss updates from Mark Stoops' Monday presser
There's really no way to juxtapose the significance of recruiting with development in a way that reflects positively, on both counts, on the Stoops era. Given the consensus on the significance of recruiting and development in the football world (whether you're talking to coaches, analysts or anyone who knows the sport), either Kentucky's recruiting has been overrated or the development has been lacking to date. I'm of the opinion that development has been an issue, particularly in the trenches.
There are other issues beyond recruiting, retention and development. A program's culture is an oft-mentioned (maybe too often mentioned, or maybe not) factor and it's a very real factor.
You could take a recruiting class and put it into a program with a losing culture full of bad attitudes and a bunch of isolated individuals, lacking leadership, and it's more likely they'll become a part of the problem than part of the solution. And I'm of the opinion that you could take the same recruiting class and put it into a winning culture with a team-oriented focus and lots of leadership (good quarterback play helps, too) and it's astronomically more likely that the very same class, which could become part of the problem in the bad culture, will probably become another in a long-string of successes.
There are still other factors ranging from a coaching staff's stability (there hasn't been much of that in Lexington, lately, with half of Stoops' staff being overhauled heading into 2015, and with Stoops' third and fourth offensive coordinators taking the reins in his fourth year) to the level of competition a program is facing.
Premium link: Miami OT commit Hillery updates his recruitment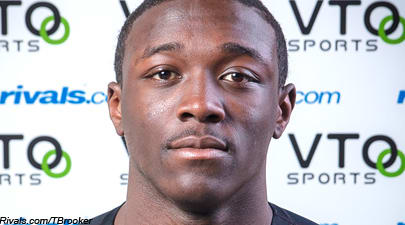 So what's with the disconnect between recruiting success and on-field struggles under Stoops?
I'd point to a few key factors that have shaped Stoops' inability, thus far, to right the ship, and I wouldn't put overrated recruiting near the top of the list. In fact, I don't think the recruiting has been overrated at all.
1. Retention - Kentucky has lost too many talented recruits to off-field incidents and transfers. In fairness, this is related to recruiting. Evaluating a player's readiness to work, change the culture and be a part of the solution is part of recruiting. Kentucky's recruits under Stoops have been more talented. Have they loved the game more than their lives outside of football? In some cases, probably not. Maybe in too many cases.
2. Development - Kentucky's offensive line doesn't seem to have significantly improved as we get deeper into the Stoops' era. On defense, the line is very weak this year, and some of that is related to relying on junior college talent so heavily, and the difficulties associated with that.
3. Too much coaching turnover - Too many offensive coordinators, too many staff shakeups. I don't know what Stoops could have done differently given that Neal Brown was going to take that head coaching opportunity in Troy, but there have been too many shakeups. The best programs usually have a lot more stability among the assistant coaches than Kentucky has had. You want your best assistants moving on to better jobs. That helps attract more good assistants, and it means they're doing a good job. But there have been some who left on less than ideal terms, and there's been too much turnover.
4. Quarterback play - Maybe Drew Barker will really have a breakout year. We'll have to wait and see. He was great for a half against Southern Miss and good enough to win the game. Against Florida he wasn't a part of the answer, but nobody around him did especially well either. However, when Max Smith and Jalen Whitlow formed the highest-rated quarterback group of the Stoops era (look up their passer ratings -- it's true), then your quarterback play has been an astounding problem, at least until now. That's the single-most important position on the field.
5. Leadership void - When Mark Stoops inherited the program there was an unhealthy convergence taking place. Very highly-rated recruits, probably some with a sense of entitlement and self-absorption, entered the program as very young 18 year olds who had not paid their dues. They arrived with expectations (and that entitlement and some self-absorption) but were met by holdovers from the Joker Phillips era. Those holdovers were older, many were more physically mature, and felt as though they had paid their dues. But the younger players were not prepared to defer to them, and frankly, a lot of those Phillips-era holdovers were not good enough players to really assume the full mantle of leadership on the field that demands younger players look up to them. As those once-young, heralded recruits have ascended the ranks and become redshirt juniors, redshirt sophomores and the team's supposed leaders, they've come through the chain of command in a very unorthodox way. They didn't pay their dues in quite the same way that would ideally happen. There's been a leadership void on the team for several years now.
6. "The little things" - In football there are no little things. There are 11 players on the field, for your team, at every time. Or there should be (unfair shot at a mishap last season). There are little things that are big things. For a play to be successful, lots of little things need to go right. Too often the little things have been lacking in the Stoops (and before that the Phillips) era. What are the little things? Big things like blocking, tackling, special teams steadiness, etc. Kentucky had plenty of explosive plays against Southern Miss, but they didn't sustain long drives. Why? Long drives are hard to sustain. They require the consistent practice of the little things and a fundamental soundness on the lines, at receiver, from the backs, the quarterbacks -- everyone. It requires a cohesive unit full of individuals who are detail-oriented perfectionists and incorporate their role into a well-oiled machine that is well-oiled because, well, everyone else is doing their jobs, too. That's a lot of writing just to say that Kentucky hasn't been especially fundamentally sound.
I don't think UK's recruiting has been overrated at all. Maybe some individuals have been overrated, but that's always going to be true. Some have been underrated. Melvin Lewis wasn't highly regarded and he turned into a very good player.
Most of the problems in the Stoops era to date can be traced to the six factors listed above.