Wichita State coach Gregg Marshall downplays revenge factor against UK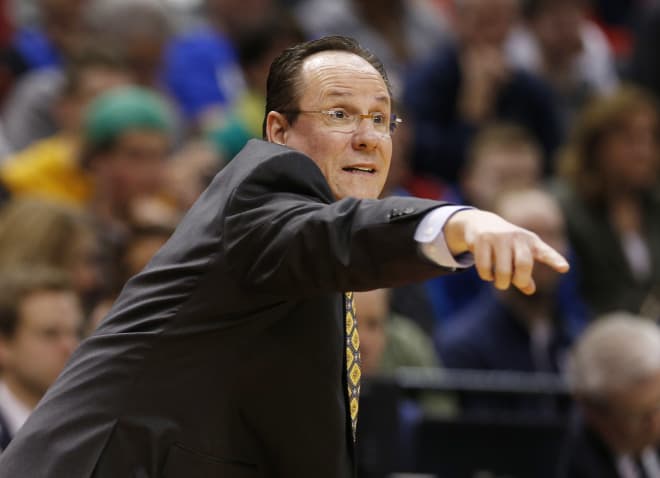 INDIANAPOLIS — While it's not completely true, Wichita State coach Gregg Marshall isn't far off. In his Saturday meeting with the media, Marshall tried to downplay the notion that his Shockers, the tenth-seed in the South Region, view their Round of 32 matchup with Kentucky as a revenge game from 2014.
"The bottom line is the only two guys that remember that game, other than you media people, are Coach (John) Cal and I," Marshall said.
Marshall is right in the sense that nearly all the players involved in that game are no longer with their respective universities. Kentucky's Derek Willis and Dominique Hawkins were freshmen in 2014 but didn't play in the game. No current Wichita State player saw action in the game either.
Instead, most of the players who participated in the 2014 classic are playing professionally now.
"I think Willie Caulley-Stein is with Sacramento and Randle is with the Lakers, I hope," Marshall said. "And I've got a few guys in the NBA from that group as well. In fact, we watched a little bit of that game with our team today just to show them how we countered Kentucky's size and athleticism.
"I mean, you saw Cleanthony Early and Ron Baker and Fred Van Vleet and the Kentucky players I just mentioned. That court was full of NBA guys. It was a tremendous game. The way they shot it, the way we shot it, it was back and forth. And it was after that game when everyone says, what a classic game. That may have been one of the best games in X amount of years in the tournament or the best game this year by far in the tournament."
And in an unexpected twist, Marshall believes his Wichita State team, which was 35-0 when it lost to Kentucky, didn't get the respect it fully deserved until it lost to the Wildcats.
"What I thought was really ironic that year is we were such a polarizing team," Marshall said. "We deserve a 1 seed. We don't deserve a 1 seed. And you're either on one side of the fence or the other. Then we get the 1 seed, but we get Kentucky as an 8. I think they hedged their bet a little bit. But in the end, it took a loss to validate our team, which I think is really ironic and sad."
Now the Shockers are the higher-ranked seed in a game that might be played too early in the tournament. Wichita State has the longest winning streak in the nation at 16 while the Wildcats have the second longest at 12.
"We know how hard the game is going to be," Calipari said. "This is a Sweet 16, Elite Eight game that we're playing. But that's OK."