UK-Mizzou was just what receiver commit wanted to see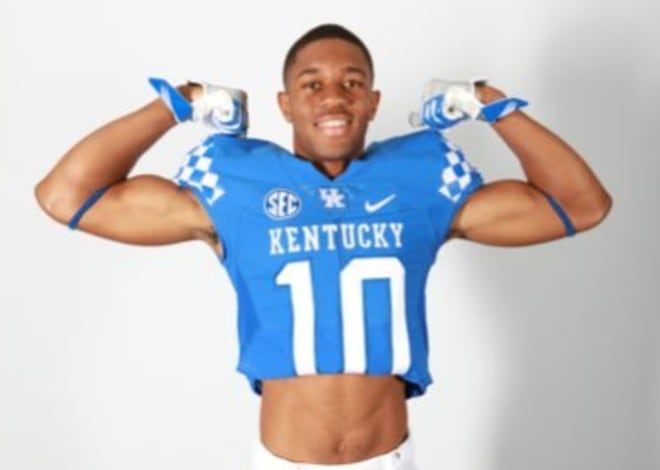 It's not secret that the Kentucky passing game has struggled for parts of the 2018 season, even as the program has posted its best start in decades. Even so, receiver commits Demontae Crumes and DeMarcus Harris, two of the top skill position producers in their respective states of Kentucky and Florida, have remained solid with Kentucky.
Crumes will be visiting Kentucky this weekend for the Georgia game. Harris attended UK-Vandy two weekends ago.
After Harris' unofficial visit to Kentucky, Cats Illustrated spoke with Harris' father, who said the trip was mostly for the player's mother, who had never been to UK.
He also said that, as a father and coach, he would, of course, like to see the passing game succeed.
Cats Illustrated caught up with Harris this week following UK's 15-14 win against Missouri.
Harris, who has close to 1,200 yards and 13 receiving touchdowns last year, after posting a 1,000 yard season as a junior, said it was just what he wanted to see.
"I had visited for the Vanderbilt game and their coaches told me they were going to have to pass in the next game (against Missouri)," Harris said. "I think they had around 270 yards passing, so they did what they said and I trust what they're telling me."
Harris reiterated that he's completely solid with Kentucky and does not have plans to visit any other schools between now and the time when he plans to sign with UK.
Reflecting on that unofficial visit for the Vanderbilt game, Harris, like his father, said the trip was mostly for his mom.
"I think she feels more comfortable with the school, because she really didn't know much before," Harris said.
Kentucky area recruiter Darin Hinshaw attended one of Harris' games the weekend Kentucky played Florida down in Gainesville.
Harris said Kentucky's coaches are enamored with his "catch radius" and also his ability to get separation from defensive backs.
He has also been in contact with receivers coach Michael Smith and head coach Mark Stoops, so there's no doubt Kentucky is making him feel wanted.
Harris told Cats Illustrated that his route running and speed have both improved over the past year.