Towns -- and his game -- still growing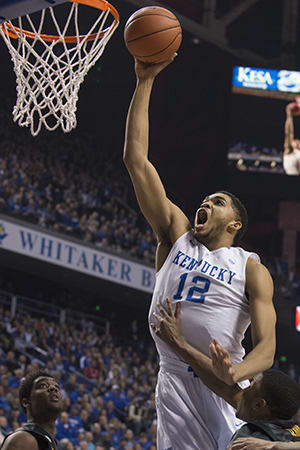 It's not the weight of the world, but the bulk of his game.
Calipari concedes that youth and biology are the co-conspirators for that shortcoming in Towns. He simply hasn't had the time to add the muscle required to plant his foot and hold his position, to torque his waist and move defenders.
But when his metaphorical trunk acquires more junk? That's when Towns will really be a force, Calipari said.
"Now, within two or three years, when he gets that weight in his butt, in his thighs that he's gonna have, now it becomes another one of those kids you look at and you say, 'Oh my gosh. I didn't realize he was gonna be like this,'" Calipari said. "He's physically not caught up to all the other stuff that he does."
Those physical limitations haven't hampered Towns production. He has scored double figures 12 times this season, including in five of Kentucky's last seven games. Towns logged his fifth double-double of the season -- and third in the last six games -- against Auburn last Saturday, scoring 19 points and snagging 10 rebounds in 21 minutes against the Tigers.
Assistant coach Barry "Slice" Rohrssen called Towns a "sponge," saying that his willingness to learn is aiding his progression this season.
"He came in here wide-eyed, like wanting to learn, which is good," Rohrssen said. "And those are some of the things that every player but especially freshman need to learn. A lot of times post guys, it's uncomfortable to play low, but the better balance you have the closer you are to the basket really helps you fortify your position down there. It gives you explosion, it gives you some strength, so he's learning all that day by day."
"Now the greatest thing for him is, he's had Dakari here and Willie here," Calipari said. "You're not just doing what you want to. And we're a little bit on warp speed here. Like, you got to catch up and you got to go, and we don't have time for you to mess around."
Towns' body may need time to mature -- perhaps his mentality, too, as Calipari said Towns and his son, Brad, "watch cartoons together" -- but Rohrssen says the soon-to-be top-five NBA Draft pick is a special player.
"If they were all like Karl Towns, more people would want to get into coaching," Rohrssen said. "He's just a wonderful guy and somebody's who's as talented as he is and likes to work, you know, he's doing a lot -- especially for a freshman. It's usually a year where you have to transition and learn a lot of things, you know, being on a college campus for the first time, but he's doing well."