The book on Terry Wilson
Semper Fi All-American Bowl practice standout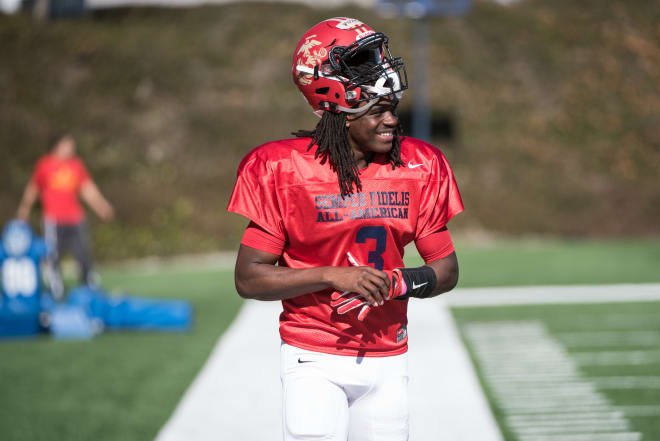 As a high school recruit from the Class of 2016, Wilson participated in the Semper Fidelis All-American Bowl.
Rivals.com analysts were impressed with what they saw from Wilson at the event. On Day Three of practices before the game, for example, here's what was written:
"Quarterback Terry Wilson continued his strong week, showing great touch on throws down field and the necessary zip on shorter routes. He moves his feet very well and has the mobility to be effective while rolling out of the pocket..."
At Day One of the practices for that event, Wilson was mentioned as perhaps the most consistent quarterback performer for the West squad by Rivals.com analysts.
Wilson had a long history with Nebraska
Nebraska was one of the schools heavily involved with Wilson when he went through the process as a junior college recruit. That became a given when UCF coach Scott Frost, who had recruited Wilson to Oregon, became the head coach at Nebraska and started looking around for a quarterback.
But Wilson's relationship with the Nebraska program stretched back far longer than that.
Wilson was actually verbally committed to Nebraska as a high school prospect before he flipped to Oregon, signed with the Ducks and enrolled in Eugene.
Dual-threat, yes, but a promising passing prospect
It's not as though the Semper Fi practices were the first time Wilson drew positive reviews for his potential as a passer. Granted, he has always been regarded as a dual-threat who was mostly accomplished for his explosive running, but Wilson has always been more than a one-dimensional prospect.
All the way back in 2015, Rivals.com analysts wrote about him following a camp a camp in Dallas: "Wilson showed he was a very strong athlete, but he also showed he could put some zip on the ball. He pushed the ball well downfield and he spun the ball very well throughout the camp to lead all performers in Dallas."
Back in 2015, Nebraska's coaches and HuskerOnline.com media were present at a satellite camp at Highland Park in Dallas. Nate Clouse and Bryan Munson wrote, "The headliner of the group was Huskers quarterback commit Terry Wilson of Del City, Okla. who impressed from the moment he arrived until his last pass thrown. Wilson checked in at 6-foot-3, 193-pounds and clocked a 4.53 40-yard dash. He then proceeded to show off his athleticism in drill work and at strong arm and quick release during the one-on-one portion of the camp."
Here are more of their observations from that early camp when Wilson was still very young and much less polished, one would assume, than he is today...
"First off Terry Wilson is put together. I really wanted to get on a level surface and get eye-to-eye with him and measure him up. Legit, he's 6-foot-3. I believe that he's in that 190-195 range, very developed and just a great kid. He really has the whole package with the personality and the athleticism.
"Wilson ran his first 40-yard dash as I was walking back into the stadium. I caught him running since he was the only one in a black, long-sleeved Nebraska shirt and as he started to run the crowd could be heard saying, 'Wooo!' Wilson ripped off a 4.53 on that run.
"People might see that time and think that it indicates he's an athlete. You had to see Wilson throw. Very quick release and accurate. He has the ability to really zip it in there and the ability to put some touch and air under it. I was very impressed with where Wilson was at throwing the football solidifying that Wilson is a QB recruit, period."
His high school coach also had plenty of praise for his early potential as a passer, telling HuskerOnline.com, "Well, Terry has a live arm. When we were first around him the first summer, he was very athletic and many people considered him to be a dual-threat guy probably throughout his sophomore season. But he's not a dual-threat guy. He's a quarterback who has the ability to run. I mean, he may run a 21.5 200 [meters] before the season's over if the track is hot that day, but he's really running track to improve his speed for football. He'll have a chance to make the state finals if everything plays out, and he's such a competitor that if he gets to the finals it wouldn't surprise me if he finished at the top of the stand. He's a fierce competitor."
"It's his ability to scan the field and push the safeties out with his eyes and look down the field," Coach Warehime explained. "I think it's all confidence and reps. Everything that we do goes through him. The offense that he plays in now is not an offense where we tell him where the football is going to go. It's his responsibility whether there's a run/pass option or a double option for him or a triple option for him."He has a green light through film study because he's going to sit in a room and listen and watch film. He wants to be great. He has a green light in every game that we play and every situation that we put him in to get us in the play or get us out of the play. I have that much confidence in him."
"A special person"
Almost everyone who have given first hand reviews of Wilson to media have raved about his personality and character traits as much as his potential as a quarterback.
In that same HuskerOnline.com interview with Wilson's high school coach, there's this: "He's absolutely a leader. I think maybe the number one thing that gets lost in college recruiting - and this is my take from coaching high school for 34 years - is that Terry is a high character individual. High character. It matters to him and he knows that if he wants to be uncommon he has to take the uncommon route and walk away from things that are presented to individuals in high school and college.
"He has his eye on the prize about where he wants to go and what he wants to do. He not only has the ability to be vocal, but his presence in a locker room matters. One, it doesn't matter who the lead quarterback is, he's going to compete. And two, he's going to listen. He listens to experience and he's coachable. And in 2015 that's not always the case. He has those qualities of leadership and character, and isn't that somebody you want running your team? Everybody does and that's what I want, so we're just blessed to have him here for one more spring and one more season.
"I think he's a normal high school kid at his age off the field. He's going to go to the movies, hang out with teammates, he's going to play PlayStation games. I think one of the things that's maybe different is he will round up kids in the Oklahoma City area, kids that we compete against and kids that are with us, and he will go play 7-on-7 on a Sunday afternoon. Just like kids across the country do with basketball, he does with football. He'll send out a message to kids and those kids are going to show up from different high schools just so they can catch balls from him, run routes, and the defensive backs can work one on one. That's who he is. He's a guy that's going to go to a quick twitch program so that he can become faster. He's a guy that's going to go to the weight room and other people are going to follow."
Why'd he leave Oregon?
According to everyone Cats Illustrated has spoken with, Wilson left Oregon on good terms, although the coaching staff would have liked to see him stick around because he figured to be a part of the competition at quarterback down the road. When he was not one of the top two quarterbacks in the 2016 season, as a freshman, he wanted to look for opportunities elsewhere.
After the Oregon spring game in 2016, then-coach Mark Helfrich said that the staff really wouldn't know more about what they had with Wilson until they got into fall camp, according to GoDucks.com.
Wilson himself was quoted as saying, after that game, that he was, "Just working on my reads, everything is a little faster than high school, so I have to work on footwork and technique, being more precise with my reads."
He had a lot of ground to make up in that first quarterback competition in Eugene and acknowledged that at first his timing with Oregon's receivers was not perfect, but he was happy with the progress he was making in that regard.
In a preseason camp notebook, Rob Moseley of GoDucks.com wrote, "He showed no signs of freshman jitters despite beginning spring drills the same week he enrolled at Oregon. By the end of the spring Wilson was probably behind Prukop and Jonsen, but not by as significant a gap as might have been predicted entering April."
There was a rookie scrimmage in October of Wilson's freshman season and GoDucks.com called him "the X-Factor" and noted that he led several scoring drives.
GoDucks.com's news archives are a treasure trove for notes and evaluations on Wilson's performances with Oregon's developmental squad in his lone year with the Ducks.
The Garden City season
What Wilson did in high school and at Oregon is all fine and well, but more relevant to Kentucky's immediate future is the kind of quarterback he has been recently. JUCO statistics and performances are imperfect indicators of how a player will transition to the Southeastern Conference, but it's the latest information available. Evidently, Kentucky's coaches were impressed enough with what they saw. They tracked Wilson's development at Garden City, did their research with people at the school, and Vince Marrow watched Wilson in the CHAMPS Heart of Texas Bowl not long ago.
In his one season as Garden City Community College's starting quarterback, Wilson led a team to an 8-4 record (5-2 conference) and his offense averaged 34.8 points per game.
Wilson was 194 of 337 (57.6-percent) for 2,113 yards, 26 touchdowns and 11 interceptions as a passer. As a runner, he carried the ball 126 times for 518 yards (4.1 average) and five touchdowns with a long of 49.
Wilson did fumble four times in addition to the 11 interceptions, so ball security will have to be an emphasis in the offseason, just as it was for Stephen Johnson after a fumble-prone first year in Lexington. But that emphasis paid off in 2017 for the Wildcats and Darin Hinshaw will have to hope it does again if Wilson is the starter.
Wilson completed at least 50-percent of his passes in all of Garden City's games in 2017. It's worth noting that he did not play in their game against Iowa Western, their worst defeat (41-14) of the season. In Garden City's three other losses, they still scored 23, 28 and 41 points.
Wilson's most prolific passing games of the season were against Hutchinson in a 31-28 loss (358 yards, 4 TD, 2 INT) and another loss to Trinity Valley in the bowl game (337 yards, 4 TD, 2 INT).
His best rushing games of the season were against Ellworth (11 carries, 85 yards) and Butler C.C. (15 carries, 99 yards, 2 TD).