Stoops: Playing Alabama is "a very tall task"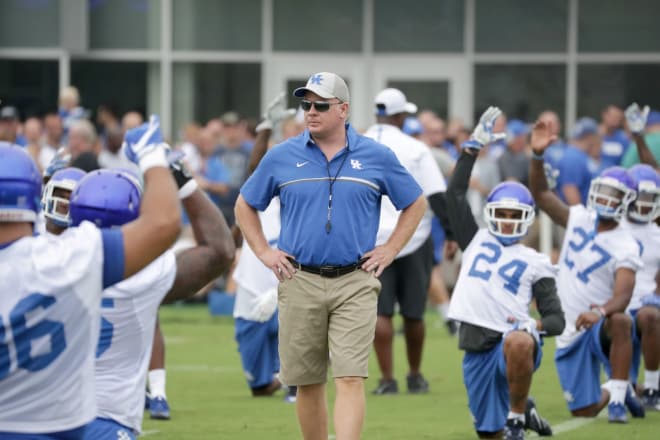 Lexington, Ky. -- Kentucky (2-2, 1-1) earned an important victory over South Carolina on Saturday night to keep its bowl hopes alive, but a difficult challenge awaits them.
The Wildcats will travel to Tuscaloosa this weekend to take on Alabama, the No. 1 team in the land.
Head coach Mark Stoops spent the early portion of his press conference on Monday praising his team's play against South Carolina, but said playing Alabama will be "a tall task."
"We're playing an amazing football team, an amazing program, the No. 1 team in the country for a good reason," Stoops said. "They are absolutely a quality, quality team from top to bottom. It will be a real challenge but it will be exciting."
Alabama is 4-0 on the season and has only had one competitive game. The Crimson Tide thrashed USC 52-6 to start the season and then easily handled a solid Western Kentucky team. Alabama rallied from a 24-3 deficit early against Ole Miss in week three and held on to win a 48-43 shootout.
Last week Alabama shut out Nick Saban's alma mater Kent State 48-0. Stoops said Alabama's program is impressive in all phases.
"They're led by arguably the best coach of all time in college football and it starts there," Stoops said. "What impresses you about them is their whole program. Top to bottom, they do things right. They're extremely talented and very well coached. There's a lot you could talk about what they do right."
One of the biggest challenges Kentucky will face in the game is slowing down freshman quarterback Jalen Hurts. Hurts is has the ability to hurt Kentucky on the ground and through the air, which is something the Wildcats have struggled to defend over the years.
Hurts has thrown for 727 yards and five touchdowns on 64 of 102 passing. The freshman from Channelview, Texas has also rushed for 251 yards and three touchdowns on 45 attempts.
"The quarterback is different and they're doing it different ways out of the gun," Stoops said. "He adds a different dimension with pulling the ball and running it with another big guy. we haven't faced anything like this where they're so physical. Again, it starts with physicality up front. With their line, with their backs and tight ends. Everybody. Their wideouts, it starts with that run game and then everything off that."
History of Saban and Stoops
Stoops relived some old memories while talking about Saban. Saban was the defensive backs coach at Michigan State while Mark Stoops was in high school in the mid 1980s. Stoops was being recruited by Michigan State, but knew he was going to Iowa because his two older brothers -- Bob and Mike -- went to school there.
Because of this, Stoops called Saban and told him he would be canceling his recruiting visit to Michigan State.
"That conversation didn't go very well," Stoops said.
Stoops continued his story by citing a robbery that happened at in establishment in Youngstown, Ohio -- Stoops' hometown -- while Saban was in town meeting with Stoops' uncle.
"He'll tell the story better than me, but I always thought my uncle was exaggerating. He and my Uncle Bob were at an establishment after recruiting one day in the spring; my uncle was the head coach at an inner-city school in Youngstown. Coach Saban and my uncle were out, and Coach will tell the story better than me, but they were talking Xs and Os and they were so wrapped up in the Xs and Os that they had no idea somebody came in and robbed the place at gunpoint. I always thought my uncle was full of it. You know, he's a little crazy. I said, 'You're exaggerating this story.' But I heard coach Saban say it on one of his shows that he was on. He verified it, so that was like, 'Wow, Bob, you were telling the truth.' You never know what you're going to get in Youngstown."