Staff predictions for UK-Mizzou
Will Kentucky move to 2-1 in conference play on Saturday? The Cats Illustrated staff chimes in with picks and predictions for how everything will play out.
Kentucky enters Saturday's game as a pretty big favorite relative to odds going into most SEC games. Missouri comes in off a bye. How much cause for concern should there be?
Adam Luckett, Special Contributor: Anytime you face a veer-and-shoot offense there is room for concern. Mizzou is going to take multiple vertical shots and the splits of their receivers and offensive linemen will create some potential big running plays from Damarea Crockett. Add in that the Tigers are coming off a bye after hitting rock bottom and you're going to see offensive coordinator Josh Heupel throw the kitchen sink at Matt House's defense. Mizzou is going to come out swinging to start the ballgame and Kentucky will need to weather the storm early. If the Cats can get out to a first quarter lead they may just cruise.
Warren Taylor, Staff Writer: On paper, Kentucky should win this game easily, the stats and the national media say so, but the Cats still have that pesky habit of playing down to there opponents level. That is my primary concern going into the game Saturday night. Whether it was Eastern Michigan's pass rush or the post-Florida malaise, but Kentucky let the Eagles stick around last week, and it almost burned them at the end. Missouri has a lot to prove, are rested, had an extra week to prepare, and have a sleeping-giant of an offense ready to explode; aka the makings of a trap game. If Kentucky plays with an edge, they should win easily, but if they play Mizzou ball, then it just might be a bitter night at Kroger Field.
T.J. Walker, Basketball Recruiting Analyst: I can understand why some Kentucky fans are concerned. UK has played to the level of its competition and there's no denying the Cats are the better team.
Jeff Drummond, Managing Editor: I think UK fans should be moderately concerned about this game for a handful of reasons: (1) every game this season has been competitive into the fourth quarter; (2) it's an SEC game; and (3) Mizzou is refreshed coming off an open date while the Cats are a little banged up right now.
Justin Rowland, Publisher: I've watched as the line has dropped from -14 for Kentucky to -9.5 or -10 and I'm just wondering what people are seeing. There is the bye week variable and I've dwelled on that a lot. Barry Odom will be preaching that this is Missouri's one great (last?) opportunity to rally and do something positive this year. So there's that. And there's also the fact that Kentucky hasn't really been dominant against any opponent this year. But I just haven't seen anything from Missouri - from their blowout against Auburn to their blowout against Purdue to their lackluster home loss to South Carolina - that would lead me to believe they're capable of going on the road and beating any Power Five team, save for maybe Kansas.
What's one bold prediction for Saturday's game?
Adam Luckett, Special Contributor: Kentucky runs for over 200 yards. The offense has only done it once all season and that was against FCS competition. However, the Mizzou defense has been gashed by everyone they've played and it's not because of the defensive line. The Tigers have the worst group of linebackers in the SEC and the second level has given this UK rushing attack fits this season. Kentucky breaks off more big runs than normal and Benny Snell has his best game of the season.
Warren Taylor, Staff Writer: How many dropped interceptions does the Kentucky secondary have this season? Honestly, I don't recall the exact number, but it seems like a high one. Drew Lock already has six picks through four games. Kentucky's secondary is due to make up for a few of said drops. So look for the Cats to pick off up to three or more of Lock's passes. Heck, they will even take one to the house early in the game to set the tone for the evening.
T.J. Walker, Basketball Recruiting Analyst: There will be two special team touchdowns. Bowden will account for one but I wouldn't be shocked if the Cats gave up a return touchdown or a punt.
Jeff Drummond, Managing Editor: Stephen Johnson passes for more than 300 yards, which wouldn't be so bold if you look at how bad the Mizzou secondary has been this season, but I think everyone is coming into this game expecting UK to pound the rock with Benny Snell like they did against the Tigers last season.
Justin Rowland, Publisher: Kentucky jumps on the Tigers early and turns on cruise control, just like last year's game played out. Missouri will come out of their bye week with a lot of intensity but when adversity hits they'll crumble like they have other times this season.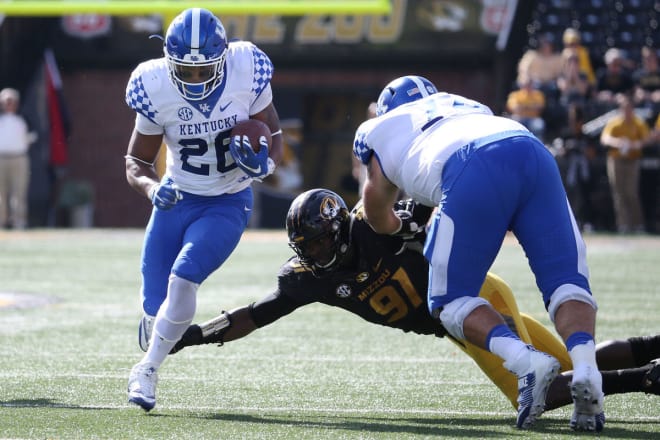 Who will be Kentucky's MVP against the Tigers?
Adam Luckett, Special Contributor: Benny Snell for the reason stated above. The sophomore will look like his diaper dandy self on Saturday against the horrible rush defense of Missouri. The Ohio native gets at least two touchdowns and runs for over 150 as well getting a huge splash play on a screen.
Warren Taylor, Staff Writer: Mike Edwards. Against a team like Missouri that likes to air it out with wide open sets, UK's secondary needs to cover attentively and tackle well. Edwards' play over the first month of the season personifies such an effort down to the molecular level. The junior safety was all over the field during Kentucky's last two games, and the team will need his high energy play against the high-flying circus of an offense coming to town from the other Columbia.
T.J. Walker, Basketball Recruiting Analyst: UK's defensive line. The goal to beating Mizzou is stopping the run. That makes them one dimensional and we know the Tigers will turn the all over. If UK's defensive line does its job the Cats will cruise.
Jeff Drummond, Managing Editor: The O-Line. I think we see those guys' best showing of the season after they were highly scrutinized for their lackluster play against Eastern Michigan.
Justin Rowland, Publisher: Benny Snell. He's due for a big game and he had an enormous game against the Tigers last year.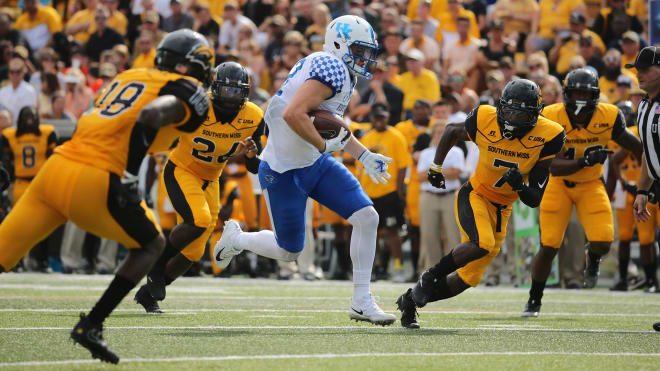 Score prediction, winner and why?
Adam Luckett, Special Contributor: Kentucky 31, Missouri 21. Whenever the guys in the desert think UK is going to win by double-digits, it usually ends up closer than expected under Mark Stoops. Mizzou is fresh while UK is banged up as they desperately need to get to the bye week and that will be a big factor on Saturday. Mizzou gets off to a fast start and an early lead before UK's front seven and rushing game begin to take the game over in second quarter. Kentucky dominates in the second half before a few late drives by Mizzou make a bunch of people uncomfortable at Kroger Field.
Warren Taylor, Staff Writer: Kentucky 38, Missouri 17. Kentucky's defense is too talented and deep for the Tigers to overcome. What hurts the Cats on that side of the ball are sustained, clock-chewing drives and when the UK offense can't run the ball. Missouri struggles to defend the run, so Stephen Johnson and company should be able to control the clock and Matt House's unit ample time to rest their weary legs, and the Tiger's ability to slow down the game is too contrary to their offensive identity. The board is perfectly set up for Kentucky to get their first comfortable win of the season.
T.J. Walker, Basketball Recruiting Analyst: Kentucky 31, Missouri 20. Kentucky is the better team and despite playing sloppy at times the talent gap will be too much for Mizzou to overcome.
Jeff Drummond, Managing Editor: Kentucky 33, Missouri 24. The Cats don't quite cover in this one but do enough to move to 5-1 on the season. The Mizzou defense is the perfect remedy for what's been ailing the UK offense.
Justin Rowland, Publisher: Kentucky 35, Missouri 21. Yes, that's the score of last year's game as well. I also think Kentucky will be in control throughout this one. The Tigers need Damarea Crockett to have a big game to have a chance and Kentucky's run defense has been very good this year. This game is the perfect opportunity for Kentucky's offensive line to get on track.