Sims transfer marks third Cat to exit program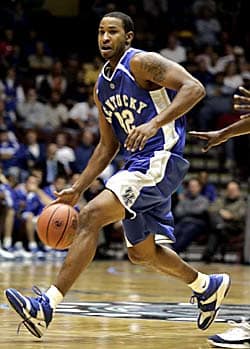 Kentucky basketball's offseason facelift continued this week with the announcement that junior forward Rekalin Sims intends to transfer from the program. UK coach Tubby Smith confirmed the poorly-kept secret in two short interviews on Monday.
Sims, the 6-foot-8, 200-pound forward, had been rumored to be unhappy with his playing time and role as this past season unfolded. After starting off hot the California native saw his role be substantially reduced as the season wore along due to a back injury and ineffective play.
Smith said Sims met with him and indicated his intention to transfer at the end of the school year. It was not immediately known what plans Sims had for his basketball future.
"We certainly wish Rekalin the best as he pursues other opportunities," Smith said in a statement. "He's a quality player and he'd be an asset to whatever school he ends up attending."
Sims' UK career lasted just one season after he transferred from Salt Lake Community College last season. Expected to help fill the void left by Chuck Hayes, Sims won immediate adulation among Cat fans when he had 11 points and seven rebounds in the season opener against South Dakota State, then followed that up with a 22-point, seven-rebound effort against Iowa in the Guardians Classic.
Unfortunately, those games would be the highlights of Sims' time at UK. Although he did score double-figures two more times in non-conference play, he logged five games where he did not leave the bench in Southeastern Conference play and scored just 24 points over his final 15 games played.
Unhappy with that role, Sims apparently decided he wanted to finish his career elsewhere and informed Smith of his plans. The UK coaching staff did leave the door open for Sims' return should he change his mind.
Sims' departure was the third of the offseason for the Cats. Sophomore point guard Rajon Rondo hired an agent and entered the National Basketball Association Draft, while freshman guard Adam Williams announced he would transfer to Marshall at the end of the school year. UK has four players currently signed to arrive in the fall: guards Derrick Jasper, Jodie Meeks and Michael Porter, as well as forward Perry Stevenson.
Sims' 2005-06 stats: 29 games played, 4.4 points, 2.9 rebounds, 44.6% FG%, 28.2% 3FG%, 52.9% FT%