SIGNING DAY PREVIEW: Defensive end Phil Hoskins
STATUS: Will sign on Wednesday and enroll in June.
RESUME: Hoskins did not play at Highland C.C. this year, opting to use a redshirt year. That will give him three years to play three seasons of football in Lexington.
RECRUITING HISTORY: Hoskins was not highly recruited coming out of high school. As a junior college recruit he became very popular with schools but committed to Kentucky early in the process. Arkansas, Baylor, Houston, Iowa State, Kansas State, Mississippi State and Syracuse were among the other Power Five schools to offer. Hoskins was absolutely blown away on his official visit to Kentucky and developed a strong relationship with Vince Marrow.
SCOUTING REPORT: Hoskins is a bit of an unknown because he hasn't played a lot of football in recent years and he wasn't recruited heavily coming out of high school. But there are things to like. He's got great length and Hoskins' wingspan is something Kentucky likes about him. For a defensive end - primarily a 3-4 defensive end - he's got good pass rushing potential. He has to prove he has the requisite strength to hold up in the trenches in the SEC but spending a year in the UK weight program should go a long way.
CATS ILLUSTRATED PROJECTION: Hoskins is coming off a shoulder procedure and that could impact his ability to earn a lot of playing time in his first year. He won'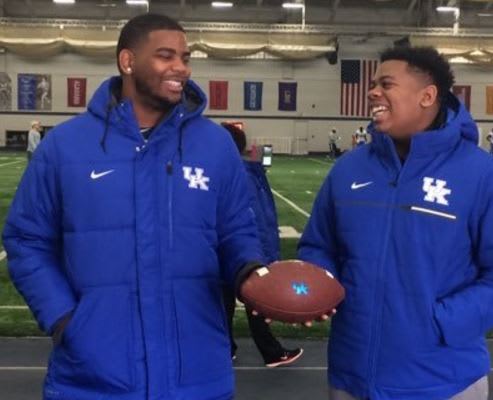 NOTE: Due to a lack of film and reliable in-person evaluation opportunities Cats Illustrated will not provide ratings for Hoskins.