SEC Champs!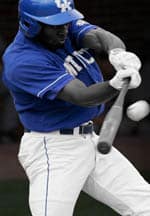 Kentucky senior left-hander Craig Snipp scattered six hits in a complete-game performance and struck out a career-high 11 batters Friday as the Wildcats defeated Georgia 8-3 at Foley Field in Athens.
The victory gave No. 4 UK its first SEC baseball championship in school history. The Wildcats, who were picked to finish dead last in the SEC by every preseason publication, completed an historic worst-to-first turnaround - something that had never been done in the conference before this year.
Kentucky stands at 42-12 overall and 20-9 in the league. Both win totals are school records and the 20 conference wins come one year after a 7-22 last-place mark a year ago.
"To come into the situation we came into three years ago and to think where we were and where we are now, it's a little overwhelming," Kentucky head coach John Cohen said. "These players that have been at Kentucky for the past few years have been at the very bottom and scratched their way to the top of the best league in America. It's been something amazing to watch and I'm proud to have been a part of it."
Kentucky did it as it has all season, with timely pitching and big hitting. Craig Snipp hurled his third career complete game, all coming this season, while striking out a career-high 11, including Jonathan Wyatt to end the game and set off a wild celebration in the UK dugout and on the infield grass.
"I can't put into words what it means to win a championship with these guys and this team. We all play so well together and get along so well together. It's an incredible feelng," senior Michael Bertram said.
At the plate, the Wildcats broke open a 3-3 game with a four-run seventh that propelled them to victory. Antone DeJesus plated the go-ahead run with a two-out single to left field as Billy Grace hustled around third and slid just under the tag at the plate. Collin Cowgill followed by launching a 1-0 pitch the opposite way to right field for his 15th home run of the year to make it 7-3.
"Antone got it started with the base hit to left and Billy did a great job to score," Cowgill said. "We were up a run so I just told myself to relax. He threw it outside and I went with it and got enough of it."
Suddenly, a championship was in sight. Snipp, who had allowed five hits and walked four in the previous three inning suddenly became unhittable. He retired the final nine men he faced, with the hardest hit balls being fly outs to center.
"As of now, this is the best game of my life," Snipp said. "It's just surreal, I can't explain it. I'm sure it hasn't sunk in yet. Maybe it will hit me tomorrow."
Snipp earned the win to improve to 7-3 on the year. He allowed three runs, two earned, on six hits. The first two runs came courtesy of a pair of defensive miscues in the fourth. With one on and one out, Snipp uncorked a wild pitch that Sean Coughlin blocked. However, Coughlin couldn't find the ball as it sat on top of the batter's box chalk and Josh Morris moved all the way from first to third.
After a walk and a single scored one, Coughlin threw behind Jason Jacobs at first, but his throw sailed to right field for the second run.
Coughlin redeemed himself in a big way in the sixth. DeJesus walked to leadoff and an out later, Coughlin cranked his second homer of the series to the deepest part of the field in center. That tied it, 3-3. In the bottom half of the inning, he gunned down Jacobs trying to steal second after a leadoff single.
It was the second big defensive play of the game for UK as Snipp and shortstop Ryan Wilkes perfectly executed a timing play to pick off Wyatt at second base and quell a scoring threat in the second frame.
Kentucky got on the board first in the third on a Cowgill sacrifice fly after loading the bases on three walks. Georgia took a 3-1 lead with the two runs in the fourth and a an RBI double by Gordon Beckham in the fifth before UK came roaring back.
Georgia starter Brooks Brown held the Wildcats hitless through four, but UK worked his pitch count and he left after tossing 106 pitches in six innings despite allowing only two hits. The big blow was Coughlin's blast.
Jason Leaver came on for the pivotal seventh inning and suffered the loss to fall to 2-2. Kentucky added an insurance run off Jason Fellows in the ninth on a Bertram sac fly for the final margin.
Cohen became just the third coach in SEC history to win a championship as a player and a coach. He's the first to turn the trick in nearly 30 years.
NOTES:
· Kentucky wins its first SEC championship in school history. Before this season, the Wildcats were the only team in the conference not to have a league crown.
· Kentucky clinched an outright SEC East crown, its second in history and first in 30 years.
· UK coach John Cohen becomes third person in SEC history to win a conference championship as a player (Miss. State, 1989) and a coach (Kentucky, 2006). Jim Whatley (Alabama player - 1933, 34; Georgia coach - 1953, 54) and Jake Gibbs (Ole Miss player - 1959; Ole Miss coach - 1972, 77) are the others.
· Kentucky is the first team in SEC history to complete a worst-to-first turnaround after going from 7-22 in the league last year to 20-9 this year. It is the first 20-win conference season for UK.
· Kentucky broke the school record with its 42nd win of the season. The previous best was 41 in 1991. It is only the third 40-win season in UK history.
· Kentucky has tied Alabama (1994-95) for the biggest turnaround in SEC history in terms of games (12.5). The Wildcats 13-win improvement is the second largest behind that same Alabama group (14).
· Kentucky has won 17 of its last 19 games overall The Wildcats have won 13 of their last 15 in the SEC, including nine of the last 10.
· Kentucky has homered in 11 straight games and 23 of their last 25.
· Kentucky has four players with 15 or more home runs (Ryan Strieby, John Shelby, Sean Coughlin, Collin Cowgill) for the first time in school history.
· Craig Snipp set a career high with 11 strikeouts and threw his third-career complete game, all coming this year. Snipp won his seventh game of the year, which is one more win than he had in his career entering the season.