Roster Rundown: No. 15 Jordan Wright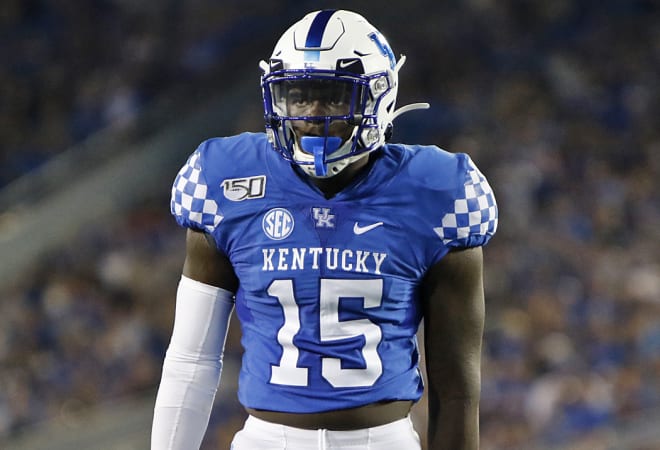 Jordan Wright was a sought-after defensive end recruit from Florida three full recruiting cycles ago.
Now going into his redshirt junior season, he's a proven contributor and a playmaker in the Southeastern Conference.
He's next up in Cats Illustrated's Roster Rundown series.
Background: Wright was an Eddie Gran recruit from Ft. Lauderdale (Fla.) Dillard as a two-sport (football, basketball) star who had plenty of other Power Five offers to choose from. His high school tape showed an athletic, flex hybrid tight end who scored a lot of touchdowns but also an edge rusher who could disrupt. Wright has always been a defensive prospect for Kentucky and the 'Cats had the luxury of bringing him along slowly his first couple of years in the program.
Last year Wright posted 27 tackles (17 solo), six tackles for loss, three sacks, a pass breakup, and a forced fumble.
2020 Outlook: Wright enters the 2020 season as a starter opposite Boogie Watson as one of the better starting edge defender pairings in the SEC.
One of the questions that Wright had to answer going into last season was his ability to hold up physically against the rigors of playing so much in the box in one of the nation's most physical conferences. As defensive coordinator Brad White told Cats Illustrated earlier this offseason, he held up well in that regard.
Behind him is rising redshirt freshman JJ Weaver, and White described the two as forming a nice "1-2 punch", with Wright as perhaps the more fluid, athletic of the two and Weaver as the big, physical presence. But White also said that Wright plays tougher than he probably gets credit for.
Having two complementary players should keep both fresh and allow for UK to put the best player on the field based on gameplanning, opponent, and situation.
Wright is a playmaker who can get into the backfield and also make plays in the space. It's likely that Wright will provide a good number of sacks, hurries, pressures, hits on the quarterback, and disruptive plays in general, especially in the pass game. If he can continue to play the run well he could be one of the defense's better players.