Rival Views: Which top teams have filled needs – and which haven't?
The 2017-18 college basketball season is in full swing, and the early signing period has come and gone. After seeing teams across the country play for a month and looking at their recruiting classes, national basketball analysts Eric Bossi and Corey Evans discuss which program ranked among the top 15 of the 2018 team rankings has best filled its needs - and which one still has the biggest need to fill.
BOSSI'S BEST: Five freshman point guards playing pivotal roles for their college team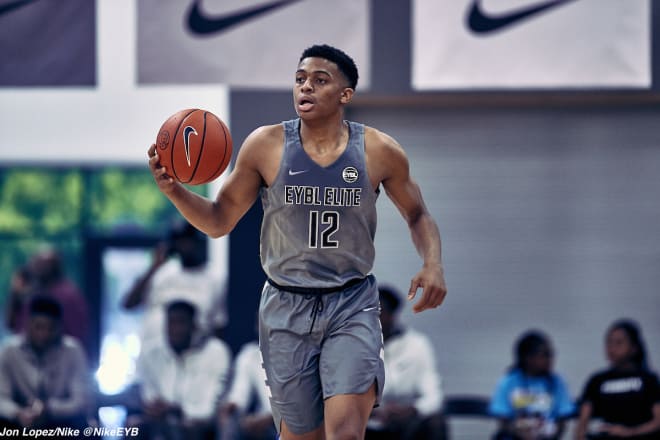 BOSSI'S VIEW: KENTUCKY AND NORTH CAROLINA
A few weeks ago, I'm not sure I would have answered in this way but after getting a chance to watch each Kentucky and North Carolina multiple times, I think that Kentucky's No. 4-ranked recruiting class has done the best job of addressing needs, while North Carolina's No. 6 recruiting class still has the biggest hole to fill.
Kentucky fans have grown used to seeing several players depart after just one year in Lexington. There will certainly be more departures this year, but it's not looking like there will be as many as there have been in years past. Most notably, none of the Wildcats' current big men are looking like surefire one- or two-and-done prospects, so there's a good chance all of them will be back next year. I think that showed in John Calipari's recruiting, as he focused mostly on wings and guards. The two guys who do appear most likely to leave after one year are wing scorers Kevin Knox and Hamidou Diallo. So, their positions needed to be accounted for, and in a perfect world at least one wing would be a big-time shooter. In five-star swingman Keldon Johnson and four-star shooting guard Tyler Herro, those needs have been addressed. Additionally, Quade Green is starting to settle in at the point guard slot, but he's not quite the big athlete Calipari prefers at the point. The Wildcats have sufficiently bolstered their point guard play with five-star Immanuel Quickley. Five-star forward Zion Williamson remains the most important target still on the Wildcats' board.
As for North Carolina, the Tar Heels' recruiting class is already outstanding, and it's not a deficient one by any means. But, after seeing them play I have gone from thinking that landing an offensively minded post player such as five-star Simisola Shittu (who picked Vanderbilt) has gone from a luxury to a necessity. A three-star coming out of high school, Luke Maye has done a great job of developing into a scorer and rebounder. But, the Tar Heels freshman trio of Garrison Brooks, Sterling Manley and Brandon Huffman still has a long way to go on the offensive end, so another big man who can be counted on to score in the post has developed into a big need in Chapel Hill. With Shitttu off the board, there aren't really many options for the Heels at this point. They are very active in the previously mentioned Williamson's recruitment and he could certainly help down low. Also, five-star wing Nassir Little could realistically play some as a small-ball four man. Combo guard Coby White should be able to help replace the scoring of Joel Berry, while Rechon Black seems like a perfect Theo Pinson replacement. If the Heels can find some scoring on top of all of that, their class goes from very good to great.


EVANS' VIEW: NOTRE DAME AND DUKE 
The talk about Mike Brey during his tenure at Notre Dame is how he lands under-the-radar talent and cultivates it throughout their underclassmen years. Before long, that talent develops into all-league performers such as Bonzie Colson and Matt Farrell. That may be true, but don't underestimate what Brey and his staff can do whenever they get momentum headed in their favor, which occurred this past fall when they signed four Rivals150 prospects.
Defeating the goliaths of the basketball world - on the hardwood and on the recruiting trail - is no easy task. While playing in the ACC, where there is a clear pecking order, the work that has been completed in South Bend has been nothing short of extraordinary. But the best might still be to come, thanks to their 2018 recruiting efforts.
Needing to replace all-league performers Colson and Farrell, along with four-star stalwarts Martinas Geben and Austin Torres, the writing was on the wall that if the Irish did not secure one of their best classes they could easily have fallen off their high rank in the ACC's pecking order.
They more than delivered, sealing the talents of play-making guard Prentiss Hubb, two tough and competitive athletic off-guards in Robby Carmody and Dane Goodwin, an elite shooter in stretch power forward Nate Laszewski and a rugged rebounding forward in Chris Doherty. And don't forget about the transfer pick-up of former five-star big man Juwan Durham. It all adds up to a six-man group that could eclipse prior successful groups in South Bend.
While Notre Dame answered the bell with its tremendous recruiting haul, it is Duke - yes, the program slated to finish the year with the best recruiting class in America - that has a minor dilemma on its hands. Coach K has gone big this year - like, really big - by putting three 6-foot-8 or taller forwards onto the floor at the same time. Next year, the Blue Devils will likely enter the season with Marvin Bagley III and Wendell Carter no longer on their roster. There is even talk of Marques Bolden testing the NBA waters. Who might replace their possibly empty cupboard? At the time being, no one, and that makes their pursuit of Zion Williamson that much more important this winter.