Rides over: UK cant overcome grand slam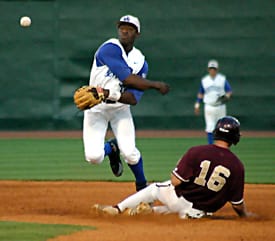 Kentucky's renaissance season is over.
The Cats were eliminated from the NCAA Tournament 7-4 by No. 2 seed College of Charleston in front of 3,317 spectators at Cliff Hagan Stadium. A six-run first by the Cougars, highlighted by a grand slam, and a bushel of runners left on base crippled UK's chances of pushing Charleston to a winner-take-all game Monday night.
Despite the disappointing ending, UK had a season to remember. The Cats claimed a share of the Southeastern Conference championship by going from worst to first in the league, won the SEC's top two individual honors, cracked the nation's top five in the rankings and won a school record 44 games.
None of that was enough to save the Cats on this night. UK left a season-high 15 runners on the base paths, twice allowing College of Charleston to get out of innings after loading the bases. Although the Cats fought back admirably, they could never overcome the six runs starter Aaron Tennyson allowed before they ever took their first swing of the game.
"I'm going to take some serious pride in this season," senior Michael Bertram said. "These guys have changed the face of baseball in this state, this city and this university. I couldn't be prouder. Ten years from now i'll look back and will have been a part of the reason why Kentucky baseball is back on the map."
The Cougars got off to a tremendous start despite the first two batters of the game falling victim to the strikeout. Larry Cobb took advantage of the short right field dimensions at Cliff Hagan Stadium, smacking an opposite-field home run over the scoreboard. After two singles and a walk, Graham Maiden was hit by a Tennyson pitch, plating a second run.
Tennyson then ran the count to 0-2 on eight-place hitter Phillip Coker, who worked it back to 3-2 before blasting a no-doubt grand slam over the left field wall to make it 6-0 College of Charleston. It was just the third homer of the year and seventh career dinger for Coker.
"I don't hit many of those so it was great," Coker said. "With it 3-2 and the bases loaded i knew he had to come with a fastball. I got on it and got lucky."
"No question Tennyson after the first two hitters really couldn't get on top of his fastball," UK coach John Cohen said. "He really struggled to get outs. Four or five hitters in we knew we had to get someone loose but by the time (Zach) Dials was ready they already had a six spot.
"It's a shame that first inning got away from us."
Needing badly to get some good vibes going, UK was able to scratch across one run in the bottom of the first. Leadoff man Antone DeJesus walked and Sean Coughlin reached when shortstop Jess Easterling got turned around by the wind on a pop up to short left and dropped it. Ryan Strieby singled to right to load the bases with one out, but UK could only manage one run on a Bertram fielder's choice.
The early fight back from the six-run deficit continued in the second. Ryan Wilkes singled to start the inning, then went to third on Shaun Lehmann's one-out double to left, bringing up DeJesus. The sophomore fouled off three two-strike pitches before pulling a ball over the wall inside the right field pole for a three-run homer (his fifth of the year) to cut the lead to 6-4. UK followed with two more singles, but Collin Cowgill was picked off second and Bertram had his long blast to the gap in left chased down on the dead sprint by Cobb to end the inning without further damage.
"I was just trying to put the ball in play and create some pressure," DeJesus said. "The crowd got back into it and we were only down two runs. I thought that was a turning point but Bert hit a line drive that was caught. I thought we were ready to roll."
UK had plenty of chances early, chasing Charleston starter Danny Meszaros and his 2.88 earned run average just three batters into the third inning. The Cougars went to Quinn Monsma and after walking Lehmann he battled back from down 3-1 to DeJesus to get a strikeout and then induced Cowgill to fly out to right. The three men left on brought the total to seven in the first three innings for the Cats, which became nine through four frames.
Part of UK's struggles with runners in scoring position was self-inflicted, but most of it had to do with the sensational outings of Charleston relief pitchers Quinn Monsma and Josh McLaughlin. The two combined to shut out UK on just four hits over the final 6 2/3 innings.
"If we have the lead it's our job to keep it," McLaughlin said. "Quinn threw great and my job as the closer is to close it down no matter what. That's just the way it is."
That didn't help UK's frustration level. UK ended up just 2-of-10 with runners in scoring position and 6-of-22 with a runner on base. Surprisingly, it was not the worst the Cats had been this year, that came in the final regular season game against Georgia when they went 1-of-20 with runners on base.
"We had an awesome chance to come back and win the game," Cohen said. "Many times we played from behind this season and won games. But every time we got a runner in scoring position we didn't have the at bats we wanted. Even when we did we hit it right at someone. The last five or six games it seemed like we hit the ball right at people every time.
"We had 20 or 21 base runners and scored four runs. That's like having the bases loaded the first seven innings. In the fourth we hit four line drives in a row and the inning is over. We just didn't have some things go our way."
The Cats had another golden opportunity go down the drain in the seventh when they left the bases loaded for the second time in the game. A fielder's choice, walk and hit by pitch had the sacks full for designated hitter Sean Coughlin, but he popped up to first base off reliever Josh McLaughlin to end the threat.
"The balls didn't fall for us," Coughlin said. "We put it in play it just didn't fall. That's baseball. We had a great year and we scrapped to the end. We never let down once."
UK had four players named to the All-Tournament Team: John Shelby, Ryan Wilkes, Shaun Lehmann and Billy Grace.