RECAP: Cats survive VMI's 3-point barrage for 92-82 win
Keydets sink 19 treys, including 10 as part of Bubba Parham's 35-point night, but No. 10 Kentucky leans on size advantage to win third straight.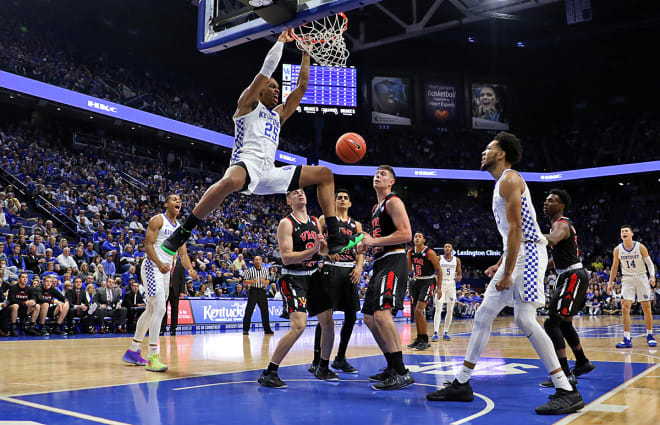 LEXINGTON, Ky. -- In something of an anomaly for modern college basketball, Kentucky's pound-the-paint approach outlasted VMI's incredible perimeter shooting barrage on Sunday night at Rupp Arena.
The visiting Keydets made 19 3-pointers, including 10 by sophomore guard Bubba Parham as part of a blistering 35-point performance, but Kentucky leaned on its size advantage and inside strength to claim a 92-82 victory.
It marked the most treys ever hit against a UK team since the college game adopted the arc in 1986.
"He made some crazy ones, now," UK head coach John Calipari said of Parham, who featured a rainbow-style jumper reminiscent of former Cat Richard Madison.
Added UK guard Quade Green: "I mean, we were all over him for a few of those, and he just couldn't miss."
Fortunately for the No. 10 Wildcats (3-1), they had enough traditional firepower to avoid the upset.
Graduate transfer forward Reid Travis battled through an eye injury sustained in the first half to finish with 22 points and six rebounds, while sophomore forward P.J. Washington scored 19 points and pulled down a career-high 18 rebounds for Kentucky, which owned a 43-22 advantage on the glass.
Going inside also led to several free-throw opportunities for UK, who cashed in by making 29 of 35. VMI was only 5-of-5 at the line.
"Their size killed us," VMI coach Dan Earl said. "Obviously, they were all over the offensive rebounds... (And) we fouled them a ton."
Green, a sophomore guard, gave the Cats a third player in double figures, scoring 12 of his 17 points down the stretch as VMI continued to chip away with 3s.
The Keydets (3-2) trailed by 19 with 12:45 remaining but six treys whittled the deficit to 79-73 with 4:44 remaining.
A Green jumper with 3:35 to go pushed the margin back to 10, and after VMI pulled to within six once again, a Green 3-pointer gave the Cats the breathing room they needed. His two free throws with 33 seconds to go all but clinched the victory.
"There was some good stuff here, except they went crazy on the 3s," Calipari said.
*****
In this Cats Illustrated "Rapid Recap" feature, we touch on some quick-hitters from the UK victory...
THE GOOD:
You won't find many teams able to say they gave up 19 3-pointers and were able to win a game. Kentucky was smart enough to avoid a 3-point shootout with VMI, instead leaning on its huge advantage inside with Reid Travis and P.J. Washington. Mix in a few clutch shots by Quade Green down the stretch, and the Cats were able to avoid a disaster.
THE BAD:
Travis took a shot to the face midway through the first half that caused his right eye to sustain some major swelling. He continued to play through the pain with the help of some protective glasses, but it remains to be seen how it will affect him moving forward. Last season, Green suffered a similar injury and had mixed results while wearing the safety gear.
THE UGLY:
Kentucky's perimeter defense will be a major focus moving forward. Under Calipari, the Cats have typically been one of the nation's best defensive clubs against the 3-point shot, but they've allowed opponents to hit 43 of 99 (43.4 percent) through four games. UK has way too much length and athleticism to allow that to continue.
GAME BALL:
P.J. Washington, Kentucky -- The sophomore forward returned to Lexington for nights like this, and it comes on the heels of a 25-point scoring effort earlier this week against North Dakota. In the last two games, Washington has shot 15-of-25 from the field, posted 44 points, and grabbed 25 rebounds.
BY THE NUMBERS:
3 - Blocked shots by UK freshman forward EJ Montgomery.
6-3 - Kentucky's all-time lead in the series against VMI.
10 - Three-pointers by Bubba Parham were the second-most ever allowed by UK. Only Corey Allmond from Sam Houston State on Nov. 19, 2009, has hit more (11) in a game against the Cats.
23-3 - UK advantage in second-chance points.
50-9 - UK bench scoring advantage.
82.9 - Cats' free-throw percentage on the night (29 of 35).
20.207 - Attendance at Rupp Arena.
QUOTABLE:
"I saw a few go in early, and my teammates kept finding me the ball in the right spots, and I just kept knocking them down. I was in a groove, and I'm a rhythm shooter, so once I hit a couple, see them go in, everything was good from there." -- VMI guard Bubba Parham.
UP NEXT:
Kentucky returns to action Wednesday in a 1 p.m. ET tipoff against WInthrop at Rupp Arena to start the holiday weekend.