RECAP: Johnson powers UK past Tennessee State
Freshman wing Keldon Johnson scores career-high 27 points to highlight Wildcats' 77-62 win, but UK coach John Calipari frustrated with team's lack of defensive improvement.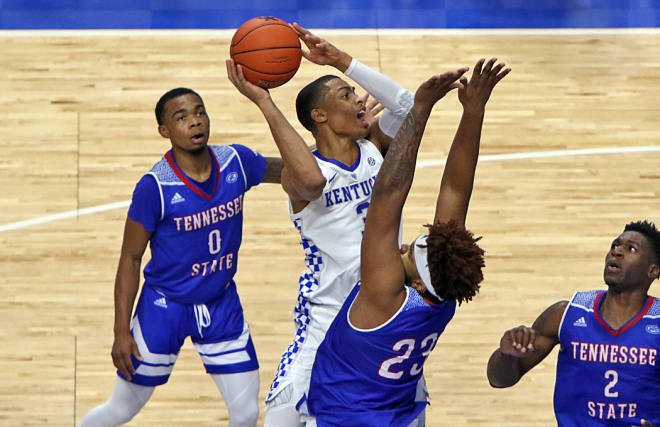 LEXINGTON, Ky. -- A new career scoring high for one of his talented freshmen wasn't enough to allow Kentucky coach John Calipari to walk out of Rupp Arena with a smile on Friday night.
Keldon Johnson scored 27 points to lead the No. 10 Wildcats to a 77-62 win over Tennessee State, but the UK boss had trouble getting past the buckets that his club continues to surrender early in the season.
"He was seeing gaps and seeing opportunities to go at the basket and was strong at the rim and did a pretty good job," Calipari said of Johnson before turning his focus to what he really wanted to discuss.
"Look, folks, the reality of it is, we're a ways away. We're not a very good team right now. We have no confidence defensively, which bleeds into your offense. Then you have no confidence offensively."
Kentucky (5-1) won its fifth straight since opening the season with a demoralizing loss to Duke, but hasn't managed to put away many of those low-profile opponents. Since a 38-point win over North Dakota, the Cats' next three wins have come by 10, 13 and 15 points.
UK led by 20 with 7:08 remaining on Friday, but could not bury the Tigers.
"You get the game in the 20s, 24, whatever, how 'bout it goes to 40?" Calipari lamented. "We turn around, and it's back to 12. It's happened every game."
"I mean he was pretty annoyed, as he should be," Johnson said of Calipari's mood. "It's unacceptable. If we want to be a team like we want to be, we can't be having defensive lapses like that."
Tennessee State (2-4) shot only 41 percent from the field, but the Tigers frequently drove past the UK defense and missed a number of open shots. Donte Fitzpatrick-Dorsey led TSU with 18 points, while Emmanuel Egbuta added 13.
The Cats were not much better from the field, shooting just 44.2 percent for the game, but were able to stretch out a lead by making frequent trips to the free-throw line. UK hit 27 of its 41 attempts, including a 13-of-18 night by Johnson.
Graduate transfer forward Reid Travis was the only other UK player in double figures. He finished with 13 points and nine rebounds.
*****
In this Cats Illustrated "Rapid Recap" feature, we touch on some quick-hitters from the UK victory...
THE GOOD:
Johnson was one of the lone bright spots on the night. His aggressive drives into the lane for finger-rolls or free-throw opportunities were the difference between winning comfortably and perhaps sweating this one out until the final horn.
THE BAD:
Calipari thought he had some "alpha dogs" going into the season, but we have yet to see the killer instinct thus far. There are only two more "tune-up" type games remaining on the non-conference schedule (Monmouth, UNC Greensboro) before UK steps up in competition (Seton Hall, Utah, North Carolina, Louisville) with some games that may not be pleasant at the current level of play.
THE UGLY:
The Cats were 4-for-15 from the 3-point arc. Calipari continues to suggest this should be one of his best perimeter shooting teams, but they are showing no signs of breaking out. UK's now at 33 percent for the season with no player owning more than eight made treys.
GAME BALL:
Keldon Johnson, Kentucky -- The freshman wing from Virginia was 7-of-15 from the field and 13-of-18 at the line. He also chipped in with seven rebounds.
BY THE NUMBERS:
2nd - Game over 20 points for UK's Johnson. He had 23 in the season-opener against Duke.
7 - Minimal fast-break points for the Cats.
+23 - For UK's Immanuel Quickley, the highest +/- figure on the team.
32-32 - The teams matched each other with points in the paint.
37-28 - UK rebounding advantage.
20,224 - Attendance at Rupp Arena.
QUOTABLE:
"We just don't have that feel yet." -- UK head coach John Calipari.
UP NEXT:
Kentucky returns to action Wednesday, Nov. 28, at Rupp Arena against Monmouth. Tipoff is slated for 8:30 p.m. ET on the SEC Network.