{{ timeAgo('2023-01-24 21:50:24 -0600') }}
basketball
Edit
QUICK TAKES: Kentucky 69, Vanderbilt 53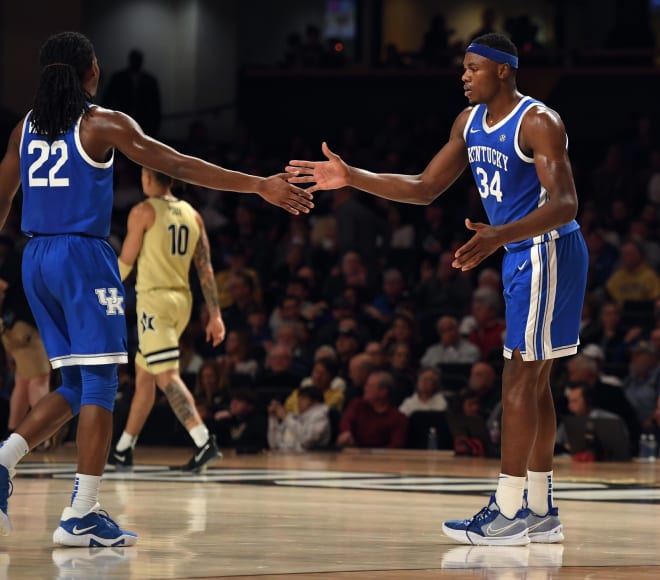 In our regular postgame feature, the Cats Illustrated staff offers its first impressions from Kentucky's 69-53 win over Vanderbilt on Tuesday night at Memorial Gym in Nashville...
JEFF DRUMMOND:
This was just what Kentucky needed tonight, a businesslike victory over a Vanderbilt squad that was missing a couple of key players. No drama at all in the second half. Good execution on both ends of the floor. The Cats were highly efficient on offense and locked down a Commodores squad that has been scoring 80-plus in league play. Another 10-rebound game for Jacob Toppin, which is very encouraging. I also liked how John Calipari got some good minutes for Sahvir Wheeler in an effort to rebuild his confidence. He looked good, especially in the second-half spurt which saw the Cats push it back out to an 18-point lead. Most importantly, UK is stacking Ws. They've got to keep this momentum going to get off the dreaded "bubble." Now on to what should be a really exciting Big 12-SEC Challenge matchup with Kansas on Saturday at Rupp Arena.
JUSTIN ROWLAND:
It's amazing the turnaround we've seen from this team. Clearly, they have rallied around one another to block out the noise. The change over three weeks is as stark as I can remember. I had really started to believe they just weren't going to be very good this year, but should have held out a little longer for them to come around. This was an excellent team victory. The ball movement was the best we've seen this year. Every single player played within a defined role and did so in a positive way. If they can pass the ball like that, as well as they shoot, this team can be extremely interesting down the stretch. It's almost comical to think about how early the Bracketology stuff is when you watch the team and see they were "first four out" this week. Still a high ceiling for this group.
TRAVIS GRAF:
This was the most fun I've seen this Kentucky team have in a Power 5 game this season. The Cats usually struggle or come out sluggish at Vanderbilt, but that wasn't the case tonight. Everyone contributed and played a part in the win. I thought John Calipari really found a rotation and substitution pattern that worked as well. Antonio Reeves and CJ Fredrick continue to gain confidence, and Cason Wallace is getting better at the point guard spot each game. Jacob Toppin has taken a step forward, and Sahvir Wheeler's play in his new role was encouraging.
DAVID SISK:
Pure and simple, this is a Kentucky team having fun and playing with confidence. There may not be a bigger positive factor for them than shooters making open shots. They also have lineups that the players have bought into. I've just noticed little things that comes through day to day work in a marathon of a season. A lot will be said about the offense, but this is a more physical team that has begun to lock in more on the defensive side. Saturday will be a test. Kansas is looking like Kentucky looked for a large part of of the season, and the Cats are looking like the team that well……we haven't seen all season long.