Q&A with new Kentucky quarterback commit Nik Scalzo
Cats Illustrated caught up with three-star quarterback commitment Nik Scalzo shortly after he committed to Kentucky.
We covered a range of topics with the Fort Lauderdale (Fla.) Cardinal Gibbons standout, from football to recruiting and life.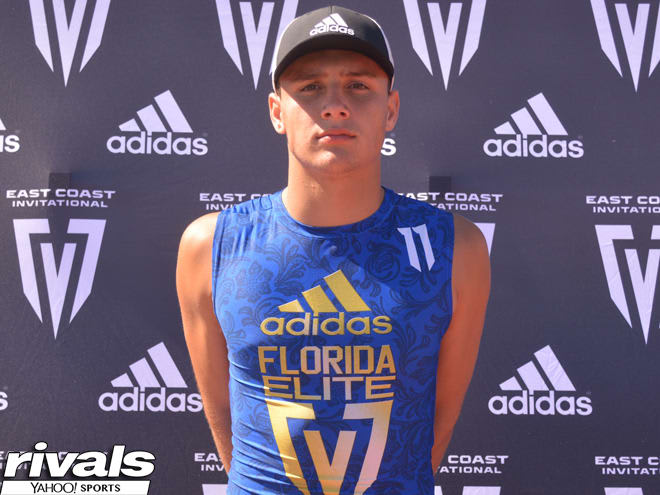 Cats Illustrated: How do you feel having your college decision over and done with?
Nick Scalzo: Oh yeah, it feels awesome just to know I'm committed to the place that I want to be at. I just want to go there now.
CI: How long have you known what you wanted to do? It seems like it's almost been a formality. From the outside looking in it almost seems like the way you felt about Kentucky was the worst-kept secret in the world.
NS: I mean, it's always been there, for a couple of months now. It's been quite a few weeks now. Then when the coaches told me they would love for me to commit, I went all in and couldn't be happier.
CI: When was that conversation when they told you they wanted you to commit?
NS: On Monday, the day I committed.
CI: So they had a chance to watch you in your spring game and then they said that?
NS: Oh yeah, Coach Hinshaw was at my scrimmage.
CI: Did he tell you what he was impressed with, or how do you feel you played in that game?
NS: I only played three drives. ... But coach said I was good at extending plays, rolling the pocket and getting the ball where it needs to be. It was just Coach Hinshaw, but Coach Hinshaw and Coach Gran are coming back on (May) 24th for my spring game.
CI: What kind of relationship do you have with those guys, Coach Hinshaw and/or Coach Gran?
NS: I've gotten very close to Coach Gran because he's the head recruiter for Florida, so I started building a relationship with him my freshman year. That's when he first started showing interest. Then Coach Hinshaw, I have a very good relationship with him. Last time I went on a visit I sat down with him for about an hour and a half and went over the offense. They treat me like I'm family.
CI: Touching on some other things, have you always just been a football player or have you played any other sports?
NS: I played basketball until last year.
CI: When did you start to feel like Power Five football, SEC football or even just college football could be a reality, or when did other people start to say you've got what it takes to play at this level?
NS: Well I've grown up in a football family. My dad (Jerry Scalzo) played college football at Clemson. So I mean I've always wanted to play college football. Especially Power Five. I started playing when I was five years old, so all through Little League, I've always had the dream of doing it ...
CI: Would you say there has been one person in your playing history who has had the biggest impact on your development?
NS: For sure my dad, because he's been there for everything football and that aspect of life. He's believed in me and everything. He's spent thousands of dollars of me throughout my whole 10 year span of playing football. I mean, he's literally probably my number one supporter.
CI: What's something that people might not know about you? Aside from football do you have any hobbies or passions or things you do with your time?
NS: I'd say I'm an adrenaline junkie. I love skydiving and jumping off high things into water. I just turned 18, so that was the one thing I wanted to do on my 18th birthday. I want to get certified for it but that's for later on in life and not now.
CI: If you weren't a football player what do you think you would want to do with your life?
NS: I want to be a pilot after football. I love all that stuff. I would love to be a fighter pilot but I'll just stick to commercial right now.
CI: It seems like you're really plugged in with guys from South Florida, a lot of guys down there respect you and look to you. Is that from playing a lot of 7-on-7 or how did you become so ingrained in that community of football players down there?
NS: Oh yeah, I mean I'd say South Florida or Broward basically, there's not really anyone that really hates anyone. We all support each other. When we get offers we all congratulate each other. I started playing with a bunch of those kids early and have been my whole life. We all went to Little League together and we played together in high school so we've had close relationships.
CI: Are there any guys that you want to try to recruit for Kentucky? Quarterbacks become standard bearers and figureheads. Anyone you want to try to bring in?
NS: Yeah, I'm trying to get Vince (Davis) and big Nik (Ognenovic) to come up with us. I'm trying to get Donte (Banton) from Deerfield. There's a couple more. ... My plan is to get these big name kids to come to Kentucky. I mean they can be the face of the program, too.
CI: Have you decided if you're going to go up and camp at Kentucky next month yet?
NS: I'll most likely go. I might not work out but I'll definitely be up there.
CI: If you hadn't committed to Kentucky where do you think you would have gone?
NS: Probably the other, the one other school that was recruiting me really hard was probably Georgia State, just because of Coach (Travis) Trickett.
CI: Kentucky has been burned recently. Mac Jones went to Alabama. Jarren Williams went to Miami. Tell me about that. How would you quiet people's nerves?
NS: I'm 100-percent. I'm 110-percent committed. I'm not going to do what all these other quarterbacks have done. Not even an offer from Alabama would --
CI: I was going to ask that. If Nick Saban calls you tomorrow and asks you to win his sixth, seventh and eighth national titles there, what would you say?
NS: I would say, 'I'm going to win a national championship at Kentucky.'