Oregon cruises past Kentucky, ending Wildcats' season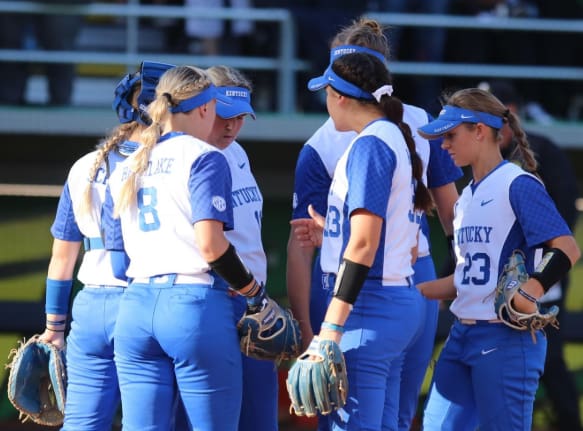 During the 2018 postseason, the Kentucky Wildcats staked their reputation as a high-scoring team that ended games early with the mercy rule.
Saturday night at Jane Sanders Stadium in Eugene, the No. 1 seeded Oregon Ducks ended the No. 16 seed Wildcats' season with a run-rule shortened 11-1 win in game three of their NCAA Super Regional Series.
The Ducks (52-8) slugged their way to a six-hit, seven-run second inning, highlighted by senior outfielder DJ Sander's back-breaking grand slam, and never quit pressing down on the gas pedal.
The Pac 12 Champions added three runs via three hits in the bottom of the third frame and hung another due to a Kentucky error in the fourth.
Kentucky (35-21) used their full pitching compliment of Erin Rethalke (11-4), Grace Baalman and Autumn Humes, but none of the three could slow down the Ducks. The trio collectively allowed ten earned runs on 11 hits. Baalman and Rethlake combined to walk four batters. Humes notched Kentucky's only strikeout of the contest.
In contrast, Oregon's Miranda Elish (24-1) threw another gem in the circle. The sophomore hurled five complete innings in which she allowed a single earn, gave up four hits and retired seven hitters on strikes.
Elish finished her two starts in the series with fourteen K's against a lone walk.
Senior Kentucky center fielder Brooklin Hinz provided Kentucky's one offensive highlight in defeat: a solo homer in the top of the fourth inning, coincidentally her fourth of the season.
Jenny Schaper, Abbey Cheek, and Alex Martens were the only other Cats to get a hit.
The loss ended the UK careers of Hinz, Rethlake and Rachael Metzger.
Kentucky will return the majority of their starting lineup in the field, batter's box, and pitching circle in 2019, giving Coach Rachel Lawson's team an excellent chance to return to the Super Regionals and perhaps beyond.