Notes: Poythress adjusting to life off the bench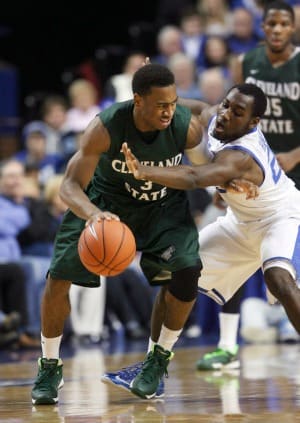 One air ball fell well short of the rim. Another sailed over it.
Two jump shots, two bad results for
Alex Poythress
. That was two games ago, when the Kentucky sophomore came up misfiring in a win against Cleveland State. And by now,
John Calipari
hopes Poythress has forgotten in.
He certainly didn't during the game.
"I was kinda out of it," Poythress said on Friday, as the Wildcats prepared to depart for Sunday's game against Providence in Brooklyn, N.Y. "But you just got to learn to keep on playing. I just got to put that behind me."
Calipari wishes he'd done it sooner. On Wednesday, Calipari said that Poythress was "done for eight minutes" after air balling. He contrasted that to
Dominique Hawkins
, who shot an air ball and was so unaffected by it that the next day he insisted he hadn't missed the rim.
Moving on remains a process for Poythress. Much of his game still is a work in progress.
The 6-foot-8, 239-pound forward, a starter as a freshman, has been relegated to the bench this season, reducing his minutes (from 25.8 to 19 per game) and points (from 11.2 to 5.8 per game).
What hasn't changed is Poythress' inconsistency. After scoring 10 points in the season opener against UNC Asheville, he's been in single digits in six straight games, including one in which he failed to score in 15 minutes.
But he's grabbed at least seven rebounds five times in seven games, a step in the right direction. Poythress' rebounding average is up from six a game last season to 7.6.
And he's been a more animated player, both on the court and on the bench, celebrating with teammates in the way Calipari always has wanted.
"I think I'm playing good," Poythress said. "You know, I think my energy's better this year. Hustling, rebounding, playing better defense this year. I think it's been good this year."
What hasn't been so good is his perimeter shooting.
A reliable outside shooter a season ago -- he made 42.4 percent of his three-point attempts, connecting on 14 of 33 -- Poythress is just 2 for 8 from outside the arc this season.
Poythress shrugged off the suggestion that not starting has impacted his rhythm as a shooter.
"You still get your minutes," he said. "(You) just come off the bench and analyze stuff better, so it doesn't really matter."
And while Poythress admits he was affected by some bad misses earlier this week, he's unfazed in his confidence that if he continues to rebound and defend, the shot will fall eventually.
"Probably could have made some more jumpers," Poythress said. "But you know, it just comes with getting in the gym. Just keep on shooting."
Foul Play
New rules and points of emphasis set out to clean up college basketball this season. And you don't have to look much further than Lexington to see their impact.
Kentucky shot 22.9 free throws per game last season. It's attempting 38.6 per game this season. And while some of that can be attributed to personnel -- no Cat last season was as difficult to guard as
Julius Randle
, who's averaging 9.7 free-throw attempts per game -- the new rules clearly have played a part.
"I mean, yeah, it does seem different," Poythress said. "But you know, the game can't be as physical as it has been the last couple of years. But I guess they just want you to move your feet more, play better defense. Quit hand-checking, really."
Kentucky's opponents, meanwhile, have seen a less dramatic free-throw increase. After averaging 17.8 free-throw attempts per game last season, they're getting to the line an average of 18.1 times per game this season.
"And everybody will say, 'Well, how do you get to the line so much?'" Calipari said. "Are you watching the games? The last game was the most fouls we had. I mean, we've always played the same way.
That means driving the ball to the rim on offense and working to avoid fouls on defense, Calipari said. This week, the coach planned to have his players defend in practice with their hands behind their backs to teach them the importance of not reaching.
Calipari said he's always preached to his team to foul no more than six times in a half to avoid putting the opponent in the bonus. The logic is simple: Kentucky typically will have more talented players than the opposition. A parade to the free-throw line offsets the talent gap by providing easy opportunities to score.
Other coaches preach physical play, and Calipari said Friday, "People, you can win however you've done this."
"But the problem is, the rules have changed now," Calipari said. "So you can't really play that way unless the officials don't call it. But we're driving the ball and posting the ball, and we're big. We should be shooting 40 to 50 (free throws) a game. We really should. And there will be games coming up we may shoot 60 if they keep calling them all. Well then, shoot 60."
Sights to See
With his team departing early for New York -- Kentucky practiced at 10 a.m. Friday and was scheduled to leave early in the afternoon for a Sunday night game -- Calipari planned to give the Cats a chance to see some sights this weekend.
He wasn't sure yet which ones, but said "we'll do something."
Poythress said the Wildcats didn't get much time for non-basketball activities last season when they played Maryland at the Barclays Center in Brooklyn.
"That was my first time going to New York, or up north, period," Poythress said. "So it should be a pretty fun experience. Going a couple days early this year, so we might be able to see a few things."
It will be the finish of a busy week for the Cats, who played two games before Thanksgiving, then spent the holiday eating at Calipari's house and providing meals to the needy at the Salvation Army.
"They were just so happy," Poythress said. "Just a bunch of smiles, you know. Just so happy to put a smile on their face, really."