Notes: Calipari disagrees with free-food policies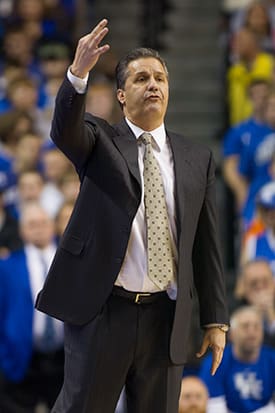 John Calipari
said his players have lost weight since the start of the school year and noticed they've been low on energy, and he's pointing to an NCAA rule as a reason why.
Current NCAA regulations limit scholarship athletes in all sports to one training meal per day while school is in session.
"Yeah, it's stupid," Calipari said.
Calipari said athletes should not be restricted to a certain amount of food and a certain time window in which they can eat the provided meal.
He noted that athletes burn up a higher-than-average amount of calories, and he wants their nutritional needs to be met.
"Folks, it's not smart," Calipari said.
During the holiday break, the rules are not in place, meaning UK's players have unfettered access to meals. For them, that means access to the team chef in the Wildcat Coal Lodge's kitchen.
Calipari has noticed results.
"They're eating right, so now all the sudden they're gaining weight and getting their energy back," Calipari said. "It's all intertwined together."
Calipari wants that to be the case year-round.
"If you want to eat six times a day, that's fine," Calipari said. "Every individual is different. I just don't understand it, but then again, there's a lot of stuff I don't understand."
Calipari said it's another example of the NCAA caring too much about a miniscule issue, to the detriment of the student-athletes.
He said the rule is in place because the NCAA is worried about competitive balance and whether every school could offer the same amount of meals to their athletes.
"Now, what I imagine they're afraid of is some team go over-the-top and feed their kids too much," Calipari said sarcastically, "and have a fat team."
Calipari was asked if he might bring it up in a coaches' convention to try initiating a discussion about the rule.
"I don't know if they'd listen to me," Calipari said, "or boo me off the floor."
Calipari speaks on gun control, mental health issues
John Calipari was asked if he would like to share his thoughts, as some of his colleagues around the nation have done, about gun control in the wake of the recent school shooting in Connecticut.
Here's his entire response:
"Well, I don't see the need for assault weapons. I don't see the need at all. But, again, we as a country got to come together and say, 'You have some mental illness issues. How do we deal with those?' How do we truly deal with someone that has an illness and not shove it under the rug that it's an embarrassing thing. Well, is cancer embarrassing? Mental illness, it's an illness. We don't need assault rifles. It's a problem.
"Maybe it's video games. I don't know. It needs to be a dialogue of: How do we come to grips with this? And if we don't, I just - I think we've got a lot of bull-headed people and if it were their child, I think they'd act. I think if everybody just looked at this issue, whether it was the mental health issue - whether it's we need to cut mental-health spending - OK, what if that were your child in that room? Whether it's gun control - 'We don't need it! I need my assault rifles!' - what if it was your child in that room? How would you feel right now? Would you feel the same way? I think if you took it and looked at it that way, I think people would deal with it different and we'd come to terms. It's just happening too much now."
Team posts 3.066 GPA
The UK men's basketball team posted a 3.066 GPA for the Fall 2012 semester.
That number reflects only scholarship athletes. Including non-scholarship players, the team GPA was 3.061.
Calipari said eight players had a GPA of 3.0 or better.
"Really proud to coach kids with high aspirations both on and off the court," Calipari said on Twitter this week.
Overall, the 20 UK teams posted a 3.03 GPA, reaching Athletic Director Mitch Barnhart's stated goal of a cumulative 3.0 GPA across all sports.
"I see how hard our student-athletes work every day and this is the result," Barnhart said in a release. "I am proud of the commitment our young people and coaches have made to academics. Education is one of the pillars of our program and I want to thank CATS and our entire support staff for taking that to heart."
More than half of UK student-athletes posted a 3.0 GPA or better, and 54 athletes recorded a 4.0 GPA.
Players get a break
UK's players haven't had a day off yet for the holiday break, but they will have a few around Christmas Day.
Calipari said they will leave Saturday night after their 4 p.m. game and will be off until Dec. 26.
"So we're giving them a good break," Calipari said. "This has been an experience for them, so they need to get away and get their heads back and be with their families."