Noel not far behind Davis numbers a season ago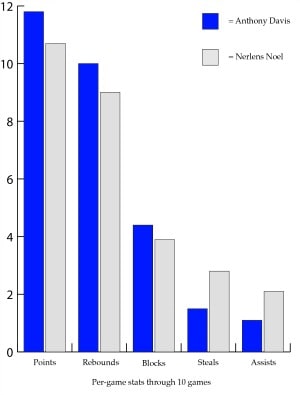 Nerlens Noel
came to Kentucky expecting to challenge Anthony Davis' blocks record.
He's doing that, and more.
Noel has 39 blocks through 10 games, five behind Davis' total through his first 10 games.
If Noel sustains that pace, he will fall short of Davis' (outlandish) record of 186 blocks but will jump into the No. 2 spot by a wide margin in the Kentucky record books.
He's on pace to finish the regular season with 121 blocks. If UK plays five postseason games, he's on pace for 140; if UK reaches the SEC and NCAA tournament title games, he's on pace for 156.
Noel could finish among the best in national history, as well.
Davis' mark of 186 blocks set an NCAA freshman record; Noel could move into the all-time top-5 if he sustains his pace for 38 games (which would be every regular-season game plus seven postseason games).
Not only is Noel putting up raw numbers, but the blocks have been extremely valuable. According to UK Athletics, 59 percent of his blocks have led to UK gaining possession.
But Noel is more than just a tall player with a penchant for swats. He's stealing the ball at a record-setting pace, making him a dual defensive threat.
Through 10 games, Noel has 28 steals, a 2.8 steals-per-game mark that would be the single-season school record if that held up.
If he maintains that pace, he will tie Rajon Rondo's current record mark of 87 steals by the end of the regular season. Given the likelihood that UK will play a few postseason games, Noel will break the record if he keeps stealing the ball like he has so far:
The two dimensions of Noel's defensive prowess make him an extremely valuable defender.
He's putting up solid stats in other categories, too. Noel isn't a high-end scorer - and his 53.8 field-goal percentage is significantly lower than Davis' ultra-efficient 62.3 percent - but he's been a consistent scorer and rebounder.
All told, those comparisons to Davis don't seem too unfair. Here's a breakdown of Noel's per-game stats through the first 10 games compared to Davis' stats through his first 10 games.