Name change to Kidd-Gilchrist honors Cats uncle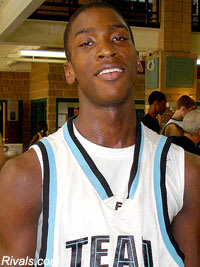 AKRON, Ohio -
Mike Gilchrist
has for years had one of the most famous names in high school basketball and college basketball recruiting.
Now, as he prepares to become a freshman small forward at the University of Kentucky, Gilchrist has legally changed his well-known last name as a way to honor the memory of his late uncle.
The player posted on his Twitter account on Thursday night that he will now be known as Michael Kidd-Gilchrist - a tribute to Darrin Kidd, his 42-year-old uncle who died of a heart attack and whose body was discovered by Michael on Nov. 10, 2010. It was the morning of the day he signed with UK.
The decision to change his name deeply touched Gilchrist's mother and Darrin Kidd's sister, Cindy Richardson.
"I just thought it was a really noble thing for him to do, something that he wanted to do for a man who was a very integral part of his life," Richardson, formerly Cindy Kidd, said in a telephone interview.
Kidd-Gilchrist wrote on Twitter that with his new name, he'll be "repping my Father & my uncle" and that "Kidd-Gilchrist" will be displayed on the back of his UK jersey this season.
Kdd-Gilchrist's father, named Michael Gilchrist, was shot and killed when Mike was 2 years old, and Mike has played with his dad's and his uncle's memory in mind.
"He has dedicated his game to his father since he was a little boy, and it was an unfortunate time, the death of my brother, which was very sudden and tragic, and he just decided to add my brother to that dedication," Richardson said.
Kidd-Gilchrist, from Somerdale, N.J., was a five-star prospect at powerhouse St. Patrick High School, and many basketball recruiting experts have considered him the nation's best player in the 2011 class ever since he got to high school.
Now as Kidd-Gilchrist continues a basketball career at one of the nation's most visible college programs, Cindy Richardson's brother's name - and her maiden name - will flash across the screen and over the airwaves.
Richardson said that her son came up with the idea of honoring his uncle on the day he died.
"I can't even tell you (what the gesture means); I can't even put it into words," she said. "I just think Michael is an extraordinary young man. At 17 years old, he's always been a very mature young man. He's always been very focused and very driven, so when he came to us with the idea and told us why he wanted to do it, I mean, how could we not?"
Kidd-Gilchrist was among 20 college players participating in this week's LeBron James Skills Academy in Akron, but he was not available to the media for interviews.
He told CatsIllustrated.com during an interview in March that the memories of his late father and uncle inspire him on the court and are the foundation for his trademark effort and intensity, especially as a defensive player.
"I have heart, I mean a lot of heart," he said then. "... It's my father and uncle. That's what I think about."
St. Patrick junior forward
Austin Colbert
, who is also attending the LeBron James camp in Akron along with the nation's top high school players, considers Gilchrist's one of his closest friends.
Colbert said Darrin Kidd had a major influence on his nephew, and everyone on the St. Pat's team admired him.
"(Kidd's death) not only affected (Mike); it affected all of us," Colbert said. "We were all really tight with him - Uncle D. But hopefully he's watching down - well, I know he's watching down on all of us and expecting (Kidd-Gilchrist) to do good. (Mike) wouldn't want to upset him."
Colbert, the nation's No. 91 prospect in 2013 and a recruiting target of major college teams across the East Coast and Midwest, credits Kidd-Gilchrist for teaching him to be a leader on the court.
"He sets the tone every (game) night; actually, I'll rephrase that: He sets the down every day because we have practice every day, and especially on game nights, he's the main one getting after it," Colbert said.
"That's my best friend, and I'm not just saying that because we played together. He actually taught me a lot. He took me in under his wing, so that's kind of like my big brother also. So I got a teammate, a best friend and a big brother all in one."
Kidd-Gilchrist's ability to score, handle the ball, defend and rebound, all at a high level, makes him a unique talent.
Colbert has the same old expectations for the guy with the new last name this season at UK.
"To be a rock star, to dominate," Colbert said. "To keep it simple, I expect him to dominate. I believe he's one of the best players in his class, and no other player can really do ... what he does, so I expect him to have the same contribution to his team that (St. Pat's and Duke product and No. 1 overall draft pick) Kyrie (Irving) did. That's high expectations, but I know he can get it done."