Monk, Briscoe carry UK in overtime win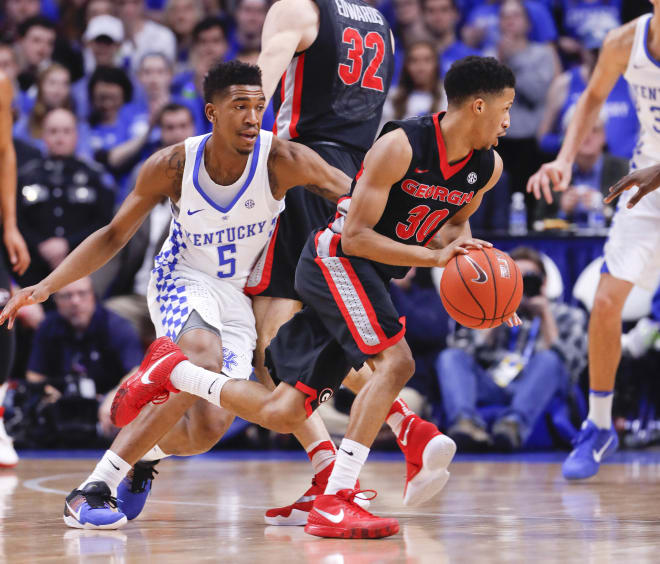 LEXINGTON, Ky. — With starting guard De'Aaron Fox out with an illness, backcourt mates Isaiah Briscoe and Malik Monk picked up the slack and helped propel UK to a 90-81 win over Georgia on Tuesday night.
Briscoe finished with 23 points, 11 rebounds and eight assists while Monk dropped in 37 points -- including a deep two-pointer to force the game into overtime -- with 31 points coming in the second half and overtime.
Georgia started the game on a 12-0 run and led by as many as 14 in the first half. Yante Maten scored the first seven points of the game for the Bulldogs, but the Wildcats battled back and cut into the Georgia lead. UK finished the half on a 13-3 run to tie the game despite shooting 29 percent in the first half. Georgia led for 18:30 of the first half and shot 48 percent.
In the second half Monk caught fire. The freshman guard drilled five three-pointers in a span of just over four minutes. UK led by eight points with 6:26 left to play, but the Dawgs began to cut into the lead. J.J. Frazier scored seven straight points to tie the game at 70 with 3:52 left to play.
The game teetered back in forth from that point. Georgia held a two point lead before Monk hit a deep jumper to tie the game at 76. Dominique Hawkins' halfcourt heave clanked off the rim, sending the game to overtime.
The Wildcats had little trouble with Georgia in overtime, outscoring the Dawgs 14-5 to pull off the close victory. Monk scored eight points to lead the Wildcats in the final period.
UP NEXT
Kentucky (20-4): The Wildcats will travel to Gainesville, Fla., to take on the Florida Gators at 8:15 p.m.
Georgia (13-9): The Bulldogs will play at South Carolina at 2 p.m. on Saturday.