Mays leadership boosts Cats in 74-28 win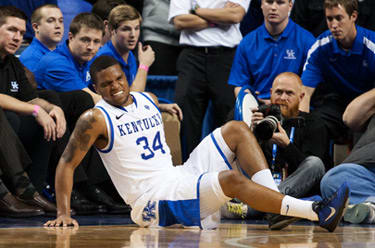 "She told me with not her voice," Mays said Monday after his 14-point game helped lead Kentucky to a 74-28 exhibition win against Transylvania. "She told me in other ways."
Mays hasn't resorted to those, um, other ways yet. But the Kentucky senior - a graduate-student transfer from Wright State - has become the sort of strong voice for the Wildcats that his mother was for him.
"It's really how I was raised," Mays said. "I had a strong mom. That was the mentality that she brought me up on, so I've always been like that on every team I've played on, since I've been younger."
Mays had a scary moment late in Monday's exhibition win, colliding with a Transylvania defender with about six minutes to play, then collapsing to the floor and grabbing his knee.
The knee "buckled back," Mays said, after he released a jump shot and came down on the Pioneers defender.
Rupp Arena went silent as Mays was first evaluated on the sideline, then sent to the locker room, during a timeout. Medical personnel examined both the anterior cruciate ligament and the medial collateral ligament in Mays' right knee.
Both were fine. UK announced that Mays had a leg strain and he's day-to-day. Mays said he plans to participate when the Wildcats return to the practice court Wednesday and will play in Friday's season opener against Maryland in Brooklyn, N.Y.
And that's significant for the Wildcats, who have come to look at Mays as their vocal leader. The 23-year-old is practically ancient in Cat years, which might explain why his teammates talk about him like he's Danny Glover in "Lethal Weapon," nearing retirement.
On a team with so many fresh faces - Kentucky has four freshmen among its top seven players - Mays provides a steadying influence. He spent two seasons at North Carolina State before transferring to Wright State, where he sat out one season and played one.
Mays, though, "has his game down pat," Cauley-Stein said.
And though Mays admits he's still adjusting to playing for Calipari - "I've never played this hard in my life," he said - he's comfortable being asked to shepherd a flock of freshmen, despite playing his first season at UK.
And so when it was time to give Poythress a lesson in playing hard, Mays didn't shy away.
"We go hard," Mays said. "It's balls to the walls all the time. For him not to dive on (a loose ball), we got on him. But it wasn't anything personal. He's like my little brother, so whatever I say to him, he's not taking it like I took a shot at him. I expect him, if I don't dive on the ball, to get on me the same way."
Mays, who's been coming off the bench, started in Monday's second half, and the Cats outscored the Pioneers 47-10 after halftime. That doesn't mean he'll be inserted into the starting lineup, but that isn't Mays' objective anyway.
He's just an old guy looking to provide a little guidance.
"Obviously I'm expected to lead because I've been around, but I'm also learning as well, just like they are," Mays said. "This is a new system for me. I'm making adjustments every day on playing under Coach Cal. It's different, but I've embraced it, and I enjoy the position I'm in."