Lyles a matchup problem for Bearcats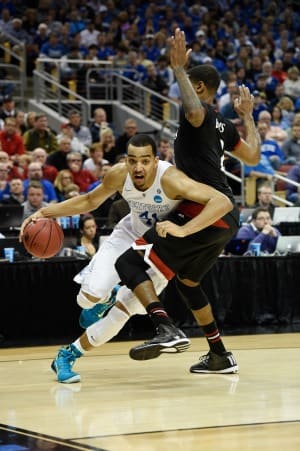 But against Cincinnati, Lyles wore his game face. The freshman forward finished with 11 points and 11 rebounds, his second career double-double.
Lyles did half of his damage in the first half. On back-to-back offensive possessions, Lyles backed down a lone defender into the lane and finished at the rim. The second trip, he spun, elevated and threw a shot through the basket.
Saturday was just the latest example of the matchup problem Lyles' presents opponents.
"It just got us amped up," Lyles said. "Defensively, we locked down. Offensively, we scored off off our defensive stops, and that helped us out a lot."
Lyles found himself in one-on-one situations on defense. Cincinnati's post players would back Lyles down deep into the lane, but Lyles refused to surrender easy baskets.
"Just try to alter their shot," Lyles said. "Bigger guys, you just try to jump, alter it. Having Karl and Willie as weakside defenders, that challenges them a little bit, too."
Lyles finished with two blocks in the game.
Five of Lyles' game-high 11 rebounds came on the offensive glass, attributing for nearly half of Kentucky's 12 total offensive rebounds in the game. Andrew Harrison said Lyles' ability to battle for missed shots is often overlooked.
"He's just a tough guy," Harrison said. "Grabs rebounds. That's probably the most underrated part of his game, his toughness and rebounding and stuff."
"That's what every team is planning to do against us," Lyles said. "So we just went out there and matched their intensity and their physicalness."