LB Jeslord Boateng updates his list of favorites
If you're having trouble keeping up with all the latest football recruiting happenings, don't expect things to slow down.
Three-star Ohio linebacker and Kentucky target Jeslord Boateng didn't waste any time on Wednesday, releasing his updated list of favorites at 8 a.m.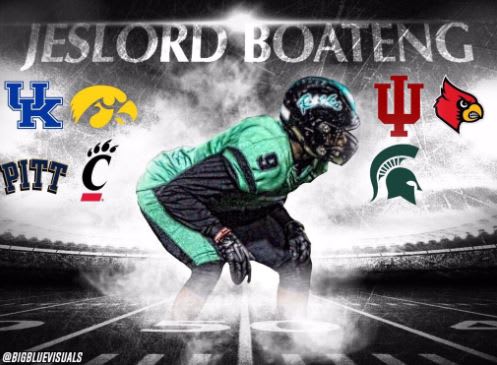 Boateng is just the latest in a long line of Kentucky football targets who have started to formally narrow their lists in recent days and weeks. Most of the narrowing hasn't been too drastic, and Boateng's second list revision, which keeps his list at seven, is right in line with that modest trend.
Seven schools are still in play in the race for Boateng, the No. 40 outside linebacker in the nation according to Rivals.com and the No. 26 prospect in Ohio.
Kentucky, Iowa, Pittsburgh, Cincinnati, Louisville, Indiana and Michigan State were each represented by their respective logos on the social media graphic that Boateng tweeted out in announcing the news.
Boateng didn't attach any message to the tweet, which is to say he didn't clarify whether he might still remain open to schools outside that top seven, whether the list was in any order, or if another cut might be coming soon. CatsIllustrated.com should be able to report more on all of that soon.
The inclusion of Kentucky on Boateng's list is far from a surprise. Long ago Boateng began the process of building a relationship with area recruiter Vince Marrow, and all indications are that relationship has progressed nicely. Boateng himself has said as much in previous conversations with CatsIllustrated.com.
It's also noteworthy that Boateng hails from Dublin Coffman in Ohio, the same school that sent quarterback Gunnar Hoak, a redshirt freshman in the upcoming season, to Kentucky.
Actually, Boateng's list, released on Wednesday, isn't the first list of favorites he's put out as a recruit. He also put out a list, and with seven schools to boot, back in April. But since that time Boateng has added offers from Michigan State, Iowa and Pittsburgh. Each of those three schools are now in play.
In late April when CatsIllustrated.com asked Boateng why Kentucky was included in his initial top seven he said, "Because they said I could get very early playing time if I went there and I respect their program very highly."