Last chance to turn program around awaits UK's seniors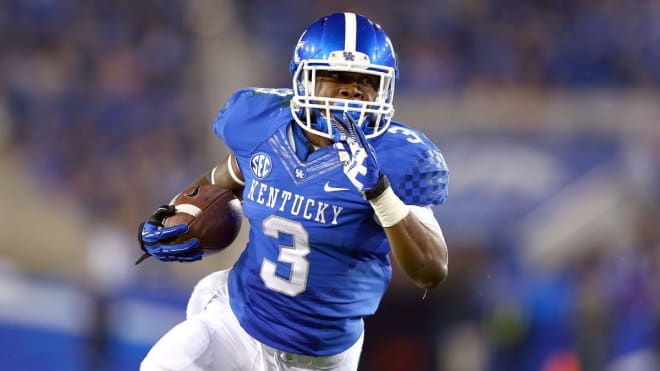 LEXINGTON, Ky -- Ask any of the four true seniors on Kentucky's 2016 roster what their main goal has been in their careers, and they'll echo the same statement: turn a historically struggling program into a consistent winner.
That process, as expected, is taking some time. But time is running out for Jojo Kemp, Ryan Timmons, Blake McClain and Marcus McWilson -- the four seniors who were in Mark Stoops' first class -- and the opportunity to fulfill their goal of reaching a bowl game is now or never.
"There's a sense of urgency," Kemp said on Friday morning. "I came here to change the program around, change the culture. That's what it's all about. It's about to be that time. I've accomplished goals here already but there's one more task that's left -- get my team to a bowl or championship."
It looked as though that goal would be accomplished ahead of schedule in 2014. Kentucky jumped out to a 5-1 start, with Kemp carrying the load at running back and Timmons leading the receivers in catches, but the Wildcats fizzled out and last their last six games.
The 2015 season was much of the same. Kentucky still had a young team, but after a 4-1 start, the Wildcats lost six of seven and were denied bowl eligibility. Coming up one win short the past two seasons has been difficult to swallow, but Kemp said the team is another year older.
"The maturity level is different," Kemp said. "Guys are doing what they're supposed to do on and off the field. Doing the little things that aren't asked of them to do. Guys just really want to win. We don't want that same feeling we had before, so guys are just more dialed in."
Timmons -- whose receiving numbers were down significantly as a junior -- said he's feeling a sense of urgency as well as he opens his final fall camp.
"We feel that way because it's our last year," Timmons said. "If we don't do this year we can't come back. This is it. I've been talking to (Jojo Kemp) and (Blake McClain) and we've had our talks about being seniors now. I think we're ready. We have a lot of leadership at every position. That's something that's different that we haven't had in the past. We're confident about this team."
McClain was the only one of the four to commit to Kentucky before Stoops arrived. The Florida native chose the Wildcats during June 2012 and stayed committed after Joker Phillips was fired. At the time of his commitment, Kentucky was only one year removed from its last bowl game.
It has now been five seasons since the Wildcats were in the postseason. Regardless, McClain has preached the same sentiment throughout his career.
"I've been saying it since I've been here: bowl game or bust," McClain said. "For three years, we've busted. But this year it's bowl game or bust. We have to get it. With these new facilities and things like that, we have to get it."