{{ timeAgo('2023-01-24 09:39:00 -0600') }}
basketball
Edit
Kentucky-Vanderbilt Predictions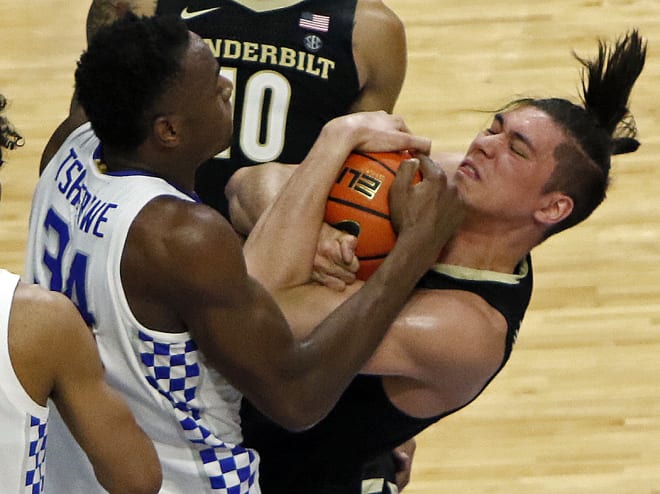 Kentucky is seeking to notch a fourth-straight win when it takes on Vanderbilt in Nashville this evening. It's an important game in terms of conference record but more importantly the Cats' NCAA tournament resume and for seeding purposes down the road.
Here are takes from Cats Illustrated writers on how the game might play out.
What are your thoughts on the matchup on paper?
Jeff Drummond: I don't think Big Blue Nation can take this one for granted. Or, perhaps more precisely, the Cats themselves can't get caught looking ahead to a blue-blood matchup with Kansas on Saturday because Vanderbilt has shown it is talented enough to compete with most teams in the SEC. Kentucky has taken much better teams than the current squad to Nashville and struggled in Memorial Gym. I fully expect this to be a tough game that comes down to the final under-4 segment. The Commodores may be undersized with a couple of their bigs being questionable to play, but that could create a different type of challenge with more drive-and-pitch action to shooters.
David Sisk: Vanderbilt has not been the easiest place to play in the past. In a perfect world for the Commodores they would be a tough matchup again. Offensively, they are able to space the floor and pull the other teams bigs out if the lane. They have the style and roster to put Oscar Tshiebwe in multiple pick and rolls. At the beginning of the year the Commodores had a huge lineup, injuries to the seven-foot Liam Robbins and 6-10 Lee Dort will make a big difference in this game. The Dores have gone from a team was at least just as big as UK to a team that will be undersized.
Travis Graf: With Liam Robbins out, Vanderbilt will be without their leading scorer, rebounder, and shot blocker against the Cats. This is good news for Oscar Tshiebwe because he struggles to score over and stop length, and with Robbins standing at 7 feet tall, that was going to be a tough matchup for Oscar compared to other bigs on the roster. The Commodores also don't shoot it well from the outside.
Justin Rowland: This should be a monster game for Oscar Tshiebwe given what has been said about Vanderbilt's injury issues in the frontcourt. That coupled with the fact that Kentucky has won six straight games at this venue, and with the Wildcats peaking, leads me to believe the dynamics favor Kentucky. There should be a good number of Kentucky fans in attendance as usual.
What's your prediction for the game and why?
Drummond: Kentucky 71, Vanderbilt 64 -- Oscar Tshiebwe should have a big night if he can avoid foul trouble. The stage may be set for another 20 & 20 type of game. The Cats should absolutely dominate the glass in this one. Bottom line: UK has to have this one. Keep stacking Ws.
Sisk: Kentucky has played much better the last three games, and Vanderbilt is 3-3 in the SEC and coming off a good win at Georgia. I look for them to get some good looks, but their success will come down to how well they make those shots. Oscar Tshiebwe averaged 21.5 points and 15 rebounds last season versus Vandy. I look for him to eat again. John Calipari is 6-0 versus Jerry Stackhouse. He has had the opponent from Nashville outmanned each time. That will be the case again Tuesday night, but it could get interesting. Kentucky 77 Vanderbilt 70
Graf: Kentucky 68, Vanderbilt 60. I'm expecting an ugly game on Tuesday evening, but the Cats keep chugging along and building for momentum for Saturday's matchup against Kansas. Oscar Tshiebwe has a big game, and I think Sahvir Wheeler has some big moments as well.
Rowland: Kentucky is catching the 'Dores at a good time with the banged up frontcourt and now that the Cats have won three in a row. This feels like a team that's rallying and coming together, so I'll call for the momentum to continue. Kentucky 72, Vanderbilt 68.