Kentucky falters on road again, falls to Georgia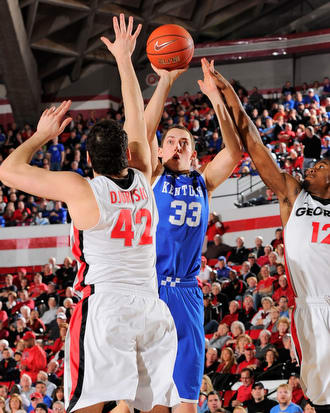 ATHENS, Ga. - There have been 30 games now. Thirty chances to plug the holes and fix whatever's so often ailed this Kentucky basketball team.
Now there are precious few left, and if Thursday's 72-62 UK loss at Georgia was any indication, maybe things are beyond fixing.
Maybe there's still time.
Maybe the Wildcats (20-10, 11-6 Southeastern Conference) can be the team they were in a win against Missouri and not the one that's lost two of three since and four straight away from Rupp Arena.
But Kentucky looked no closer to turning a corner Thursday at Stegeman Coliseum than it had in last Saturday's loss at Arkansas. There was fight at the start but little once the Bulldogs (15-15, 9-8) got in a groove.
The end result was virtually the same as last week in Fayetteville, Ark.: A double-digit loss in a game that was critical to whatever at-large NCAA Tournament hopes Kentucky still has.
Different game, same story.
"The biggest thing is: I am so disappointed in the job I've done with this team, I can't even begin to tell you," Calipari said. "I look at a team - I've done this 20-something years; I've never had a team not cohesive this time of year. Every one of my teams (was) cohesive. Every one of them had a will to win more than how they were playing. Every one of them had a fight. Well, if this team doesn't have that, that's on me."
The Cats seemed to show that scrap early, racing out to an 11-5 lead and battling for loose balls. Kentucky fought for loose balls and got three shots at the basket on two different early first-half possessions.
And then Georgia made some shots, quickly jumped in front 15-14, and the Cats started to struggle.
"We came out the first few minutes and we was making statements," said Goodwin, who led UK with 20 points. "But once things got tough and once players got to making shots for the other team and guys started, like coach said, letting go of the rope. And every time that happens, we end up losing."
Afterward, a clearly frustrated Goodwin said too many of his teammates continue to hang their heads when the going gets rough. He wondered aloud "what's the point" of having such highly-regarded players if so few of them show toughness when the game is on the line.
"Yes, I'm mad," Goodwin said. "There's no way that we should lose to Georgia. It's no way we should have lost to Arkansas. It's just a matter of us battling. When we play like we're supposed to, there's not anybody in the country that we can't beat. But we play like this, we play soft as a team, anybody can beat us."
Ten teams have. Florida gets a chance to do it for a second time on Saturday.
And though Goodwin said it looks as though little will change at this late stage, he conceded that there's a chance to beat the Gators on Saturday at Rupp Arena if the Cats play with the energy and enthusiasm they displayed against Missouri.
Do that, Calipari said, and the Thursday's showing doesn't seem quite so bad.
"I told them after - I didn't say a whole lot," Calipari said. "I said, 'Hey, you beat Florida, this all goes away. See ya. Get on the bus.'"
To have a chance against the Gators - and to bring its NCAA Tournament hopes off the ledge - Kentucky will have to be at its very best. It will have to look like the team that showed up in Rupp Arena two weeks ago to beat Missouri.
Lately, that seems long ago - and seems like a rare plot twist in the tale of Kentucky's season.
"The biggest thing from (the Missouri game) was we had so much energy, people were having fun, our crowd was stupid hype," Cauley-Stein said. "Now we're just out there. That's what it feels like, we're (just) out there. It's sad, really. It's not fun playing that way. It's just… I want to get back to having fun with my teammates. You never know who's going to be leaving; you don't know. It's just sad."