Jones leads UK to dominant win at LSU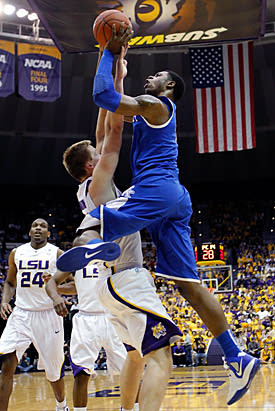 BATON ROUGE, La. - The game was well in hand, but the ball wasn't.
Jones and No. 1 Kentucky were well on their way to Saturday's 74-50 rout of LSU at the Maravich Assembly Center, cruising toward the finish line in one of their best performances of the season.
"It's just how I played the whole game, trying to get every ball, just trying to get myself going," Jones said afterward. "I wanted it."
He played like a guy who wanted it, scoring 27 points, grabbing nine rebounds, blocking three shots, swiping two steals and giving Kentucky (21-1, 7-0 Southeastern Conference) a physical presence against an LSU team that tried to get tough.
Jones was dominant. And the Wildcats looked like the best team in college basketball. UK led wire-to-wire, and when LSU cut a double-digit lead to a point late in the first half, the Cats responded with a 10-2 run to close the half. The game was never close after halftime.
They did it largely on the strength of Jones' best game of the season, the sort of game that was supposed to be commonplace after he was named Preseason SEC Player of the Year.
Jones has often been overshadowed by freshman teammates, but on Saturday, he took center stage, and he was at home in the spotlight.
On Saturday, he made them dominant.
Calipari has long lamented this team's inability to "negate physical play," but against LSU, Jones showed how it's done. He drove through contact. He went to the free-throw line eight times and made seven.
"I was just playing," Jones said. "It just happened to be my game. I think different games, guys stepped up and had runs and played real well for us. And I just think today, it was my turn."
He wasn't alone.
White grabbed Davis' shoulders and pulled him to the ground as Davis sprinted to the basket for a dunk attempt.
"Stuff like that happening to one of your brothers, you don't like that," Jones said. "The only way we could (express) that is by just continuing to play hard and just show it through the score."
And the scoreboard showed that Kentucky was clicking.
But nobody was in a groove like Jones, who outscored LSU 13-0 by himself in a stretch that ended the first half and started the second.
"He was scoring at will pretty much in the post, getting pretty much anything he wanted," point guard Teague said. "If he drew two (defenders), he was kicking it out, making the right plays. So we were pretty much trying to feed him."
It's been a challenge for Calipari to get that out of Jones, especially in the aftermath of Jones dislocating the pinky finger on his left hand in December. Since then, Calipari has been pushing, Jones said, for the 6-foot-9 sophomore "to play with the mentality I was playing with before I got hurt."
He did that on Saturday, and never more so than when he battled on the boards after Teague's late layup miss. The game was long out of LSU's reach, but the ball wasn't out of Jones', and Calipari took note of the way Jones attacked it.
"That's the guy that people want to play with and coach," Calipari said. "Not the guy that when the guy misses it, he runs back because he doesn't want contact. They want that thing, that thing right there. That wins. That other guy, you lose with. It's a loser."