JOHNSON: '(I'll) win a national championship'
BENTON, Ky.-- UK commit Keldon Johnson didn't have to do too much in an easy win on Satuday, but the five-star wing had a taste of what life was like in the Commonwealth.
In Oak Hill Academy's easy 97-67 win at the Marshall County Hoop Fest, the Wildcat commit finished with 15 points and five rebounds in just 22 minutes of play.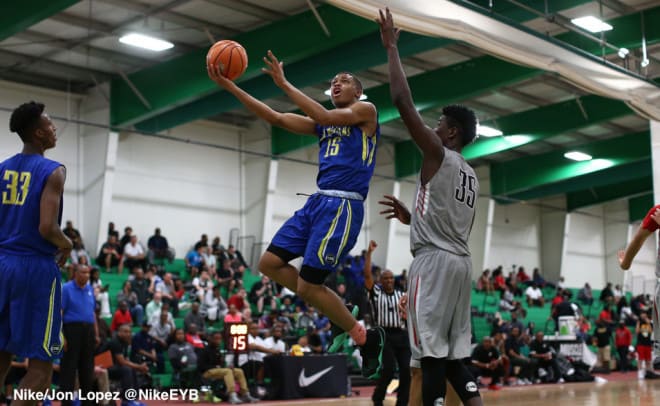 "I shot 6-of-7? I think that's a great improvement," Johnson said. "I know my coaches appreciated that and my teammates definitely appreciated me being more efficient. Tonight I let the game come to me more instead of trying to force a lot of things."
Johnson plays on a loaded Oak Hill Academy team. Several other players will find themselves at power-five programs and the competition helps prepares Johnson for life in Lexington.
"It gets you ready for the next level," Johnson said. "You don't have to go out there every night and score 30 points, because there are these other guys on the team. Once you come together, which we are doing now, we can be scary. It's almost crazy how good we could actually be when all of us are playing together."
But Johnson knows with great players comes great expectations. Part of the reason he picked UK was because of the talent that would surround him, similar to Oak Hill. Johnson is willing to sacrifice an impressive stat line at UK for more wins.
He's never cared what the critics say.
"I don't really need to know what people think of me. I'll go to Kentucky to make my family happy, make Coach Cal happy and win a National Championship," Johnson said. "That's the only thing I've got in mind. I don't need to know what the outsiders think."
Johnson joins a star-studded class at the Big Blue Nation that already includes five-star point guard Immanuel Quickley and four-star shooting guard Tyler Herro.