Jamin Davis staying true to himself as draft stock soars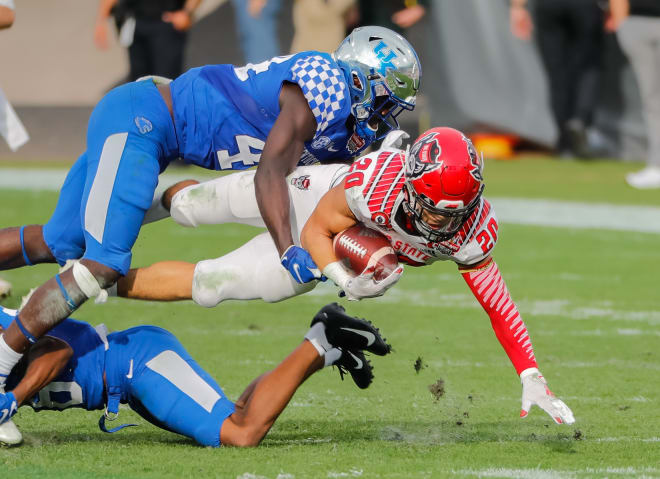 Kentucky's football coaching staff has recruited at a higher level than any other at least in the modern era, but also prides itself on some high profile development stories.
Josh Allen going from a little-known under the radar three-star prospect to a Top-10 pick is undoubtedly their favorite, but now Jamin Davis is giving that story a run for its money.
Davis himself went from three-star and one of the less heralded players in his signing class to now someone who is seeing his name in first round mocks with experts looking ahead to this year's NFL Draft.
Just don't expect Davis to talk much about the speculation regarding his draft status.
"I mean it was the same as when I was playing here. With all the outside noise and whatever is going on with mock drafts and whatever else I tend not even to pay any attention to it because it's nothing but a distraction," Davis said in a Zoom session with reporters covering UK on Tuesday.
"Honestly I haven't even really had a chance to sit down and process everything that's happened, for real," Davis said. "The way everything just unfolded, honestly I'm just doing my best to stay grounded and continue being who I am as a player, as a person, and honestly hopefully I end up on somebody's team."
But if you really press Davis on his rise in the mocks, some confidence comes out.
"Honestly I'm guessing people are starting to wake up just a little bit. I honestly couldn't tell you. I couldn't put my finger on it. I'm not doing anything special. I'm not pulling any hat tricks. I'm just being myself and I guess everything is just unfolding right before my eyes."
Davis said he believes he's spoken with every NFL franchise during this process before the draft. He's not sure which franchises might have more interest than others.
"Like I tell all of them, honestly, I'm a guy that I feel like I can step in and play anywhere. If you want me to play center I'll do it. That doesn't affect me. As far as being versatile with Mike, Will, outside backer or anything, like I said, I'll play center if you wanted me to."
Davis did crack a smile when he was asked about the possibility of reuniting with Matt House in Kansas City. It was House who recruited him as Kentucky's linebackers coach coming out of high school.
Looking ahead to the actual event of the draft itself, some draft prospects dream of wearing a fancy suit and walking to the stage to shake the commissioner's hand.
"I never really wanted to be a guy that was all dressed up in a fancy suit walking across a stage, especially knowing I'm not really a guy who's (like) one of them anyway. Yeah that was always just a dream of mine, to be at home with my family and let everything unfold."
While Davis isn't the type to covet the big stage or the bright lights, preferring that laid back moment to be shared with family, he did acknowledge that it's surreal going through a process he dreamed about from a young age.
Meeting Mike Tomlin, head coach of the Pittsburgh Steelers, was a moment that left a characteristically grounded Davis feeling the gravity of what he's about to achieve.
There will obviously be a bit of a different setup this year due to COVID-19, but that wasn't even Davis' own dream in the first place. He has wanted something more low key and intimate with family.
Davis' own personality has been reinforced by the Mark Stoops' message, which is the same that UK's head coach shares with other players on the team.
"Basically just to keep doing what I'm doing. Don't try to be anything fancy. The same message he passes to anybody else on the team. You can only be the best version of yourself possible so there's no reason to try to be somebody that I'm not. That's my mentality going toward anything."
From his early work in Lexington under Matt House to the breakout of the last two years under Jon Sumrall, there are plenty of people that have had a hand in Davis' development.
Lately the UK strength staff has been receiving some high praise from Stoops and others. Davis echoed that praise.
"Almost 100% of my credit as far as putting on weight and even having back door talks here and there with Coach Ed, Coach Hill and stuff like that, you've got to give them credit. I feel like that's guys that get overlooked at times but as far as everything when I first stepped on campus I was probably 190 pounds soaking wet. Now it's like I didn't even expect to be able to put on this kind of weight. I definitely give a lot of credit to them."