Go premium, get free months added!
There's never been a better time to go premium at Cats Illustrated. If you go premium now you'll get lots of free time added to your account with this offer.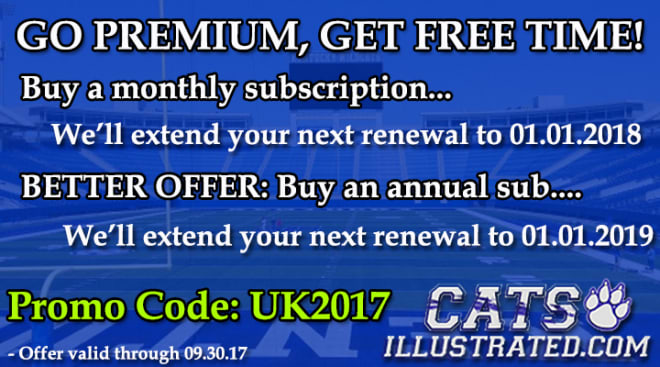 It's the start of football season and Cats Illustrated is in content overdrive every single day covering the Wildcats and preparing to cover John Calipari's next team. Recruiting is always in our sights and we've got the House of Blue, the most vibrant premium forum full of Kentucky fans on the internet with daily scoop, analysis, discussion and debate.
New users click here to take us up on this new offer
Returning free users, and past subscribers, can sign in first, and start here
New monthly and annual users will see lots of free time added to their account. You'll also get House of Blue access, all of Cats Illustrated's reporting, analysis and scoop, and you'll benefit from the power of the Rivals.com network.
For assistance or questions email kentuckyrivals@yahoo.com.