Getting to Know: Jamari Brown
Cats Illustrated's series profiling Class of 2018 signees set to arrive next month continues with a closer look at Florida defensive back Jamari Brown.
He was never one to seek out the media spotlight during the recruiting process, but with his arrival in Lexington approaching, Brown spoke at length with Cats Illustrated and shed light on a number of topics, both personal and football-related.
Go premium at Cats Illustrated with this free 30-day trial offer.
Jamari Brown
Recruiting Bio: Brown was under the radar only because he didn't do a lot of recruiting interviews, but he had a respectable three-star recruiting ranking and it seemed like a no-brainer when the time came for Kentucky to accept his commitment. After all, he's from South Florida, a popular hotbed for talent that UK taps into regularly now, and Brown has the kind of size (6-foot-2) that Mark Stoops' staff loves in defensive backs.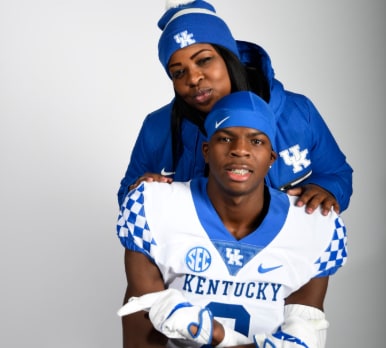 Cats Illustrated: What was the most memorable moment of your high school career or something you'll look back on fondly?
Jamari Brown: My first offer because it was what I worked for. That was my goal ... to make it to college. That was from Oregon. I was pretty happy. I was excited. I couldn't stop smiling and was happy about it for about two days.
CI: Is there a player in college or pro football that you try to model your game after?
JB: Yes, Jalen Ramsey because I like his mentality and I just like the way he plays the game. I like to model myself after him because he's great at guarding the receiver.
CI: Was there one person who helped you more than anyone else in your development as a football player?
JB: In making me the player I am right now, like, I never really had a DB coach. I always had coaches but they were either linebackers or safeties. I never had really a DB coach. I actually taught myself and just learned from different people.
CI: So at Kentucky you'll have several DB coaches, from Steven Clinkscale and Dean Hood to Mark Stoops. Are you excited about that change?
JB: Yes, that's right.
CI: What was your favorite part of the recruiting process?
JB: Just going on all the tours. That was nice. Seeing the different colleges and what they were like. The best was UK. Georgia was pretty nice. Auburn was nice.
CI: What was the craziest thing a coach said to you?
JB: Nothing too crazy. The most important thing a coach told me one time was I could be a first round draft pick if I stay and believe in the process, but a lot of people told me that and that's a good thing.
CI: What was the biggest reason you picked Kentucky?
JB: It's a great school, a great program on the up and coming. I feel like what made me commit the most was Coach Stoops and how he's great with DB's, and Coach Clink. When I went up there, how he was showing me things and coaching me up. I feel like if he can work with me more, I can be a great DB. He can teach me a lot. I felt like in committing to a school, the DB coach meant a lot. It will be a great opportunity learning from him, and I see myself getting better with him.
CI: What do you see yourself doing after Kentucky?
JB: It's always academics first but I know I can play at that level (in the NFL) because I know what I bring to the table and I know I have the ability if I put myself in the right situation.
CI: If you weren't a football player what would you be trying to get into and do with your life?
JB: Probably accounting or learning how the agent business works. I just like sports. I've always wanted to be around sports and sports management. Maybe helping athletes take care of their bodies.
CI: What number will you wear at Kentucky and is there any significance to it?
JB: No, I don't know yet but I want to wear number two. I love that number. It's a great number to me and it's just what I've always loved.
CI: What's the number one thing you need to work on to become a great player in the SEC?
JB: The number one thing is just to learn the game. I want to learn coverages more and better and to know when something's going to happen. Basically work on learning how to read film and know when something's coming.
CI: What are your goals for your freshman season?
JB: My goal is to come in, work hard, learn and keep on learning so when my name is called I can do what coach wants and be successful.
CI: We didn't talk to you all that much around the time of your commitment, so take us through that. How did you let the coaches know and what was that time like?
JB: It was Coach (Eddie) Gran and Coach Stoops. I had let them know that I'm with it. I want to be a part of the program and I would be fully committed. When I committed it was no looking back. I just loved it. Other schools came after me around December but I let them know I'm locked in because when I first went there everything just clicked. It was Kentucky and it wasn't like that with any other school. I don't know what it was about them but it was all about them.
CI: When was that first visit? Was it for a camp?
JB: I already had the offer but yeah, I participated in the camp, around June 14th.
CI: Do you have any hobbies, interests or passions outside of football?
JB: No other hobbies other than football. If it's not football, I'm working out. Just trying to get the best out of myself.