Getting to Know: Incoming UK running back Chris Rodriguez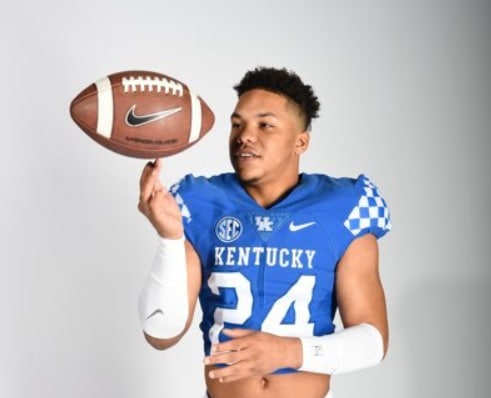 Cats Illustrated: Do you know when Chris is planning to get up there at Kentucky to enroll?
Jared Zito: Ithink I remember the date as June 10th but I don't know that for sure.

CI: Did he finish up in good academic standing and take care of everything to be good to go?
Zito: He's good. He finished really, really strong this year, actually the last two years he's done really well academically so he's good to go.
CI: How much contact have you continued to have with Kentucky's coaches or what has the staff been like since Signing Day and recruiting ended?
Zito: Oh absolutely, well, with Chris I've got him in weight training every day so I've seen him every day all the way to the last day of school and Coach (Matt) House and I have stayed in touch. He'll check in periodically just to see how Chris is doing, of course with recruiting and those kinds of things as well. Chris is set. He's working hard. He's ready to go. I mean, I think he's a little, like any kid, a little nervous. It's a whole different world but I told him before, he's young.
He's only supposed to technically be a senior next year. He actually skipped the third grade so really technically he's only supposed to be a rising senior. So he's a little bit, as any kid certainly that age, a little nervous about the whole deal. But I've told him he's learned how to work in the classroom. That'll help him.
CI: Benny Snell is the undisputed No. 1 running back at Kentucky but there's still a competition for second-string carries and playing time behind him. What's Chris thinking in terms of expectations for himself in Year 1 and have the coaches told him what their goals are for him in 2018?
Zito: The great thing about Chris ... Some of these kids, they have great high school careers and everyone's told them how good they are and sometimes they listen a little too much. Chris is not one of those guys. Matter of fact, Chris is one of the more humble players I've been around, especially for the talent that he is. It's refreshing. He's a guy that, I think it's going to be a good situation to go in behind Benny Snell and compete with those other guys on campus. Those guys wouldn't be there either if they weren't SEC caliber running backs.
They've kind of told him, 'Come in here, work hard. Maybe be prepared to assist on special teams, you know, and see if that's a spot where you can earn trust a little bit.' I know they like their size. He's about 218 right now and I think that's a plus for him but he also knows there's a lot to learn at that level and you have to start all over again earning trust and taking care of all the little things. Everybody knows he's talented but it comes down to who's willing to do all the little things to get on the field as a freshman.
CI: Snell will probably go down as one of the best football players in UK history. How much did the coaches talk about him when they were recruiting Chris, in terms of making comparisons or selling the chance to learn behind him for a little while before stepping up?
Zito: Yeah, I mean there was a little bit of conversation about Benny throughout. I'm sure Coach House had those conversations with Chris. We had a little bit of those conversations just between him and I, comparing Chris to Benny. They're similar in so many ways. He's a big, physical back, a downhill back, a little bit under recruited in terms of nationally so some of those same comparisons.
But every kid is their own individual and, like I said, I think Chris is going to do great. He's a humble kid that works really hard. He doesn't do a lot of trash talking. He doesn't really say a whole lot. He just does his business. I told him, 'You do what you're responsible for,' in terms of academically, in the weight room, staying out of trouble ... He's never been a trouble kid. I mean I don't think he's ever even gotten a detention.
But he's just charming, he's likable, he does what he's supposed to do. He's never disrespectful. I said, 'You're going to take care of what you're going to take care and they're going to support you. You're not on your own there. You're going to have all the resources you need to be successful if you're ready to put the work in on and off the field. I think it's going to be a great opportunity to go in and learn behind Benny Snell, to compete, whether it's to be a spot player as a running back or get on special teams and show, 'Hey, I'm willing to be a team guy and do what the team needs.' It's just a good opportunity for him.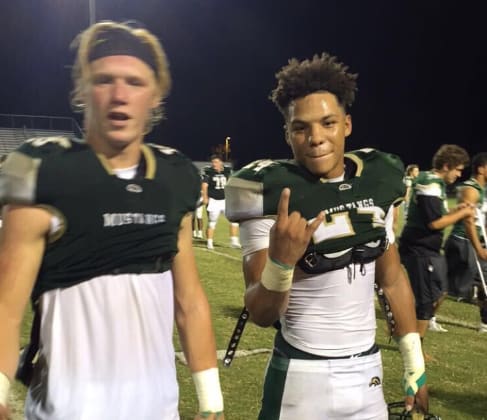 CI: You've watched him since the season ended so how's he treated this offseason and how's he doing in terms of getting himself ready to arrive?
Zito: Oh he looks great right now. He really looks great. Physically I have him in a weight training class so I have him every day. I know he's started to do some of the running that their strength coaches had sent him because several times he's asked me to open our facility for him so he could get in and run if it was a Saturday. He's been doing that. In terms of physically I think he's going to come in fine. There's always things they're going to be able to do there that we can't do at the high school level in terms of attacking all those different challenges he might have, but he's got the work ethic. I tell all of our guys, the number one thing you can do when you report to campus is be in shape. That tells them that you care. And they're going to get you stronger and more flexible and work on different areas. But in terms of just conditioning, if you go in and you're in shape that shows you really care about the process. And you don't get that first impression back.
CI: For people who just know about Chris as a recruit, you said he's a quiet kid but does he have any interests or hobbies or anything about his personality that people would find interesting or that help define him as an individual?
Zito: I know he loves shoes. I tell you one thing I do know he loves. He loves shoes. He's got all kinds of shoes. That's kind of his thing. He doesn't really, in terms of hobbies, he really doesn't have any. I think when he gets any money in his hands and he's able to spend it he buys the next pair of shoes. It's too many pairs to count.
CI: Are there any games you can look back to, or anything he ever did during his time as a player for you that impressed you or others, that spoke to the kind of person or player he is?
Zito: Well I'll tell you this. I kind of challenged him a little bit as a senior. We really didn't have a number two running back for him. We had planned to kind of get him some breaks and everybody who plays us knows '24' (Rodriguez's jersey number). We had a good quarterback but in terms of another guy to get the ball to.
We were playing one game and he was playing a little on defense too and he got tired. He was carrying the ball a lot. So I kind of challenged him with the number ten. That signified the 10-yard line. If you get to the 10-yard line I don't care how tired you are. You just suck your guts up and finish the deal. So I would start to flash him '10's' with two hands up, two fives. It was kinda my signal.
We were playing Eagle's Landing and I was flashing 10's all week to challenge him. I didn't know how serious he took it. He was kind of joking around with me a little bit. Then he got in the game and he was getting tired and he flashed the 10's to me. And he ended up rushing for, I think, around 400 yards that night. Big region game.
And actually a little plaque we gave him at the banquet. Our captains - we kinda do it a little different - our captains are elected by their teammates at the end of the season. We call our 'Captain Award' and the team elects them based on all the things at the end of the season so it's not pre-selected. And we got a picture of him holding the 10's up as he's looking at me, he's holding them up. Just kind of cool to see a kid that, first off joking with him about 'suck your guts up,' he really took it to heart and it really turned into performance after that, which was kinda cool.