First look at UK's 2018 schedule: Georgia
Georgia was best team Kentucky's football team played in 2018 and it probably wasn't all that close. The Bulldogs were the national runner-up and very close to the championship.
The Bulldogs appear to be the best team on Kentucky's schedule once again in 2018.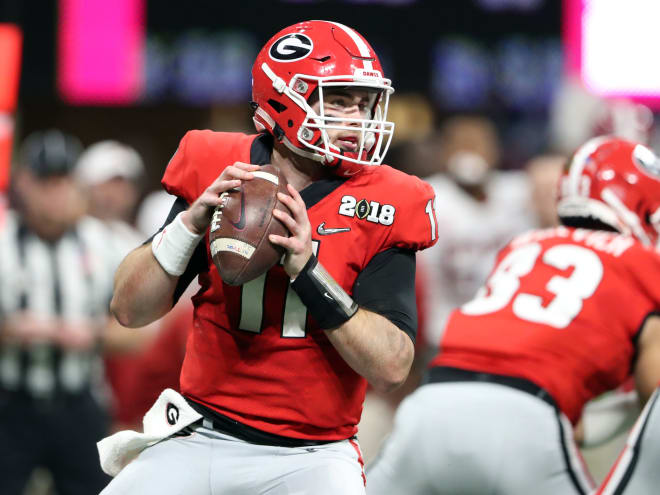 Georgia at Kentucky, November 3rd, 2018
2017 Overview: It was a season that Georgia fans will never forget. The Bulldogs haven't won a national championship in almost four decades and Kirby Smart, in only his second year, brought the program to the brink of breaking that streak. Under Mark Richt, plenty of Georgia teams were full of talented players. But every time it seemed like things were going well, there was an inexplicable loss or a head-scratching regression that left UGA fans wanting more. That didn't happen last year.
Georgia's lone "valley" in 2017 came in a 41-17 loss at Auburn in the Deep South's Oldest Rivalry. It's worth remember that Auburn may well have been the nation's best team at that point in the season, and UGA ran into a buzzsaw that probably would have handled anyone on that day. Georgia avenged that loss 28-7 in the SEC championship game.
No team in the East put much of a scare into Georgia. South Carolina probably played the Bulldogs the closest out of any of their SEC rivals.
The UGA of 2017 had the program's best scoring offense since 2014 and the program's best scoring defense in a very, very long time.
Five-star freshman phenom Jacob Eason began the season as UGA's starter but he was injured early against Appalachian State, in the opener, and Jake Fromm never relinquished the position from there on out. Fromm displayed poise, an arm to make all the throws, and command of the huddle, line of scrimmage and sideline - remarkable traits for a true freshman who was set to be the team's backup. He did have the good fortune of being able to lean heavily on one of the nation's best rushing attacks with a seemingly endless array of outstanding running backs and a powerful offensive line.
Georgia rushed for nearly 4,000 yards and 42 touchdowns on the season, remarkable numbers for an SEC team. They topped the 300-yard rushing mark in four games and were under 200 rushing yards only three of 14 games.
On the other side of the ball, linebacker Roquan Smith was one of the nation's best players regardless of position. The Bulldogs were a little susceptible to the run later in the year, but in their last six games they faced Auburn twice, Kentucky, Georgia Tech, Oklahoma and Alabama - six games against strong rushing attacks. In SEC games the Bulldogs had almost as many interceptions as touchdown passes allowed.
UGA also had one of the nation's top special teams units.
Offseason Questions & Storylines: Usually when a team makes a College Football Playoff run they're going to suffer serious losses in the ensuing offseason, either to graduation or early draft departures. Georgia is no exception. Nick Chubb and Sony Michel seemed to be in Athens for a decade, but no more. It will be a "by-committee" approach in the UGA backfield with D'Andre Swift and a host of young, elite talents competing for carries. There's tons of talent there. No doubt about that. But anytime you replace a duo like Chubb and Michel, there's bound to be some adjustment period.
Isaiah Wynn is a big loss on the offensive line although, again, there's talent to replace him.
On defense, it would be hard for any program in the country to replace Smith at linebacker, but to lose Lorenzo Carter from the same unit makes it a rebuilding effort. Georgia
Previewing UGA's 2018: Fromm is an excellent place for Georgia to start, because while UGA loses Michel, Chubb and leading receiver Javon Wims, a lot of talent returns on the outside and it looks like the Bulldogs should be able to do what they want on offense against most opponents once again. It should be another balanced, efficient attack.
Still, between players like defensive end Jonathan Ledbetter, linebacker D'Andre Walker and cornerback Deandre Baker, the defense still has an embarrassment of high-end talent that should again be one of the SEC's better units.
Smart's ability to elevate Georgia a notch or two up the national ladder in two years was impressive, but also a testament to the way his predecessor recruited. But as good as Mark Richt recruited, he never recruited the way Smart is recruiting now. This is a Georgia team with some big shoes to fill, but some big talents to fill them. And they are quickly building more and better quality depth at almost all positions than they have had in a very long time.
In short, they're the easy favorites to win the East, a leading contender to reach the College Football Playoff for the second straight year, and they're arguably set up to be one of college football's two best programs for the foreseeable future.
Georgia might be able to get to 6-0 on cruise control next year. They play Austin Peay, South Carolina, Middle Tennessee, Missouri, Tennessee and Vanderbilt in the first half of the season. Unless South Carolina or Missouri can pull a shocking upset, UGA should be a popular playoff pick by midseason.
The second half is a little more tricky with games LSU, Florida, Kentucky, Auburn, UMass and archrival Georgia Tech. But there's no Alabama or Mississippi State, and the best team on their schedule (Auburn) has to play Between the Hedges. The schedule sets up well for Smart's third team.