Edwards, West ready after redshirts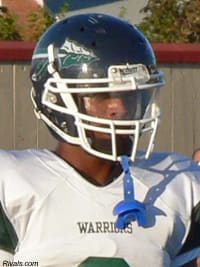 In Kentucky's secondary, the safety spots aren't question marks like the corner position.
But behind them on the depth chart are two intriguing young players that can help to bolster UK's depth and "have an impact," head coach
Mark Stoops
said, on defense and special teams.
Darius West
and
Mike Edwards
are both former four-star prospects out of Ohio. West was rated by Rivals as the ninth best player in Ohio in 2014 and the 18th best safety nationally. Edwards wasn't far behind, ranking as the 13th best Ohio prospect and 23rd best safety in the class.
Injuries kept them out of commission last season -- a twice-broken leg for West and a shoulder for Edwards -- so both arrived late to campus and redshirted. Both are adamant they are "a hundred percent" healthy, as Edwards said. For West, who doesn't
"I say it made me mentally tougher, most definitely," West said. "I had to overcome adversity, but at the end of the day it made me just stay focused, get more hungry to get back out there."
Since the start of fall camp, both have been getting strong reviews from the coaching staff.
"They're very good football players," Stoops said. "You put on the film and you see them showing up. They need some game experience and they need to play, but I'm excited about seeing them play. The first impact that they'll have will be on special teams, and I know they'll show up. I can just tell by the way they play. Again, you put them on a scrimmage tape and you see them making the plays, just doing something a little extra. I mean, getting off blocks and just having the instincts and playing physical."
West feels confident he's ready for action this fall.
"They've prepared us well this summer, coaches have prepared us well," West said. "All of us players just gotta go out there and contribute."
And Edwards doesn't care where or when he's thrown into the mix. He just wants the opportunity.
"Anything, really," Edwards said. "On defense, special teams, offense. Anything. It doesn't matter. As long as I'm out there I'm gonna show what I can do."
Defensive backs coach Derrick Ansley said West and Edwards are the type of players a burgeoning program needs. When the starters need a breather, there's no discernible drop in performance when the second team steps in.
"Last year I think we may have wore down toward the end of the year because of lack of depth at some spots," Ansley said. "I feel like those guys have given us two really good backup guys that can go in there and play winning football for us."
On special teams, West and Edwards have the athleticism to cover "53 and a third every single time," Ansley said. And on defense, where West plays free safety and Edwards plays strong, the two offer different skill sets.
"Mike's more of a loose play, run chase, can cover a guy really good in short area spaces. Very instinctive," Ansley said. "Darius is more of a hammer. He's more of a middle of the field enforcer. Gets downhill on runs and sets edges and knocks guys back on contact."
How soon and to what extent West and Edwards will be making an impact, Stoops will have to wait and see, but both players should become a defensive fixture for years to come.
"They compliment each other as well as I've seen as young guys," Ansley said, "so we feel good about the future with those guys."