Diallo can help Kentucky this season without seeing game action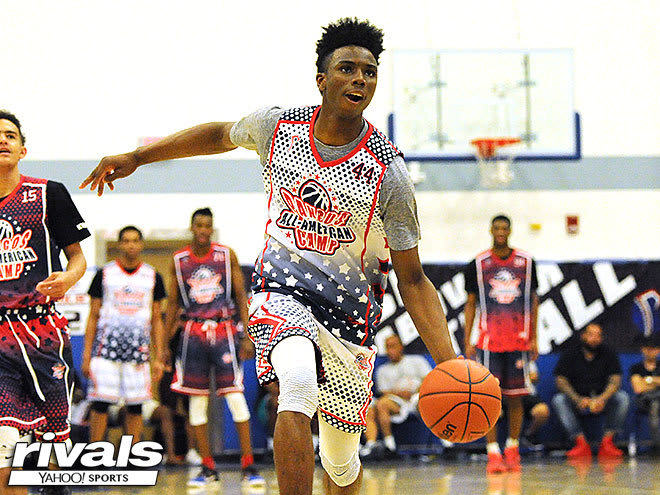 LEXINGTON, Ky. — The past few days have likely been a whirlwind for Hamidou Diallo. The five-star guard committed to Kentucky on Saturday and then enrolled in classes on Wednesday. Diallo will practice with the Wildcats for the first time on Friday.
"At this I don't have to tell him how hard practice is going to be," point guard De'Aaron Fox said. "He's going to see for himself today. He better hope we don't run as much today as we do sometimes."
Diallo will need to grow fond of practicing as he plans to sit out this semester while adjusting to the college game. Even though Diallo won't be on the court this season, the benefits that he can provide Kentucky can still help the current group of Wildcats.
"He can guard (the guards)," Kentucky coach John Calipari said. "He can make them come everyday and have to bring it because he's a long, athletic player."
Fox said he was friends with Diallo on the recruiting circuit and was impressed with the things he saw then. Fox echoed Calipari's sentiment by saying Diallo would make the current guards better defensively and offensively.
"He has a combination of speed and power that not too many people have," Fox said. "Back in high school he was so strong and just big and more physical than everybody. He could just bully his way to the basket. He's always been able to shoot the ball. If you're in the way on his way to the basket you're most likely going to get dunked on."
Calipari said having players in the past only practice still helped the team. Enes Kanter, a five-star center originally from Turkey, only practiced with the 2010-11 Wildcats after he was ruled ineligible by the NCAA. Just last season Tai Wynyard enrolled for the spring semester and redshirted while working himself into shape.
It's a unique situation, but Diallo is available to play if Kentucky needs him. However, it's unlikely he actually sees action this year. Calipari has stressed that he'll only do what is best for Diallo.
"I wouldn't do it for me or the program," Calipari said when asked if he might play Diallo down the road if he's practicing well. "The only way that would happen is if it was in his best interests. But it wouldn't be about -- the situation wouldn't matter. Up, down, sideways. Wouldn't matter. It would be about him."
Freshman center Bam Adebayo is eager to see what Diallo brings to the table.
"He's going to bring a competitive nature," Adebayo said. "He's a good rebounder. He can jump, shoot. He's just going to have fun. You're adding another piece to the puzzle. It's just making all of us better. It's going to make him better when he actually starts playing next year. It's going to make us better for later on in the season."