Deep dive: UK-North Dakota preview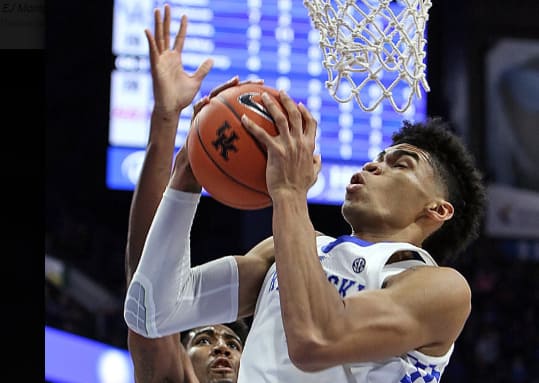 Fresh off that 71-59 victory against Southern Illinois the Kentucky men's basketball team is poised to host North Dakota (2-0) on Wednesday night (9 p.m. ET) in Rupp Arena.
While it might not be wise to read too much into the Fighting Hawks' 104-48 win against Northland or their 63-60 victory over Milwaukee, we do have plenty of ways of shedding light on the kind of game fans might see play out.
For an in-depth reference on Kentucky after the SIU game be sure to read "Inside the Win".
North Dakota Players to Watch
North Dakota's offense has been a balanced attack with five players scoring in double figures on average: Cortez Seales (14.0), Elijah Hazekamp (14.0), Aanen Moody (12.5), Ethan Igbanugo (12.0) and Conner Avants (11.5).
The Fighting Hawks don't have one player they run the offense through as a primary distributor and the team's ball movement overall has accounted for much of their scoring, a lot of it in transition.
Moody is the team's primary three-point gunner and is already 7/17 from beyond the arc through two games. Igbanugo has not missed (4/4) from three-point range. Overall the Hawks are 19/47 from three-point range. Kentucky has been more reluctant to launch from deep, and less successful.
Avants and Walter are North Dakota's top two rebounders but they have not hit the offensive glass very hard. What those two have done well is finish inside.
Kentucky Players to Watch
1. Can Nick Richards build on his bounceback performance against SIU, when he finished with 19 rebounds?
2. Immanuel Quickley provided improved point guard play as one of the Cats' top offensive performers against SIU. Can he make it two games in a row?
3. What's happened to P.J. Washington? Is it too early to worry or even ask the question? Through two games his struggles have been severe.
4. Is Tyler Herro's issue confidence-related? Or is he just a more streaky shooter than we assumed? Kentucky needs the freshman to get on track to start to improve their overall offensive efficiency.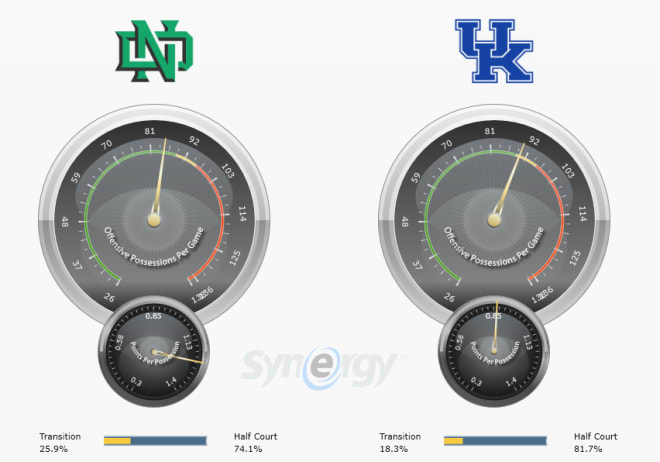 North Dakota's tempo has been fast this season. They've gotten out in transition, mostly because of that season-opening win against Northland. Kentucky ran with Duke in the season opener and that didn't work out so well. But it probably wouldn't be wise to bet on Kentucky trying to slow things down too much against North Dakota. Unless the Fighting Hawks have been playing uncharacteristically fast, Kentucky should have a chance to get out and run against an inferior opponent that doesn't want to slow it down too much.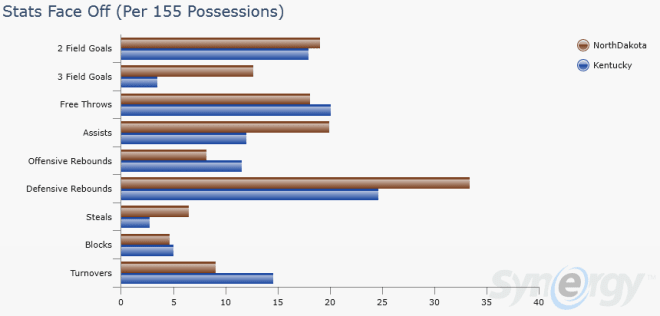 Remember, early in the season it's wise not to read much into these numbers (although they will come in handy in a big way once there's more of a sample and a better slate of opponents has been measured).
So far, North Dakota has been fairly weak on the offensive boards (though they haven't had many chances because of their made shots), but they have been good at shutting down second chance opportunities. Given Kentucky's offensive rebounding against SIU that could be a strength on strength battle (bet on the Cats winning that).
North Dakota has not turned the ball over much and Kentucky hasn't forced many turnovers. The Fighting Hawks have been better at assisting baskets and knocking down three-pointers.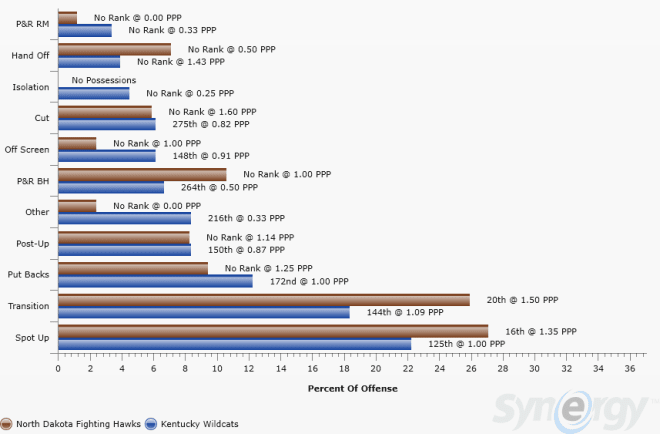 More than half of North Dakota's offense has come from either spot up jump shots or transition baskets. For Kentucky, that combination is 40-percent, so it's lower.
The small sample size is exposed in the "other" category, where the analytics don't make it clear how Kentucky is getting its points. Some of that is due to sloppy play so far. Kentucky gets more offense off screens. That's something SIU did, but North Dakota doesn't do much of. Isolation and shooting of screens has been virtually absent from the North Dakota playbook, though they do run hand offs much more frequently than has Kentucky.
Through two games, and take it for what it's worth, North Dakota's offense has been very good and Kentucky's defense has not been good. Talent alone should make the results on Wednesday reverse the data to date.
For Kentucky to handle the Fighting Hawks like they should, the primary emphasis should be defending spot up shooters because that's a strength (ND) on a weakness (UK) so far. Expect Kentucky to contest jump shots as a goal. North Dakota might be encouraged to push the tempo because of their offensive success when they get out and run compared to Kentucky's inability to stop transition buckets. But Zion Williamson, Cam Reddish and R.J. Barrett have a lot to do with that.