COLUMN: It's time for Calipari to punch back
In the middle of January we're still nearly two months away from the Ides of March, but there's been a coup in college basketball.

The once dominant John Calipari now looks up to Mike Krzyzewski in the recruiting hierarchy. The blueprint Calipari created that led to Kentucky's head coach landing the No. 1 or No. 2 class every single year with multiple top 10 players has been stolen by Kryzewski and now Duke is the king of one-and-done recruiting after completing the best class in college basketball history.

Missing on Zion Williamson hurt. More so than R.J. Barrett and Cameron Reddish. The powerful 6-foot-6, 260-pound YouTube sensation may not be as talented as Barrett and Reddish, but when the South Carolina native put on the Duke hat on Saturday evening it cemented Calipari's reality.
Changes must be made for Kentucky to remain a contender.

That's all UK fans could ever ask for when rooting on their program. If a team is consistently a Final Four contender then you're having a fun season. Final Four contenders don't always have to be one or two seed. They don't have to dominate from November to March. To contend for a Final Four you have to have the right pieces and hope that you're clicking at the right time.

Sound familiar?

Calipari has done a hell of a job doing that since taking over UK's program in 2009. The Cats have been to four Final Fours in that stretch and were a game away from the Final Four in two other seasons. Just twice has Calipari not advanced to at least the Elite Eight but in 2016 Kentucky was a trendy Final Four pick that had a bad night against the Big Ten champs in the second round.

Kentucky fans have been mostly happy in the first eight seasons because Calipari's plan has mostly worked. But there's evidence that will change over the next few years.

It's unrealistic for UK fans to expect Calipari to land Barrett, Reddish and Williamson, but he can't come up empty handed. Calipari builds his teams with talented freshmen but he relies on at least one, maybe two, superstars. I can sit here and rattle off names like John Wall, DeMarcus Cousins, Brandon Knight and Anthony Davis but you already know the superstars on every John Calipari Kentucky team. They have always been there with the exception of this season and seemingly next season.

It's clear with the 2017-2018 team that if you don't have a superstar the phenomenal collection of talent seems somewhat lost.

Just hours after Williamson picked Duke the Cats lost their first home SEC game in years to Florida. Kentucky's second straight loss was similar to Tuesday's at South Carolina. The offense looked stale for too long. No go-to guy that you could rely on to make a basket late or at least draw a foul. It's a team that if they stayed together for three or four years would undoubtedly be a title favorite at some point, but they're good enough to be first round picks so many will bolt. Sadly for UK none are currently good enough to be top five NBA Draft pick superstars.

That's the problem.

Kentucky basketball recruiting and Calipari's method seems to be in the doldrums. UK will land at least two five stars in 2018 and the Cats pulled in four in 2017. It's hard to complain about six five-star players in two season, but if none of those five stars are top five or 10 players then you're stuck at sea unable to reach your destination of a national championship. Five-star players outside the top 10 aren't good enough to win in year one without experienced players or superstar help. UK's best teams have had it all, but not anymore. UK's future seems to have several first round NBA Draft picks, but not NBA lottery picks. Most players won't hesitate to make the jump regardless of their first round standing.

Rinse and repeat for the next group, too.

Calipari has some options but regardless of what he decides to do things cannot stay the same.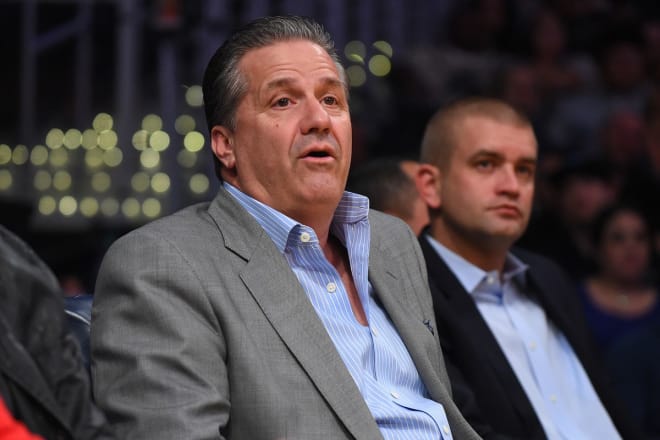 We have been careful to give Calipari the benefit of the doubt. He deserves it. UK basketball has rarely been as successful in an eight year stretch and there have been some unbelievable moments thanks to the Hall-of-Fame head coach. But, he's not immune to criticism and he needs to be criticized for the 2018 class.

If Barrett grew up a Duke fan and always dreamed of playing at Duke, so be it. UK tried and did whatever they could but the heart wants what it wants. Reddish seemed to be in the same boat but UK truly did try and pull out all the stops.
Calipari gave the future Blue Devil free reign when coaching him for Team USA over the summer. Reddish just felt more comfortable with Duke's staff. Sure, UK maybe could have done a better job building a relationship, but it wasn't a lack of trying with Reddish.

Williamson seems inexcusable. If he decided to stay home and go to Clemson or South Carolina, it's a bummer for the Cats but it wouldn't be the first time Calipari missed on a kid deciding to stay home and it wouldn't be the last. But Duke? The Blue Devils came out of nowhere in this recruitment and it seemed like Kentucky could check off more boxes in that recruitment than Duke.
UK had one of Williamson's best friends committed. UK had recruited Williamson as long as Duke. Kentucky was around as much as Duke. Calipari has had more recent success putting players in the NBA and those players succeeding, too. Calipari has managed the recruiting superstars and helped their brands. Kentucky was far from the favorite heading into Saturday's decision, but the Cats certainly seemed to have a better chance than Duke.

But it will be Duke fans that get to enjoy Williamson for a year. Not Kentucky. So, things must change.

Coaching: It would be in Calipari's best interest to take a look at his staff at the end of this season. On the recruiting trail we heard about all three assistants. It's no surprise that we hear about Kenny Payne the most, Joel Justus second and Tony Barbee third, but every assistant has a specific role and it's worth mentioning that maybe we've just missed talking with people that have built a great bond with Barbee. You never know.
But a staff shakeup could give Kentucky some new car smell on the recruiting circuit. If that's what Calipari decides to do there are several mouthwatering options. Maybe UK could look into bringing back Orlando Antigua, who was on UK's staff from 2009-2014 when Kentucky was hottest on the recruiting trail. Antigua left Kentucky to be the head coach at South Florida but was there just three seasons before being canned. He's currently an assistant at Illinois.
Maybe a face that teenagers know and can relate to would help UK. Former NBA great Anfernee "Penny" Hardaway is well known on several AAU circuits and currently coaches high school basketball in Memphis. It certainly wouldn't hurt UK's chances of landing James Wiseman, one of the top recruits in 2019.

Jalen Rose is another name that could be intriguing. Teenagers that play basketball are constantly watching ESPN so they know Rose and the majority of those kids are also familiar with Rose's basketball career. He was once a talented five-star freshman. He's been through the process.

What if Calipari took a chance and rolled the dice? Kenny Johnson was fired from Louisville after potential involvement in the FBI scandal. Johnson wasn't specifically mentioned but was let go all the same. If his involvement was minimal then maybe Calipari could pull it off. There's no denying Johnson had recruiting success at Indiana and Louisville.

We know how loyal Calipari is to his guys and it's tough to imagine that he fires someone because UK may fall outside the top three in recruiting for one season, but a new face could help Kentucky.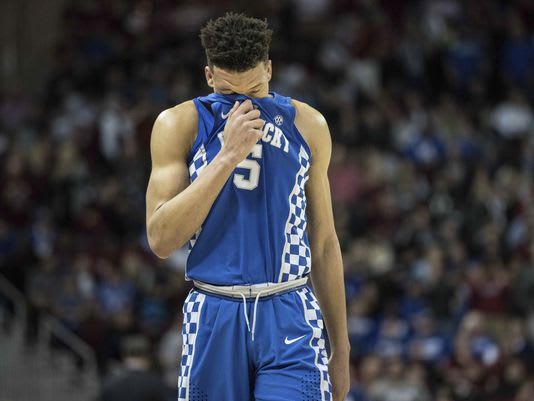 Pitches: Calipari needs to stop with the "Kentucky isn't for everyone," pitch and come up with something different. For a coach that hates it when a recruit gives him an ultimatum it seems that he's doing that very thing to recruits. Parents, high school coaches and AAU coaches have noticed.

The idea is simple and the idea isn't bad. Kentucky isn't for everyone. Put the ball in the court of the recruit. Do you want to be pushed? Do you want to play with other great players? Do you want to be selfless? Do you want to be put in a position where if you work hard enough you will become a lottery pick? Sounds great.

But it isn't. Not anymore.

Some have said it's basically telling the recruit that if you don't want to come to Kentucky you don't want those things. Obviously it's a pitch and there are holes in every team's message to recruits, but it may be time for UK to patch it up.

Duke tells kids they are set for life if they pick the Blue Devils. Clearly that's flawed. What about the six players that have transferred from the Blue Devils after being recruited over during their time in Durham. Are those players set for life?

The point is that a pitch is a pitch is a pitch. They're not perfect. But it's time for a new one for Calipari because it's starting to backfire. If a recruit is being told that UK is the only place that he will be able to go to play with other great players, push himself and put himself in a position to be a high draft pick, not only is it wrong but it comes across as a challenge for said recruit to prove Calipari wrong.

Calipari's "we don't need you," philosophy also needs a famous Calipari tweak. No, the UK head coach doesn't specifically say that, but over the last few years it seems that he's wanted to play the cool card maybe too often. There is certainly a confirmed persona around Calipari that if you want to commit to UK then he will be thrilled, but if you go elsewhere he won't lose any sleep. That wasn't always the case. In his early years at UK Calipari would travel the country constantly just to get in a last word and show support.
If Calipari has lost any fire or hunger in the recruiting trail it's time to eat again. No one is saying Calipari needs to be desperate for recruits and beg them to live in Lexington, but he can't act like he doesn't care.

It is also time for UK to respond to the negative recruiting. No school is bashed more than UK and Calipari by opposing coaches. That stuff matters. The kid may not necessarily always buy into the nonsense, but maybe his AAU coach does. And maybe that AAU coach tells other parents what an ACC school said about Calipari and his staff.

Calipari built his throne on the idea that he would sell his school and not bash other schools. It's a noble idea but one that is clearly starting to hurt the Cats.

Moving Forward: Nothing is as ever good as it seems and nothing is as ever bad as it seems. The truth is in the middle. There are countless examples of when things look bad for Calipari and UK then the Big Blue Nation is treated with a great tournament run. There have been times when UK is on top of the world, and well, you don't stay there for long it seems.

There is reason to believe that Calipari will figure things out in the coming recruiting cycles. Calipari is a competitor and he gets embarrassed by losing.

"If you're OK with losing you're only going to lose more," Calipari said on College Gameday on Saturday.

Calipari lost in the 2018 recruiting cycle, and with so many potential pieces in place for the 2018-2019 season all the Cats needed was one superstar. Calipari's loss in recruiting could cost him a national championship. I can guarantee you he's not thinking like that, but it could come to fruition in April of 2019.

But he knows that 2018 wasn't his best work. He landed three great players in Keldon Johnson, Immanuel Quickley and Tyler Herro and he still came up short in the big picture. Johnson could be a top 10 pick in the NBA Draft and Quickley and Herro will certainly get a chance to play in the NBA.

Players like Quickley and Herro could also be at Kentucky for a few years. That's not a bad thing. But as long as Calipari is going to push his players to the NBA Draft he needs to make sure he's not leaving the cupboard empty. Calipari knows the model. A few returning guys, a few nice impact freshmen, but he must have a superstar. One can usually work.

This isn't a column suggesting Calipari needs to completely start from scratch, abandon the one-and-done and start passing on the top players. The system works. But it only works when you follow the blueprint and the blueprint calls for Calipari to land top five players.

Some of the suggested tweaks will help. Kentucky fans are normally too ambitious but the bar has been set. Calipari would have it no other way. The fans would have it no other way.

It's time for Calipari to start trying some new things on the recruiting trial while keeping the old blueprint. It's time for Kentucky to punch back.