Chuck Smith accepts UK linebackers job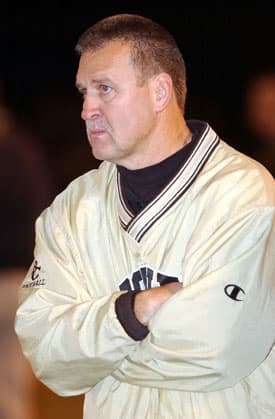 Chuck Smith, one of the most accomplished coaches in the history of Kentucky high school football, has joined the University of Kentucky staff as assistant coach for linebackers, Coach Rich Brooks announced Tuesday.
"I'm excited to get a coach who has had such tremendous success in turning around a struggling football program into a perennial state power," Brooks said. "Chuck is a very good teacher of fundamentals. He has produced outstanding players and outstanding students, such as (current UK players) Jacob Tamme and Taylor Begley.
"As a coach who is from Kentucky, played at the University of Kentucky, and coached in Kentucky, I believe he'll be an asset in recruiting in the state. I'm impressed with his enthusiasm for football and his enthusiasm about coaching at UK."
Smith comes to UK from Boyle County High School in Danville, where he compiled a 142-33 record in 13 seasons. He built Boyle County into a juggernaut in the Class AA and Class AAA ranks, winning five consecutive state championships -- a state record -- from 1999-2003.
Smith's teams won the Class AA titles in 1999 and 2000 with perfect 15-0 records. Reclassification changed Boyle County to Class AAA in 2001, but was no obstacle for the Rebels, as they won the crown with another 15-0 mark. The winning streak ended at 47 games (second-longest in Kentucky history) during the 2002 regular season, but Boyle County went on to win the state championship again. The 2003 team returned to perfection with a 15-0 slate and state title. Smith's 2004 squad went 12-3, with a loss in the state finals ending the state-record streaks of five consecutive championships and 29 straight playoff victories.
Smith, whose teams are known for their work ethic and solid fundamental play, has been recognized frequently for his accomplishments. He was named the Kentucky Coach of the Year by the National Federation of State High School Associations in 2003. He was chosen as the Kentucky Coach of the Year, covering all classifications, four times by the Louisville Courier-Journal (1999, 2000, 2001, and 2004) and by The Associated Press in 1999. He has won numerous other Coach of the Year honors for Class AA, Class AAA, and on the district and area levels.
"I'm extremely excited about this, having played at UK and getting the opportunity to work with some great coaches," said Smith, who is celebrating his birthday today. "I think all high school coaches dream of getting to coach at the collegiate level. The opportunity to coach at UK and work with Rich Brooks and (defensive coordinator) Mike Archer, and learn from them, makes this special."
Born in Louisville, Ky., Smith was an all-state linebacker at Jeffersontown High School. He was a UK letterman from 1978-80 as a linebacker under Coach Fran Curci. Smith was second on the team in tackles as a senior with 133 stops and was third on the team in tackles his junior year with 95.
Smith's coaching career began as an assistant coach at Mercer County from 1983-86. His first head coaching position was at Allen County in 1987. He was head coach at Campbellsville from 1988-91 before his record-setting stint at Boyle County.
Smith and his wife, Jackie, have two children, daughter Nikki and son Brandon.