Cats take series opener from Ole Miss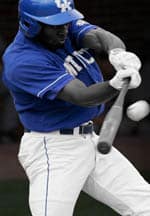 LEXINGTON - Collin Cowgill, Antone DeJesus and John Shelby each homered as the No. 11 Kentucky baseball team for the 10th time in 11 games with an 8-3 victory in front of 2,085 fans at Cliff Hagan Stadium.
The win combined with a South Carolina loss to Georgia moved into sole possession of first place in the Southeastern Conference. The 17th-ranked Rebels had their 11-game win streak snapped with their first loss since April 15.
Kentucky looks for its sixth series win of the season tomorrow when it faces off with the Rebels at 2 p.m. EDT. The Wildcats send senior southpaw Craig Snipp (4-3, 3.39) to face Ole Miss lefty Brett Bukvich (4-3, 2.50). A Kentucky win would tie a school record for SEC series wins in a season.
Kentucky (35-11, 14-8 SEC) reliever Matt Robinson earned the win after 4 1/3 innings in relief, allowing just three hits and one run to improve to 4-1 on the season. He struck out five and walked none. Aaron Tennyson earned a no decision after allowing two runs on only two hits in the first 4 2/3 innings.
The two pitchers held a Rebel that had pounded out at least 13 hits in nine of the 11 games during its win streak to just five hits on the evening. It was the first time in 16 conference games UK had held an opponent below nine hits.
Craig Rodriguez took the loss to fall to 3-2 on the season after being tagged for seven runs on nine hits. Overall, Kentucky tallied 13 hits, including 10 from the 1-5 hitters in the lineup. Cowgill led the way with three while Ryan Strieby, Sean Coughlin, Shelby and Shaun Lehmann had two each. Strieby extended his hitting streak to nine games.
Ole Miss (31-16, 13-9 SEC) started the game out strong, as lead-off hitter Justin Henry drew a walk off. Henry used a wild pitch and a stolen base before scoing on a Chris Coghlan ground out.
Cowgill answered the Rebels' first-inning run with a mammoth solo shot over the left-center field wall. The blast was Cowgill's 12th home run of the season.
Junior John Shelby continued Kentucky's offensive explosion in the second inning, rocketing a solo home run over the right field fence. The round-tripper, Shelby's 13th of the season, extended his hitting streak to 11 games. He has an extra-base hit in 10 of the 11 while driving in 16 in the span.
Sophomore center fielder Antone DeJesus continued the trend of home runs in the second inning, blasting a shot over right-field fence, scoring Ryan Wilkes and Shaun Lehmann, who had both singled. The three-run shot made it 5-1 and marked DeJesus's first home run in 25 games.
Ole Miss responded in the top of the fourth when right fielder Mark Wright ripped an RBI single to left field, plating third baseman Chris Coghlan to narrow the Kentucky lead to 5-2.
Kentucky notched two more runs in the bottom of the sixth inning despite not managing a hit. Third baseman Michael Bertram scored on an RBI ground out off the bat of Lehmann and shortstop Wilkes, who reached on a walk, scored on a wild pitch.
The Wildcats extended their lead in the eighth inning courtesy of a Cowgill single which plated a hustling DeJesus from first base to push the UK lead to 8-2. Pinch-hitter Evan Button tripled home Mark Wright in the ninth for the final margin.
GAME NOTES:
Sophomore Collin Cowgill hit his 12th home run of the year in the first inning ... Junior John Shelby rocketed his 13th home run of the season ... Shelby extended his hitting streak to 11 games ... Shelby's streak has included five home runs and an extra-base hit in 10 of the 11 games ... Sophomore Antone DeJesus hit his first home run in 25 games and his third of the season ... Starting pitcher Aaron Tennyson did not allow a Ole Miss hit until an RBI single in the fourth inning ... Tennyson allowed just two hits in 4.2 innings of action and notched his second straight no decision ... Junior Ryan Strieby extended his hitting streak to nine games and finished 2-for-4 with two singles... Friday night's attendance of 2,085 is the third highest of the season and the fourth time 2,000 or more fans have taken in a Kentucky baseball game this season ... Kentucky snapped its streak of allowing 10 or more hits in eight consecutive SEC games, holding the Rebels to five hits ... The win gives Kentucky its 10th win in its last 11 games.