Cats, Spartans a battle of talent vs. experience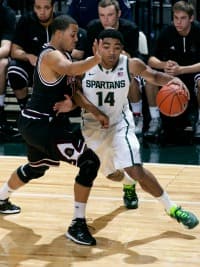 You watch his No. 1-ranked Kentucky basketball team on Tuesday and you see a pack of Wildcats clawing. They play hard. They play together. They have, in Calipari's words, "a great presence, a great spirit about them."
And, by the by, they beat No. 2 Michigan State in the Champions Classic at Chicago's United Center.
That last part is optional.
"If that's a loss -- I'd like it to be a win -- but if it's a loss and I get that from this team, it's the building point that we go from," Calipari said Monday.
The scrapping and the fighting and the winning are how Calipari dreams it goes down Tuesday night on ESPN. He's not sure how close that vision is to reality.
Kentucky (2-0) has a pair of blowout wins against overmatched opponents and a stack of gaudy stats. The Cats are averaging 91 points per game, outrebounding opponents by 23 and shooting 50.4 percent compared to a collective 35.5 percent by victims UNC Asheville and Northern Kentucky.
Tom Izzo
's Spartans should inject some reality into the fast start. Win or lose, Kentucky will face stiffer competition and get a better sense of where it stands early in the season.
"You can't learn against Popcorn State," Calipari said. "You just can't. You don't learn anything. You learn that you're 30 points better or 40 points or 50 points or 57 points. What does it do? But you can learn when you're playing really good teams."
Calipari suspects he'll learn that his team doesn't play hard enough, that it stands too much, that it isn't ready for a team that rebounds and transitions from defense to offense as quickly as does Michigan State.
He's dreaming of a win but worried about a rude awakening.
"They're a great team," Kentucky point guard
Andrew Harrison
said of the Spartans. "Coach doesn't think we're ready, but we're just gonna play hard and we're gonna see who has it and who doesn't."
If the "it" is experience, bet on Michigan State.
The top seven players in the Spartans' rotation have played a combined 447 games and 9,781 minutes of college basketball. Kentucky's top seven has totaled 76 games and 1,861 minutes.
But if your preferred "it" is talent, Kentucky brings it in droves.
Talent can offset experience, Calipari said.
The formula?
"Whatever we have in, which isn't much, just do well with what we have," Calipari said.
Randle dominated against UNC Asheville and Northern Kentucky, but Calipari said Michigan State will "know how to take him away."
"They're gonna double-team him and they're gonna be really physical and they're gonna sag and make him shoot jumpers," Calipari said. "They're gonna be really tight."
So the Cats might turn to Johnson or
Willie Cauley-Stein
in the post or might get answers from the Harrisons or Young on the perimeter.
What Calipari knows is that to win Tuesday's showcase game, his team will need to look like the one he envisions, one that defends, that hurries back in transition, that crashes the glass.
He doesn't know if the team he wants is the team he has.
After Tuesday, he'll be a step closer to finding out.
"I don't think (people are) gonna say, 'I wonder if they have a talented team? Let's watch,'" Calipari said. "They know. So then the question's about how we play together, how hard we play, how we deal with adversity, how we deal with prosperity. Questions will be answered tomorrow."

Game/Series Information
Game Information
Site: United Center (20,917), Chicago
TV: ESPN (Dan Shulman play-by play, Jay Bilas analyst, Andy Katz sideline)
Radio: UK IMG Sports Network (Tom Leach play-by-play, Mike Pratt analyst, Matt Jones sideline); XM 91/Sirius 91.
Favorite: Michigan State by 3.5
Series Information
Series record: Kentucky leads 12-10
At neutral sites: Tied 2-2
Coaches' records: Calipari 1-0 vs. Michigan State; Izzo 4-2 vs. Kentucky
Last meeting: Michigan State 94, Kentucky 88 (2 OT; March 27, 2005; Austin, Texas; NCAA Regional Final)
Patrick Sparks' dramatic three-pointer bounced four times on the rim before falling through -- and stood up to an official review -- and sending the Wildcats to overtime against the Spartans. The teams would need two OTs before Michigan State advanced to the Final Four by making 11 straight free throws in the second extra period. Shannon Brown scored 24 points to lead MSU. Kentucky got 20 points from Randolph Morris and 16 from Chuck Hayes.
Game Storylines
1. Battle on the Boards:
Kentucky has dominated two inferior opponents on the backboards, outrebounding UNC Asheville and Northern Kentucky by an average of 23 per game. Michigan State outrebounded its only opponent, McNeese State, by 37 last Friday. Rebounding is critical against the Spartans, and
Tom Izzo
's best teams typically crash the glass with abandon. Keep an eye on
Julius Randle
, who averages 15 rebounds a game. The Spartans will work to keep him off the boards.
2. Run and Fun: Kentucky, with its NBA-lite roster, is on paper the superior transition team. But when Michigan State is at its best, it rebounds and transitions from defense to offense as quickly as any team in the country. Getting back on defense is critical. Izzo's teams will look to outlet and run after rebounds. If there's nothing available quickly, the Spartans aren't averse to running clock and testing a defense's patience -- a sound strategy, perhaps, against a young Kentucky team that could struggle to maintain its defensive focus.
3. Marquee Matchup:
Tuesday's game marks the first meeting of teams ranked No. 1 and No. 2 in The Associated Press poll since 2008.
John Calipari
came up short in that one as his top-ranked Memphis team lost at home to No. 2 Tennessee 66-62. The top-ranked teams have met 38 times since the start of the AP poll, and No. 1 teams have a 21-17 record. Kentucky's last 1-vs.-2 game came in 1996, when No. 2 UK beat Calipari and No. 1 Massachusetts in the Final Four.