Cats get road win, but Caliparis reaction mixed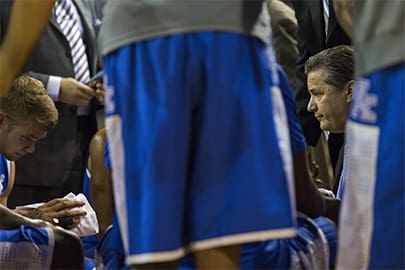 STARKVILLE, Miss. --
John Calipari
would have you believe "everybody" is against his Kentucky basketball team. He said as much the day before the Wildcats took on Mississippi State.
After No. 18 UK's 69-59 win against the Bulldogs Saturday at Humphrey Coliseum, it was hard to tell even how Calipari felt about his Cats.
On the one hand, Calipari seemed content to escape The Hump with a win -- "I told the team, 'Be happy. You (won) on the road,'" Calipari said -- but there were times, both on the court and in his postgame news conference, when the Kentucky coach seemed perturbed by the same old issues.
He lumped the victory in with road games at Vanderbilt and Missouri as "huge wins," then conceded that he was "all over" his team to play harder.
"I don't think guys grew in this game," Calipari said. "I mean, I just thought they played the same way throughout, and because we had enough of a depth we could still win the game. That's what it was."
Kentucky (18-5, 8-2 Southeastern Conference) rarely seemed threatened. Mississippi State (13-10, 3-7), playing without starting guard I.J. Ready, never led by more than four points, and UK held the lead for the final 26:35 of game play.
And the Wildcats become only the third team to win at Mississippi State, which fell to 11-3 at home this season.
But UK rarely looked dominant and never could put away the Bulldogs. It struggled early in transition defense, and committed so many fouls -- 21 of them in the game -- that Mississippi State hung tough by shooting 22 of 28 at the free-throw line despite making just 18 of 47 shots.
"(Calipari) was happy we got the win, but there's always stuff to correct," said Johnson, who had nine points and eight rebounds on 3-for-3 shooting. "He was asking (for) more. He's just very intense. He wants the best out of us all the time."
Rarely did Calipari seem encouraging on Saturday. Frequently he was flummoxed.
"He's more vocal, if you guys will believe that," Hood said of Calipari's recent approach to coaching. "More yelling, more screaming."
When Poythress missed a dunk and Kentucky gave up a layup at the opposite end of the floor, Calipari stared down Poythress, shouting "You're out!" as he waved his thumb toward the bench.
When Randle -- who led UK with 16 points and had eight rebounds -- committed a late second-half foul, he drew similar ire. As Randle walked to the bench for a timeout, Calipari shouted "What are you doing?!" loudly enough to be heard in the upper reaches of Humphrey Coliseum.
And after the game, Calipari's mixed messages continued. Before he called Randle "a great kid" and dismissed his issues -- holding the ball too long, failing to get into position to catch the ball in the post -- as "a great learning experience," he chastised the freshman forward for failing to help Johnson on one defensive possession, then over-helping on two subsequent ones, leaving the Bulldogs open for three-pointers.
"That's a baby," Calipari said. "That's what babies do. 'I'm gonna show you. I'll give him two threes. What do you want me to do?' Then you're out. Next guy in."
For everything good Calipari said about his team after the game -- "We fought to try to win a game," he said -- he seemed to have a corresponding criticism. No sooner had he praised Hood, Polson and Johnson, he criticized almost every other player who saw the court.
"I thought the rest of us kind of went through the motions of playing," Calipari said. "I just don't get it, but that's what happens when you're a young team."
That was a recurring theme for Calipari, who pointed out again -- as he has so many times this season -- that his players' "emotion is tied into me and how I'm playing, not my team."
Calipari said Kentucky is "changing that slowly," but conceded the change is no guarantee.
"May not happen this year," Calipari said. "May not happen. They're 18- and 19-year olds playing against 22- and 23-year-olds. And their whole lives, they were told they poop ice cream."
They're being told otherwise now.
There's still time to fix what's wrong with the Wildcats. Calipari has said so time and time again.
On Saturday -- even when he started to sound optimistic -- Calipari stopped short of guaranteeing things will click.
"I'll be honest with you, this season, I don't think one game we've had everybody play well," Calipari said. "We're waiting for that game where everybody plays well. Part of it is we're young and they're playing every third game well. But, you know."